You're already familiar with indigenous music, dance, and art. But what about First Nations nosh?
From mud crab-catching cruises to traditional bush tucker tastings, there's a smorgasbord of indigenous food experiences near Brisbane to try.
Learn about the Traditional Owner's rich culinary history with these six handpicked recommendations.
Nyanda Cultural Tours
Near the Nudgee Waterholes, this Aboriginal-owned enterprise supplies authentic indigenous experiences to schools and corporate clientele. One of these experiences entails devouring gourmet interpretations of traditional bush tucker treats.
The company sources all its native ingredients from indigenous growers or cultivates its own. Tastings are available for groups via appointment.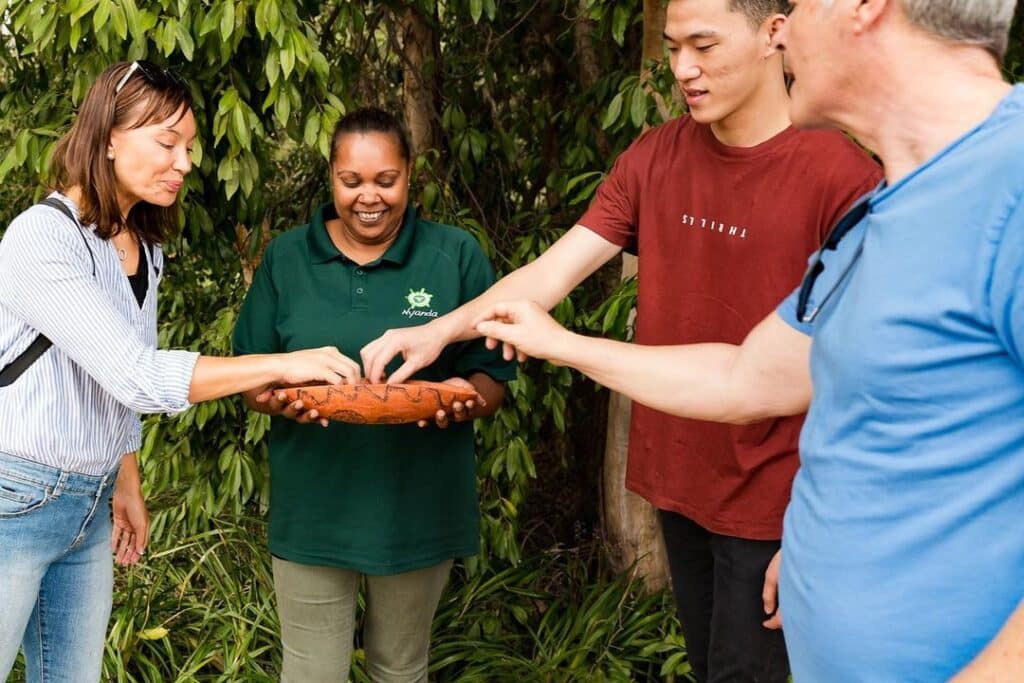 Three Little Birds
Koori chef Chris Jordan started this culinary venture as a London pop-up events provider. Nowadays, Chris prepares tasty bites made from native ingredients from his Salisbury-based catering company.
Gastronomic offerings range from canapés snacks to light wraps and spicy kangaroo massaman curry. You'll spot stacks of gluten and meat-free choices on the menu. Delivery is available all over Brisbane.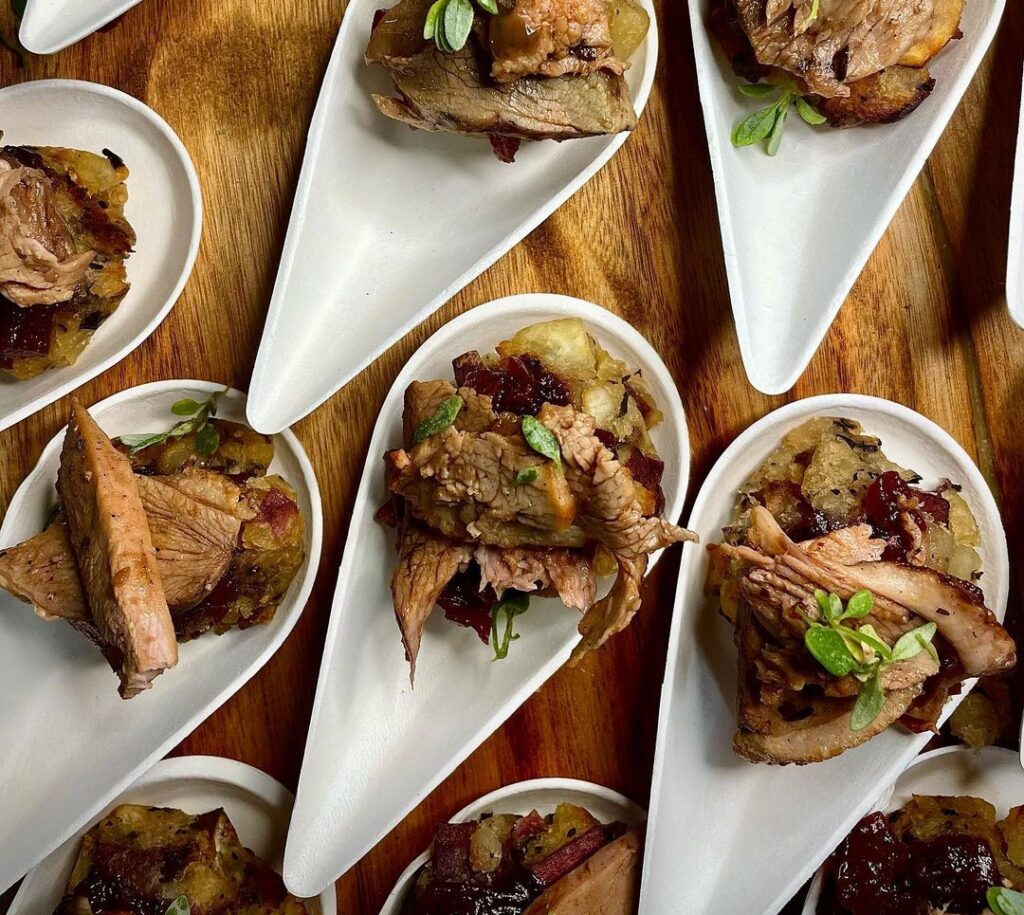 Birrunga Art Gallery Café
As you might imagine, this café serves the Birrunga Art Gallery, Brisbane's premiere indigenous art exhibition. Once you've perused its impressive aboriginal art, pop into the café for a tasty meal.
Birrunga Café serves classic Mod-Oz cuisine with a native twist. How does rare kangaroo loin with roast heritage root vegetables sound? Another hit is the chicken schnitzel with a native bush spiced pomodoro.
Spirits of the Red Sand
Brisbane's top indigenous culture centre combines a roving theatrical show with a scrumptious three-piece feed. The two-hour evening gig begins by showcasing aboriginal traditions through music, song, and dance.
Come supper time, feast on delicious indigenous dishes like chargrilled crocodile skewers. A hot damper entrée with dipping oils and bush dukkah kicks off the meal.
Salt Water Eco Cruises
This indigenous-owned eco cruise company sails through Mooloolaba's magnificent canals. One of their most popular offerings is the Native Bushfood Cruise. The experience sees a buffet of native-infused canapés served on a charming heritage-listed vessel. 
Since its launch in 2020, the company has snagged a slew of impressive accolades. Its overarching vision is to evoke a deeper connection to indigenous culture and the ocean.
Tweed Eco Cruises
Avid anglers and everyday seafood enthusiasts should make a beeline across the border. Located in Tweed Heads, this eco-conscious company runs a mud fishing excursion with a charismatic Bundjalung man.
Luther Cora (A.K.A., the Black Cockatoo) regales Yugambeh Dreamtime stories while skewering local mud crab. Assistants cook the freshly-caught crustaceans in a hot pot to devour onboard. Lunchtime tunes come courtesy of the Black Cockatoo and his didgeridoo.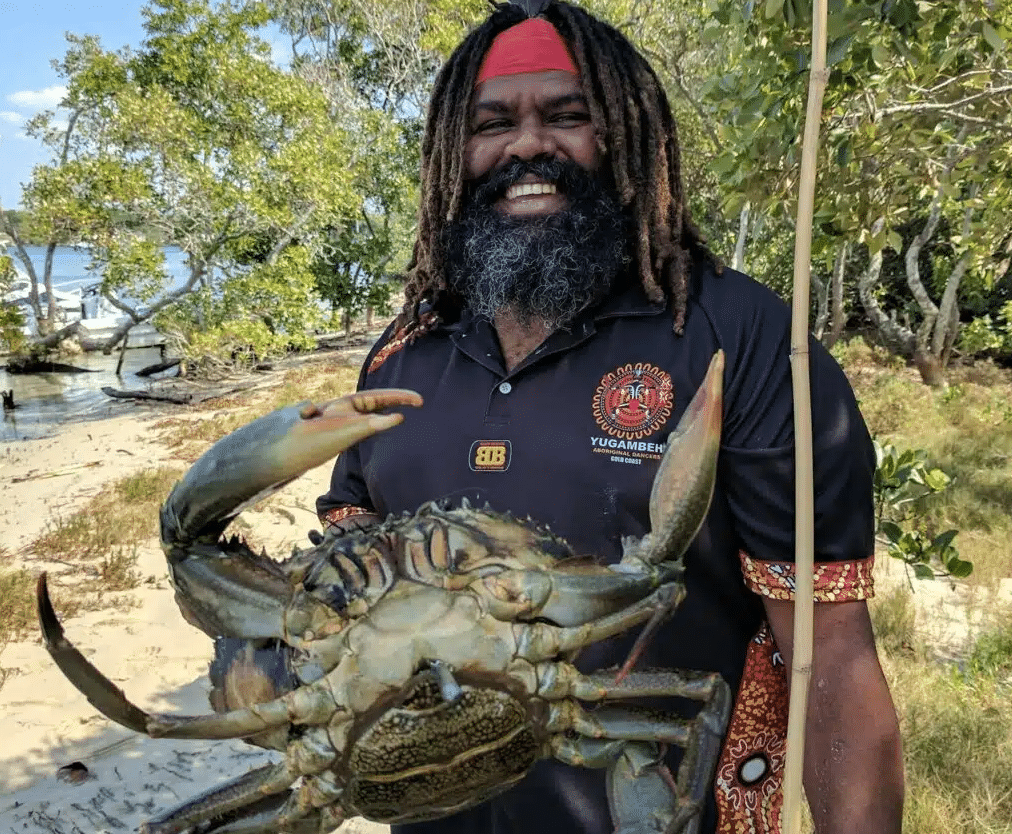 Book Indigenous Food Experiences near Brisbane with Kiff & Culture
Kiff & Culture is passionate about promoting indigenous customs in the region.
We incorporate authentic indigenous experiences into numerous tours. Examples include the Byron Bush Tucker, Banquet & Whiskey Tasting and the 3-day Northern Rivers Wellness Incentive Package.