Convinced Queensland lacks a respectable wine industry? Then you clearly haven't been to the Scenic Rim.
Towering over the Gold Coast at 550m above sea level, this gorgeous rainforest-clad region houses a slew of top-notch vineyards. Passionate local winegrowers pump out top-quality plonk; expect anything from racy light-medium reds to obtuse full-bodied Verdelho.
We cover the best five Scenic Rim wineries so you can plan the perfect wine lovers' day out.
Witches Falls
Perched high on Tamborine Mountain, this widely acclaimed boutique winery blends modern and traditional techniques to produce a broad range of top-quality wines. The vineyard gets its namesake from the famous waterfall located just nearby, which was Queensland's first national park, declared in 1908. The name of the waterfall comes from the mountain's crooked tree branches, which the local kids have long said look like witch's brooms as they walked home from school at dusk.
If you're planning a visit to a Scenic Rim winery, be sure to include Witches Falls Winery on your itinerary. Their cheeseboard platters are not to be missed, featuring artisan cheese like the triple cream truffle brie handmade by local producers Jambreen Cheese Company.
It's a highlight of our Tamborine Mountain Wine & Dine tour, and when paired with some of the best wine in the region, it's easy to see why Witches Falls Winery is consistently rated as one of the top wineries in the Scenic Rim.
Mason Wines
Around the corner from Witches Falls, Mason Wines is all about extended tasting sessions with pristine hinterland views. Book a spot on the sunny terrace if the weather's warm or cosy up by the fireplace in the cooler months.
Either way, you'll get to savour an extensive wine list spanning everything from Sauvignon Blanc to Shiraz.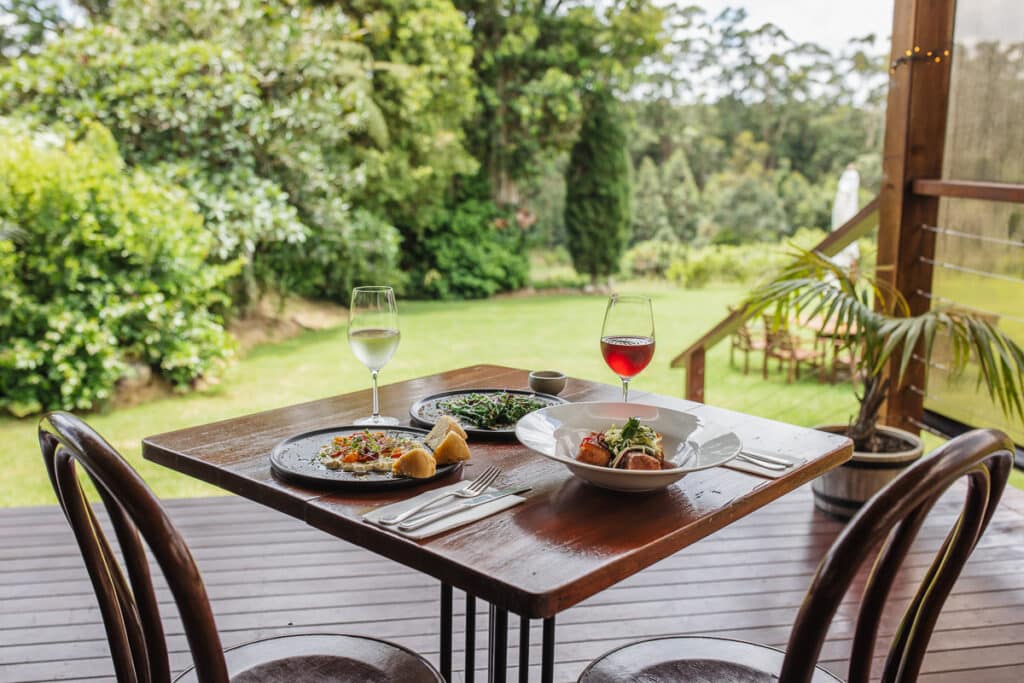 Hampton Estate Wines
White-washed Hampton Estate is a popular spot for local lovebirds to tie the knot—and it also offers sophisticated Cellar Door sampling sessions on the weekends.
Its lush leafy grounds and lovingly restored chapel make for a superb photo op, best enjoyed with a bottle of their best-seller in hand, the Hampton Lane Sparkling Rose. The Tamborine Mountain vineyard sources grapes from the Granite Belt, a fertile high-altitude zone (600-1000m).
The Overflow Estate 1895
Discover one of the most stunning Scenic Rim wineries at The Overflow Estate 1895. This winery is situated on a centuries-old farming estate along the shores of the Wyaralong Dam and offers a truly scenic spot to enjoy some premium wine. Established in 2010, the owners of The Overflow have focused on climate change-ready grape varieties like Tempranillo, Vermentino, and Montepulciano.
It's true that the winery is a bit of a mission to get to (80 minutes from central Goldie), but the journey is worth it for both the million-dollar waterfront view and the exceptional wine.
O'Reilly's Canungra Valley Vineyards
On the road to Lamington National Park, O'Reilly's is the perfect pit stop for a post-hike tipple. The historic 163-year-old homestead does wine tastings seven days a week, with live musicians belting out tunes by the creek on weekends.
Don't miss the onsite Mountview Alpaca Farm—how good would a semi-sloshed camelid cuddle be?
Experience the Tamborine Mountain Wine & Dine
Can't settle on just one?
Enjoy our three favourite Scenic Rim wineries in one day with our Tamborine Mountain Wine & Dine Tour. The package includes door-to-door transfers, a Witches Falls cheeseboard, four tastings (three wineries and one distillery), and a two-course lunch to line the stomach.
Let us take care of the logistics and driving so you can focus on the wine and socialising.