"A spectacular day of wine tasting, food eating, and belly laughing" – that's the considered view of unofficial group leader, Debbie, on behalf of the lively crew who recently set out on our flagship Mt Tamborine day trip.
We run heaps of fun food and drink tours here at Kiff & Culture. One of our longstanding crowd favourites is Tamborine Mountain Wine & Dine, a full-day epicurean excursion in the aptly named "Scenic Rim."  
It's a stunning region, and perched at 500 metres above sea-level, Tamborine Mountain's crisp subtropical climate has created one of Queensland's best wine-growing regions.
And where there's good terroir, brilliant cellar door experiences await. Multiple wine tastings, artisan cheese, charcuterie platters and a long lunch with close friends: Debbie and the girls loved every moment.
In this post, we'll take a quick squiz at our top-selling itinerary and hear a few first-hand accounts from some lovely women who recently took the tour.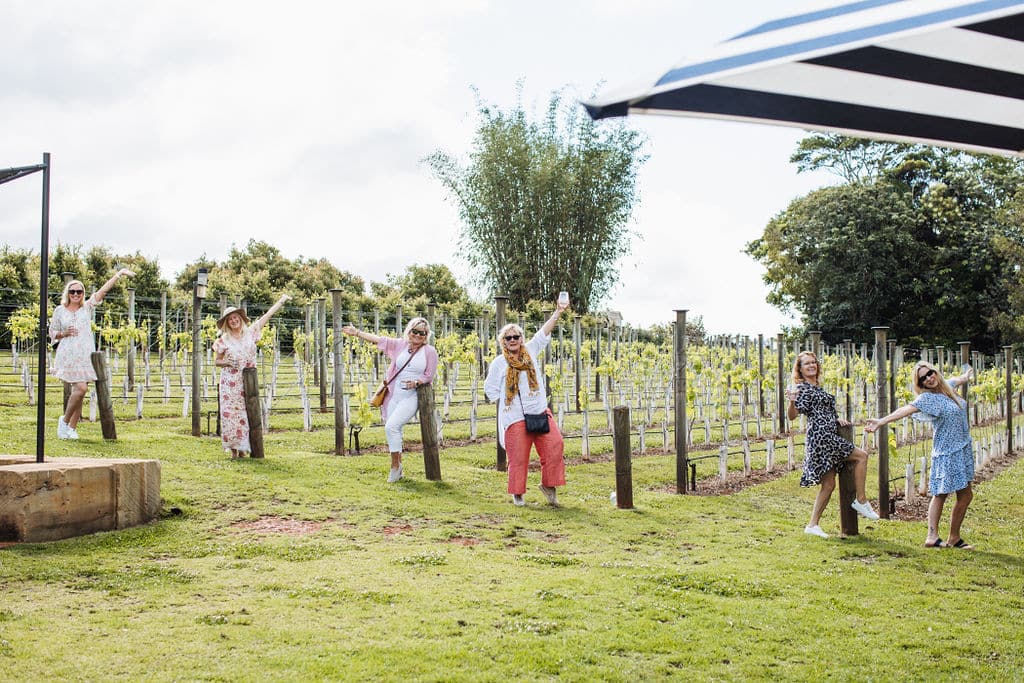 The Girls' Day Out
Debbie and her group of gorgeous wine-loving women booked onto the tour as part of a girls' getaway.
"The whole day was a blast from start to finish. It's really difficult to pinpoint particular highlights. We did really like the Distillery at the end. Even the trip home was fun with the 80's music blasting and everyone singing along."
Tour guide Alex, alongside Kiff Founder Drew, has sampled every single Scenic Rim cellar door to find the best three wineries for the tour (it's a dirty job, but someone's gotta do it).
Their careful work paid off, and Alex enjoys hosting groups like Debbie's multiple days each week.
"It's hard not to enjoy multiple wine tastings, artisan cheese, charcuterie platters and a long lunch with your close friends," says Alex. "It's such a great way for groups of friends to catch up in private while getting out and about."
"I definitely think Alex made the tour extra special," Debbie says. "His local and product knowledge was excellent and his humour and fun personality just made the day!"
Debbie had such a ball she wouldn't hesitate to recommend the tour to friends.
"I'd absolutely recommend the tour. It's a brilliant way to spend the day with friends. A great break away from the stresses and normality of everyday life. Especially with what has been happening in the world of late! And besides, who doesn't like wine…🍷"
In Short?
"The whole day was a blast from start to finish and I've recommended it to my manager – we've got a trip planned for the whole team in June."
Alex had a blast, too. He looks forward to welcoming the girls again soon.
Looking for an experience like Debbie and her group? Read on to hear more about their unforgettable Mt Tamborine day trip.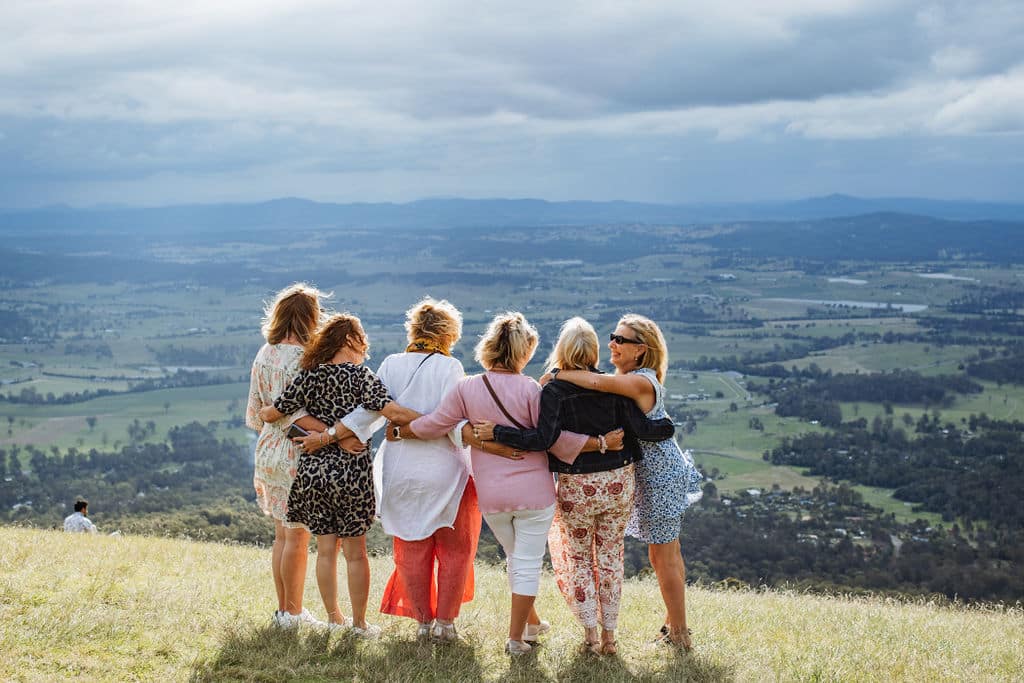 The Itinerary
We depart Brisbane or the Goldie at 9 am in our customised Kiff & Culture bus. After a quick introduction with Alex, our passionate foodie / wine-guzzling guide, we head up the hilly hinterland towards Tamborine Mountain.
Our first stop? A 10 am tasting (it's five o'clock somewhere) at Hampton Estate Wines. This stately whitewashed estate moonlights as a wedding venue where lovebirds can tie the knot. You'll enjoy the same sumptuous views while swilling their best-seller, Hampton Lane Sparkling Rosé, and other fabulous drops.
Next up is Witches Falls Winery, a Tamborine institution named for its spooky gnarled branches—the local kids reckon they look like witches' brooms. You'll sip several sublime wines made from modern and traditional techniques at this highly acclaimed boutique vineyard. To keep the stomach sufficiently lined, we'll be tucking into one of their epic, award-winning charcuterie boards. Some say they're the best in SE-QLD. Who are we to disagree?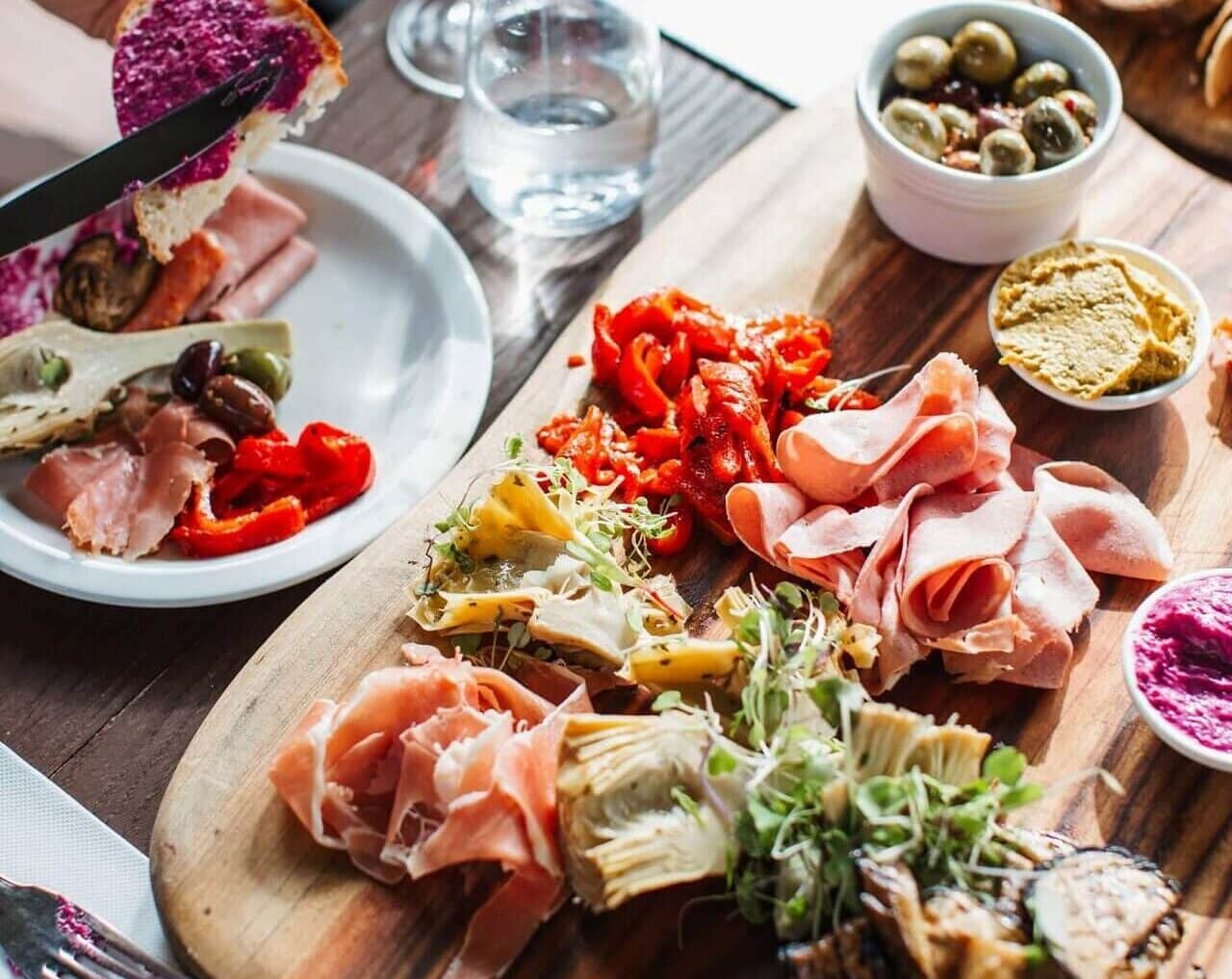 Mason Wines is up next for lunch, a two-course gourmet feast paired with sensational vino. Serving everything from Shiraz to Sauvignon Blanc, it's a top spot to sample the full spectrum of Scenic Rim viniculture. A spectacular sunny terrace (or a cosy indoor fireplace) makes this a perfectly pleasant place to imbibe.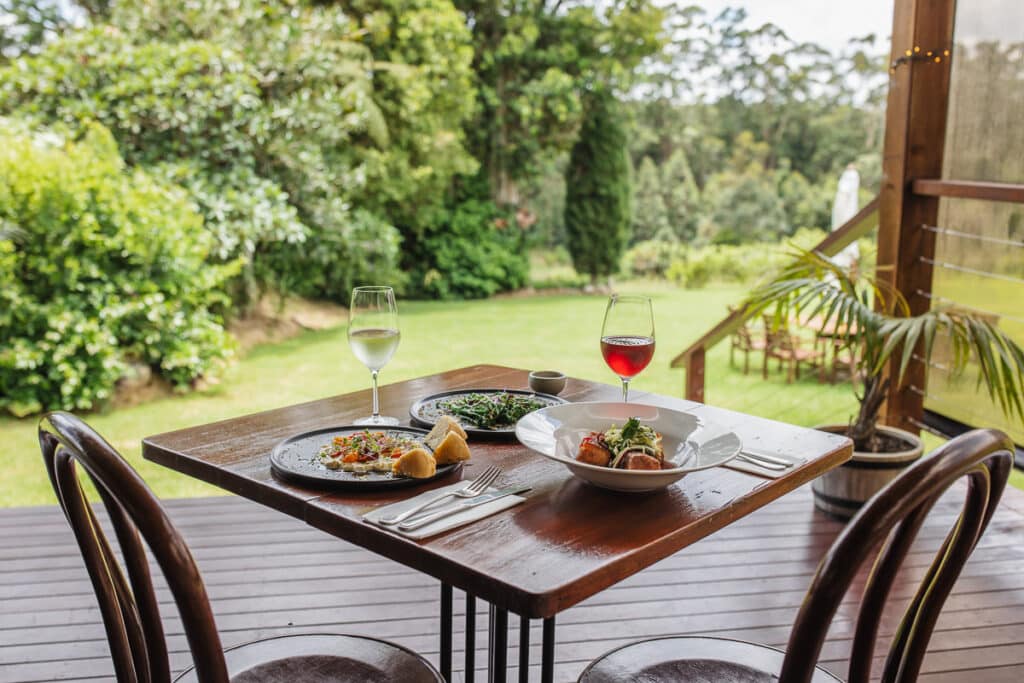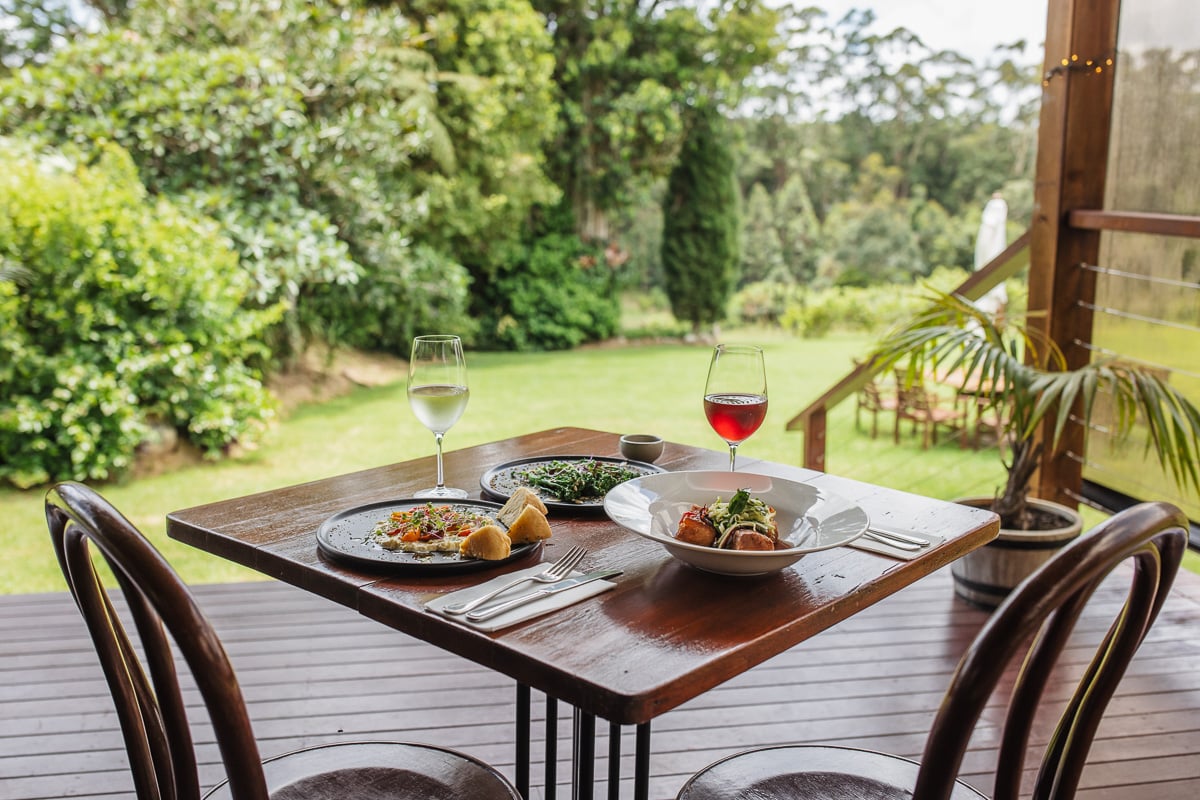 Artisanal liqueurs come courtesy of Tamborine Mountain Distillery, an iconic venue that's won over 300 awards (and counting). From apple schnapps to absinthe and eucalyptus leaf-infused vodka, there's something for every taste.
Sound like your glass of sparkling rosé?
Then book your spot on our Tamborine Mountain Wine & Dine tour today. The trip includes door-to-door transfers, a chatty local guide, three cellar door tastings, one gourmet lunch, and a sensational spirits sipping session.  
Jump on one of our public tours to quaff top-quality plonk with newfound friends. Or, book a private trip to share the experience with your besties. It'll be amazing either way.