Whether you're mad about koalas or have a thing for bottlenose dolphins, you'll find an array of enthralling animal experiences near Brisbane.
Home to some of Australia's top zoos and sanctuaries, South East Queensland is a mecca for animal lovers. We're covering the best up-and-close experiences with cute furry critters—or fierce scaly beasts—in this post. 
Australia Zoo: Animal Encounters
Australia's most iconic zoo is your go-to venue for all manner of exotic animal encounters. As former frontman Steve Irwin once said, "When people touch an animal, the animal touches their heart."
A bewildering range of species can touch your heart through a fully supervised Australia Zoo animal encounter. Non-native favourites include Sumatran tigers, red pandas, Komodo dragons, meerkats, eagles, otters, rhinos, giraffes, tortoise, and binturong.
If you'd rather snuggle up to all-Aussie species, native encounters span koalas, wombats, echidna, and kangaroos.
Lone Pine Sanctuary: All-Stars Tour
Our cute and cuddly koalas are nigh-on impossible to spot in the bush. But don't stress. Lone Pine Koala Sanctuary has stacks of the fluffy little critters.
While it's possible to see plenty of koalas on-site, you'll need to join the two-hour All-Star Tour to get a pat and a happy snap. The package deal includes up-close encounters with reptiles and the resident owl. You'll also get a feeding session with an adorable platypus.
Currumbin Wildlife Sanctuary: Koala "Behind the Scenes" Experience
For a quick Koala fix in the Goldie, pop into the perennially popular Currumbin Wildlife Sanctuary. The daily 11 am event lets you pat, hold, and pose with everyone's favourite tree-dwelling marsupial. More than just a photo-op, you'll learn about the cuddly species' habitat and dietary habits.
Not in love with koalas? The sanctuary runs similar animal encounters with pandas, capybara, tamarins, echidnas, and possums.
Lyell Deer Sanctuary: Deer
Little-known Lyell Deer Sanctuary houses a herd of rescued hoofed mammals, with species spanning red, rusa and fallow deer. The tranquil hideaway resides a half-hour outside Brisbane in the beautiful Samford Valley—take a picnic and make a day of it.
As a small, family-run animal rescue service, the sanctuary has nurtured these gentle creatures for over 30 years. Guests are welcome to cuddle, pat, and hand feed the deer. Budget-conscious animal lovers should know the venue has rock-bottom entry fees.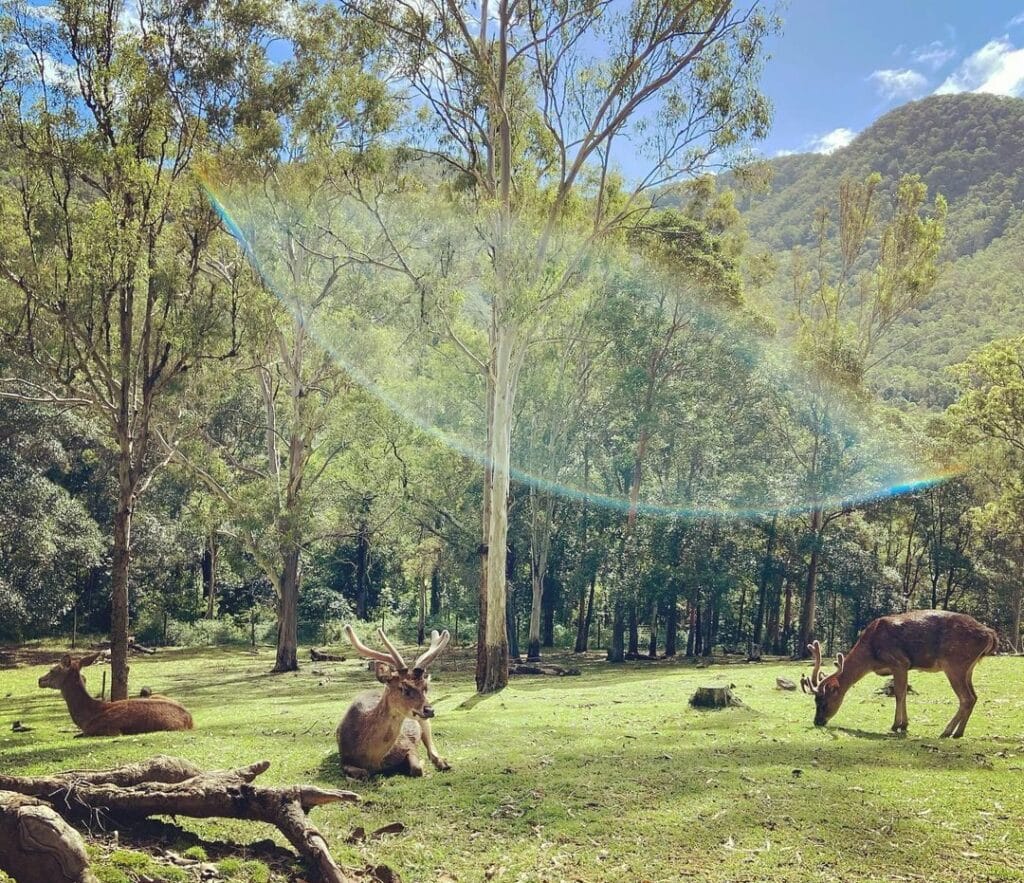 Tangalooma Resort: Wild Dolphin Feeding
This swanky four-star resort runs an interactive dolphin feeding experience on Moreton Island. Participants get to hand-feed fresh fish to the wild bottlenose dolphins that rock up around sunset each evening.
No touching is allowed to comply with Government rules and best environmental practices. The wildlife experience comes included in select Tangalooma Resort accommodation and day cruise packages.
What to Do After These Animal Experiences near Brisbane
Looking for more exciting adventures in South East Queensland?
Then join us on a decadent epicurean escapade in Brisbane, the Gold Coast, or Tamborine Mountain. We'll whisk you between the finest gastronomic institutions, stopping off at small-batch boutique booze makers to enjoy tasty tipples on the way.
We can also incorporate these unforgettable animal activities into a private tour or customised corporate retreat.
Image Credit: Australia Zoo via Instagram, Lone Pine Sanctuary via Instagram, Currumbin Wildlife Sanctuary via Instagram, Lyell Deer Sanctuary via Instagram & Tangalooma Resort via Instagram