Welcome to the ultimate foodie's guide to the best Burleigh Heads restaurants! Whether you're a local or a visitor to this hip Gold Coast suburb, you'll be spoiled for choice with the delicious dining options on offer. From seaside cafes with spellbinding views to exotic oriental eateries, there's something to satisfy every palate.
As seasoned foodies, we've scoured the streets and sampled the best of the best to bring you our top eight long-standing favourites. So sit back, relax, and prepare to be tantalised by our go-to list of the best Burleigh restaurants.
Rick Shores
If you're looking for the best Burleigh restaurants with a stunning beachfront location AND divine Asian fusion cuisine, Rick Shores is a must-visit. This iconic venue boasts an exquisite menu filled with mouth-watering dishes that are sure to leave your taste buds tingling with delight. From the heavenly red duck curry to the savoury lamb rendang, every dish is a feast for the senses.
And let's not forget the Insta-famous Moreton Bay bug rolls that are sure to make your taste buds dance with joy. For the ultimate Rick Shores experience, treat yourself to their set-menu banquet, where you can savour the whole gamut of flavours while sipping on delicious cocktails and admiring the breath-taking view.
In fact, this is exactly the vibe on our perfectly curated Eat & Drink the Gold Coast tour – not only will you have the best seat in the house, you'll also be treated like VIPs.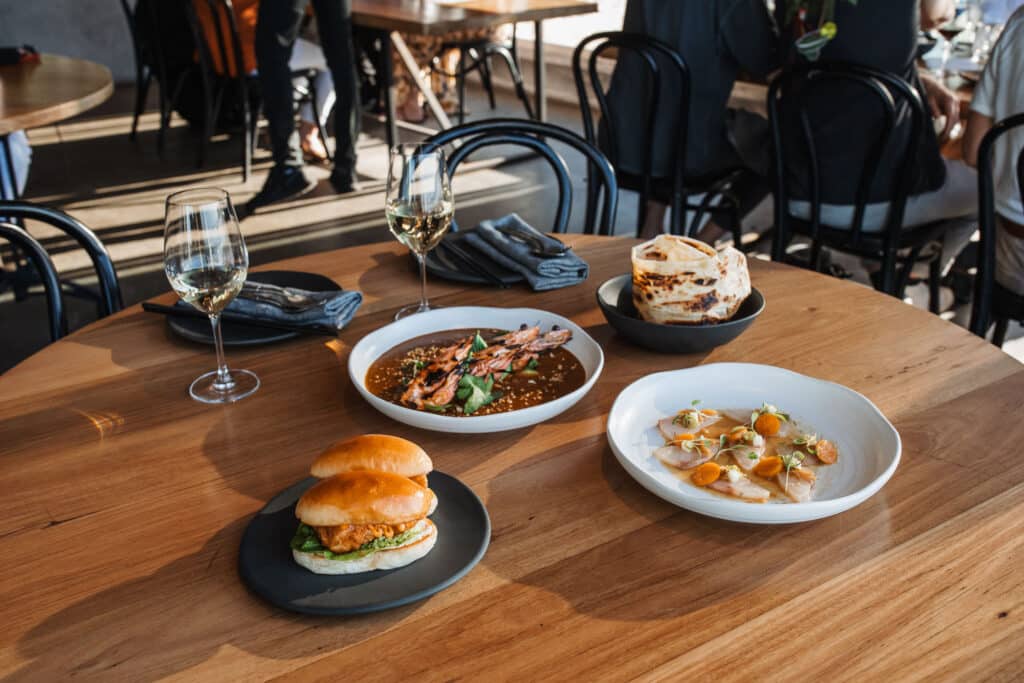 Restaurant Labart
Nestled in the heart of West Street, this chic minimalist restaurant serves up brilliant French bistro fare that's sure to impress even the fussiest foodies. Indulge in a six-course degustation menu that spans everything from Bay lobster tail to Wagyu rump, and experience the best that French cuisine has to offer.
But that's not all. This gem of a restaurant also offers next-level wine pairings that add an extra touch of indulgence to your already-exquisite culinary experience.
It's no wonder why this hotspot is a favourite among locals and tourists alike. So, if you're looking for the best Burleigh restaurants, this one should definitely be on your list.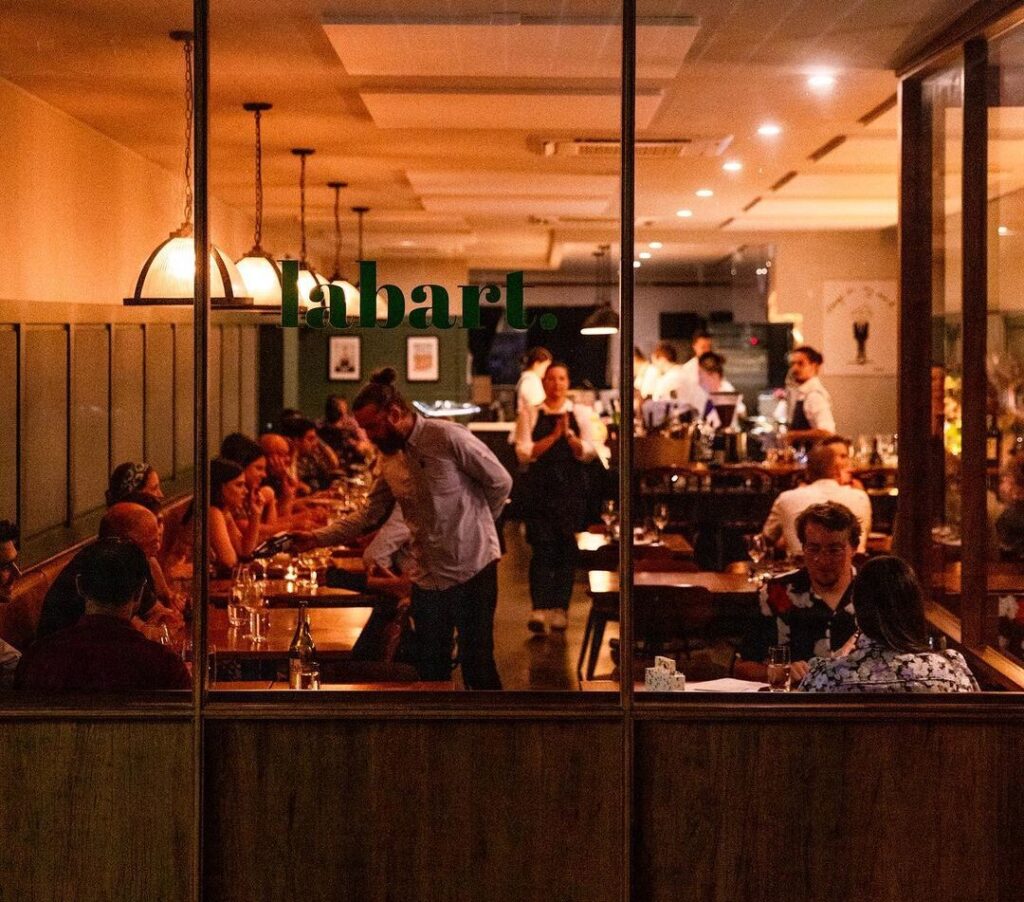 Oi Izakaya – Japanese Restaurant
Right around the corner on James Street, this well-priced Japanese restaurant specialises in sublime vegetarian and seafood okonomiyaki. Accompany these delicate savoury pancakes with a Japanese whisky-infused cocktail from the buzzy bar. Fresh ceviche, sensational sashimi, and heavenly gyoza offer an alluring alternative to the signature dish.
The Tropic
Set alongside Rick Shores, this chic whitewashed Burleigh eatery offers the same mesmerising views. On the menu, you'll find a scrumptious range of Mediterranean seafood classics, from Goldband snapper to ocean king prawns. Pair your tasty morsels with a delicious drink and soak up the incredible setting.
Burleigh Pavilion
Next door lies Burleigh Pavilion, a laidback bar-style alternative serving a refined take on classic pub fare. Staples like thin crust wood-fired pizza, freshly caught oysters, and kingfish tartare stack the menu, served in the buzzy indoor pavilion or breezy outdoor patio. It's a popular spot among locals and weekend travellers seeking a scenic sundowner
Rosella's Bar
Over on the Gold Coast Highway, this bustling bar brings all things Australiana to Burleigh. Creative cocktails like Blinky Bill (with eucalyptus vodka) keep the crowd humming until the wee hours, while the all-Aussie décor enhances the patriotic vibe. As for the food? Order a mini esky full of fresh oysters or a gourmet rendition of the classic BBQ snag sanga. Cheers mate!
Jimmy Wah's – Modern Vietnamese
The brainchild of the hospo heroes behind Verve and Social Eating House, this divine Vietnamese eatery serves a smorgasbord of contemporary delicacies. While the unassuming Gold Coast Highway venue isn't as bling as other Burleigh restaurants, it lures flocks of foodies for its first-rate food. From the crunchy banh mi baguettes to the braised beef bao and steamy pho, you won't find better this side of Saigon.
Light Years – Burleigh Heads
This long-standing Byron institution brought its boisterous business model to the people of Burleigh Heads. Creative technicoloured cocktails, vibrant oriental décor and cruisy tunes make it a knock-out spot to socialise. Executive Chef Robbie Oijvall whips up a tempest of tempting Asian treats, from spicy curries to flavoursome wok-fried rice.
Sample the Best Burleigh Heads Restaurants with Kiff & Culture
Keen to devour the best gourmet gastronomy around town?
Then sign up for our Eat & Drink the Gold Coast tour. We'll whisk you between the city's top culinary hotspots and small-batch booze producers in one epic epicurean adventure.