Looking for an idyllic Tamborine Mountain retreat?
This post is for you. 
A quick 45-minute trip from the Goldie and only one hour from Brisbane, Tamborine Mountain is close enough for a leisurely day trip.  But with so much good stuff to savour in the Scenic Rim, why limit your hiking and wine-tasting escapades to one day?
A solid selection of cosy lodgings lies peppered around the region, from extravagant wineries to chic eco-resorts. Pinpoint the perfect Tamborine Mountain retreat with this curated list of our top picks for 2023. 
Verandah House
Our favourite place to stay on Mt Tamborine, Verandah House boasts eight boutique suites in a sprawling Scenic Rim estate. Chic boho interiors come bathed in airy peppermint sage hues, while wrap-around balconies let you soak up the majestic view.
A crackling log-fueled fireplace and complimentary mini-bar bring the essentials for a romantic night in. Feeling stressed from work? Soothe those worries away at the in-house wellness centre. For a Tamborine Mountain retreat with all the bells and whistles, Verandah House has got to be the first port of call. 
Hampton Estate
One of our favourite Tamborine vineyards, the viniculture gurus at Hampton do a killer Sparkling Rose. And once you've had your fill of the bubbly stuff, it's got a brilliant little boutique to lay your wine-weary head.
The gorgeous whitewashed abode is home to eight elegant studio suites. Each comes complete with sparkling modern ensuites, a handy kitchenette, and a private balcony with sweeping views of their luscious lawns. Upgrade to the Deluxe Suite to snag an ultra-luxe spa.   
And yes. You will get a complimentary bottle of Hampton wine on arrival.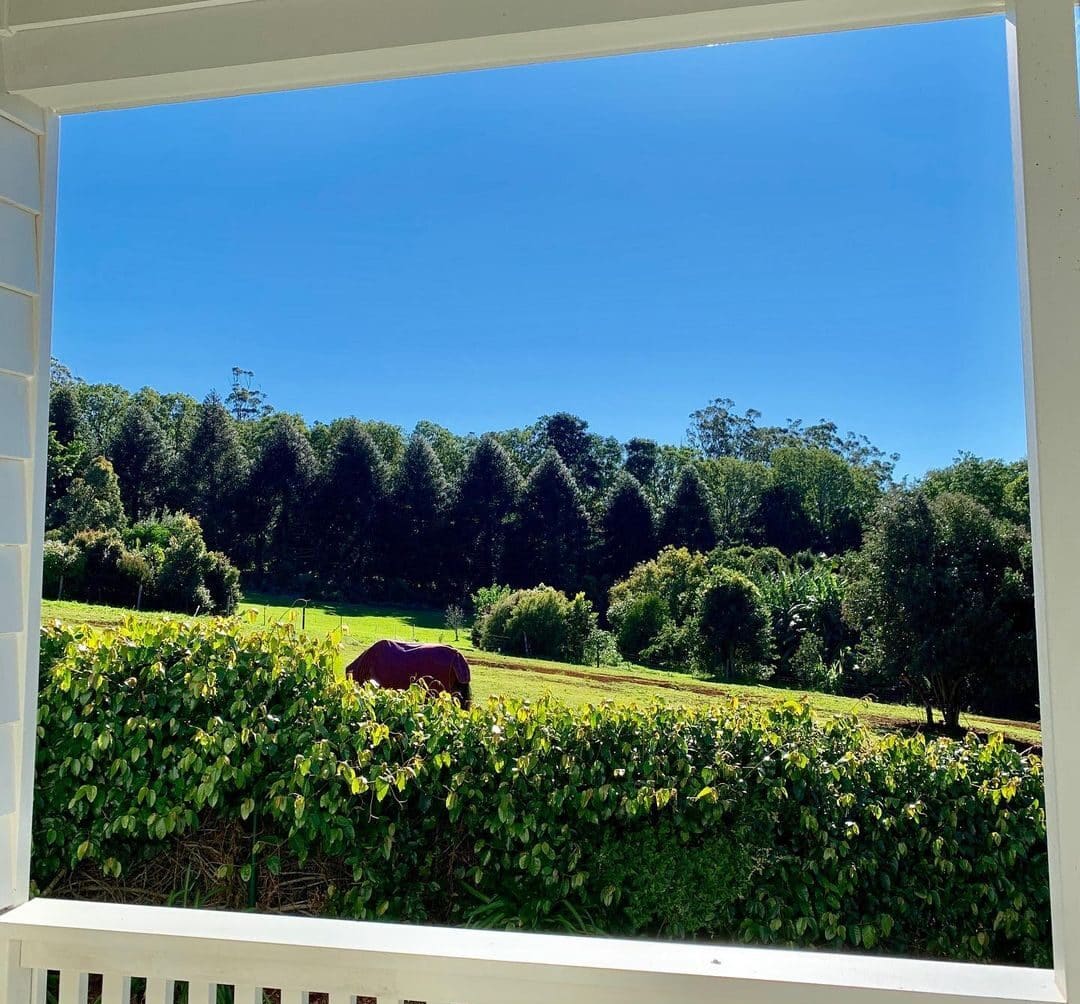 Escarpment Retreat
Set on four acres of lush botanical gardens, this award-winning rainforest sanctuary boasts some of the most stunning views on Tamborine Mountain.
Perched on a cliff on the southern side of the mountain lies the aptly named Edge House. This fully contained three-bedroom cabin features an outside deck with a log fireplace and views through the rainforest all the way to the coast. It is truly breath-taking and undoubtedly one of the best retreats on Tamborine Mountain.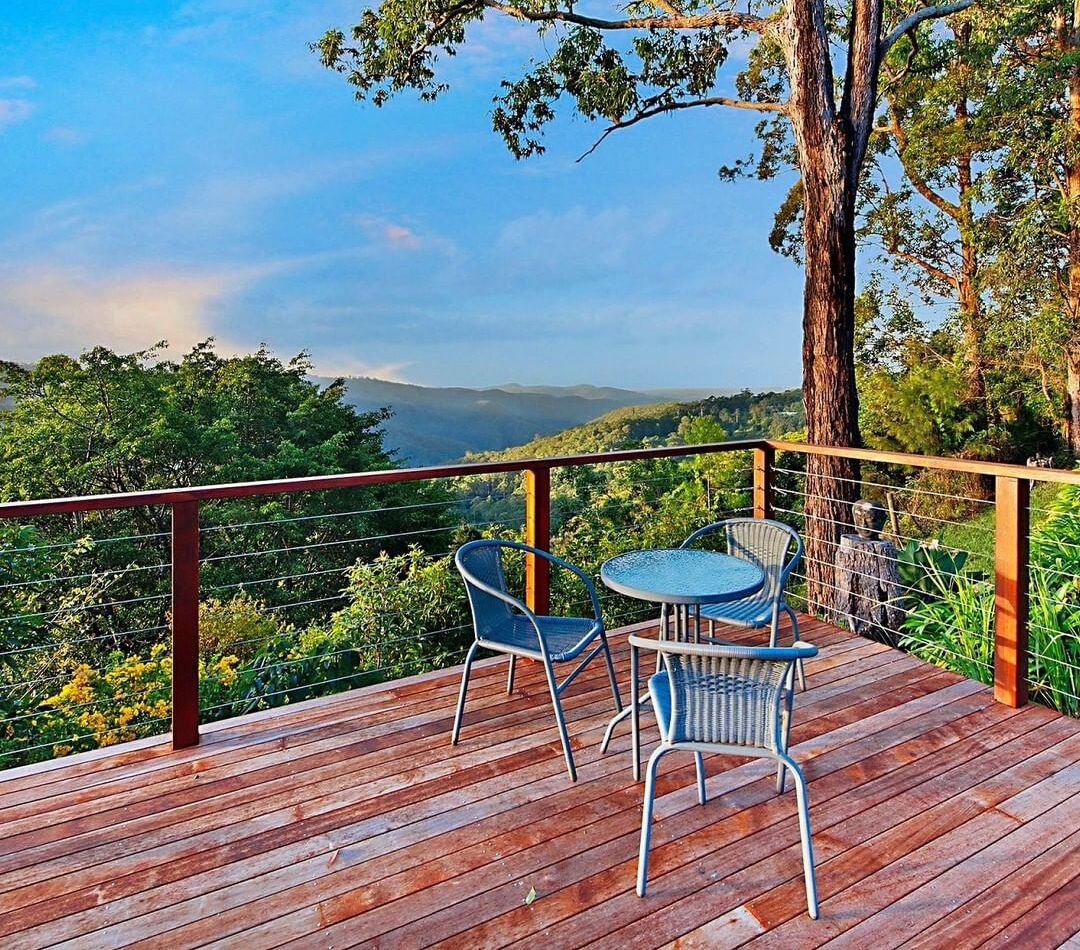 Songbirds Rainforest Retreat
Nestled amid 51 acres of sopping wet rainforest, this tranquil five-star eco-resort is the ideal Tamborine Mountain retreat to crush those inner-city blues. Wake up to the soothing sound of parakeets chirping by your luxury villa. Next, nibble away on a gourmet breakfast at the excellent in-house restaurant.  
All six well-appointed villas boast serene South East Asian décor, a bubbling tub with a rainforest view, and private balconies. Keen to stretch the legs? Hiking trails meander through the lush property.
Pethers Rainforest Retreat
Romantic getaways don't get much more amorous than a weekend at Pethers. This heavenly rainforest retreat has been specially designed with loved-up couples in mind. No noisy kids or big, boisterous groups allowed.
Each of its ten intimate treehouse-style villas features a private spa for two and a five-metre high floor-to-ceiling window for a gorgeous rainforest view. Polished hardwood floors, colossal plush rugs, and a cosy living and dining space amp up the luxe factor a notch. 
Still sound a tad too stressful? Book yourself in for a hot lava stone massage.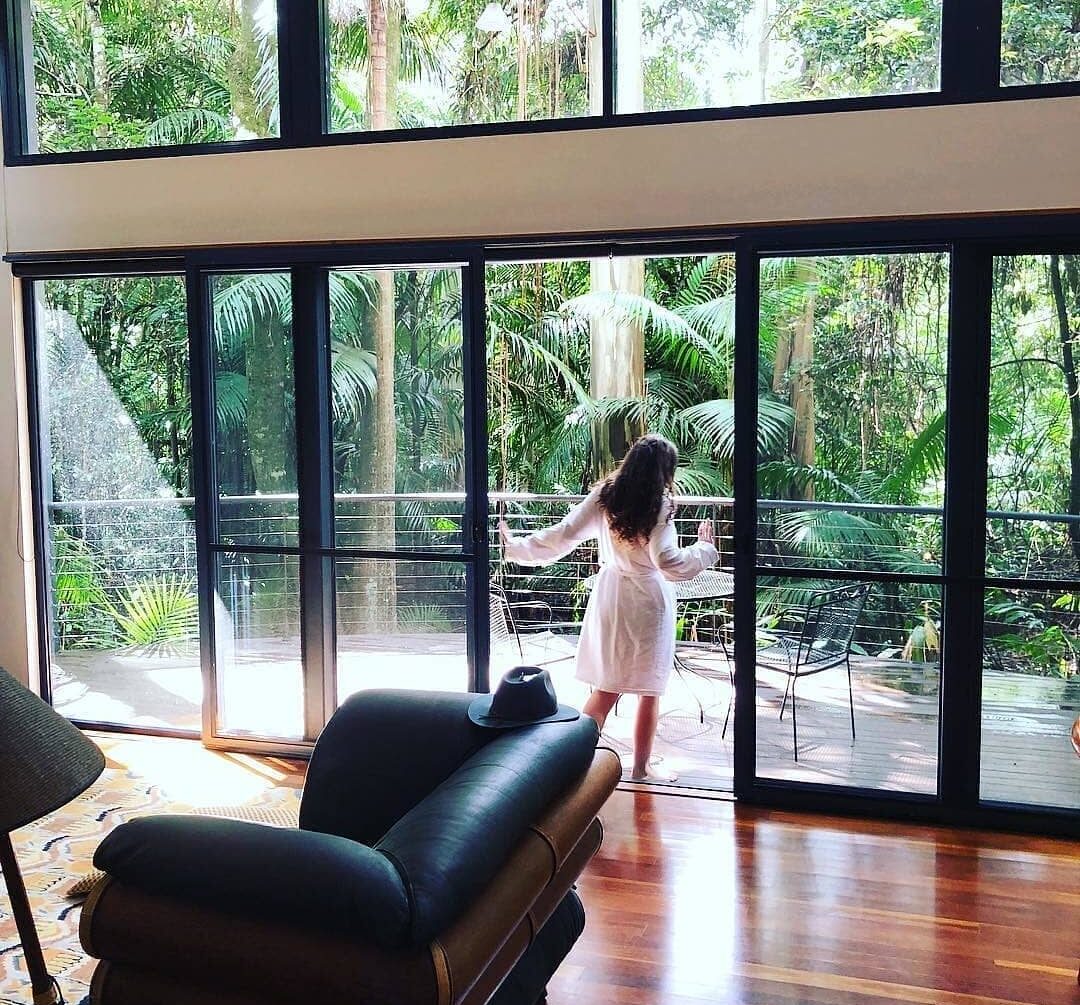 Tamborine Retreat
Set on 12,000m2 of rainforest-shrouded pastures, this luxurious two-bedroom property is the perfect place to escape the rat race.
High-pitched ceilings, glistening glassworks, and a pot-belly fireplace give cause to kick back indoors. Rather immerse yourself in nature? Simply gaze through the floor-to-ceiling windows or step onto the balcony to admire the mountain views. Keep an eye out for curious kookaburras and the resident whip bird.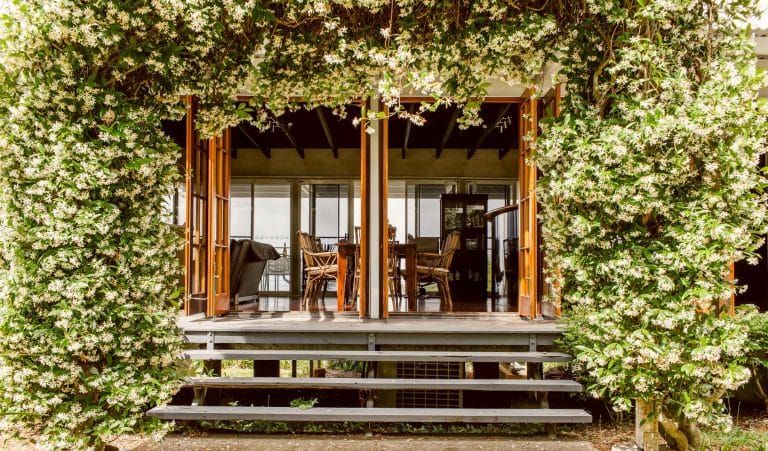 Cedar Creek Lodges
A stone's throw from Cedar Creek Falls, this popular eco-resort offers self-contained cottages and swanky glamping tents draped in soothing rainforest surroundings.
The lodgings reside within Thunderbird Park, which puts adventure activities, gourmet dining, and wellness therapies right at your doorstep. There's even an on-site art gallery in the Lobby and Lounge Bar.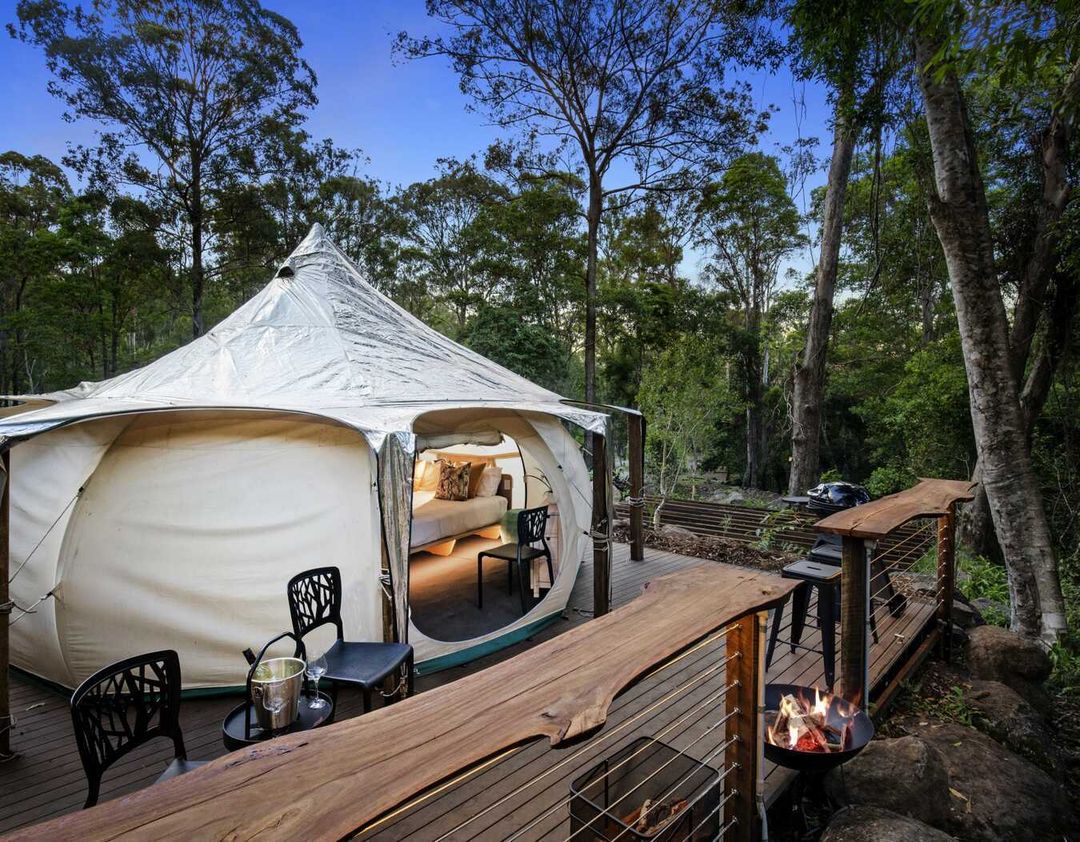 Enjoy a Tamborine Mountain Retreat with Kiff & Culture
Yearning for an unforgettable Tamborine Mountain retreat?
Then check out our two-day Hinterland Wine Luxury Stay tour. We visit the top local wineries and overnight in a swanky Tamborine Mountain retreat. The second day is all about savouring the beautiful surrounds at a more leisurely pace,.
If you'd rather visit the region on a single-day, whirlwind wine-swilling bonanza, we've got the perfect option. Our Tamborine Mountain Wine and Dine tour takes in the top three Scenic Rim vineyards and one artisanal small-batch distillery.
Cruisy tunes, top-shelf booze, and gourmet food guarantee an unforgettable day out. Oh, and the scenery is pretty good, too.