Calling all Brisbane based brides planning their wedding! 
Organising your nuptials can be overwhelming. Even for the most organised bride. But we've got your back! Here are 7 things you need to know to have the wedding of your dreams.
1. What Is Your Wedding Budget?
How much money can you spend in total? This will affect everything from the wedding dress, photographer, venue, and more.  
Not sorting out your budget can lead to disaster… and overspending. Keep track of your wedding expenses to make sure you don't run out of cash. Get detailed!  Use an app like Wedding Happy to keep organised.
2. Choose The Date
The great thing about a Brisbane wedding is the climate. We're famous for glorious weather. 
But summer… It can get really hot. Not to mention it's storm season. 
Think about what type of season you would prefer. This will influence your preferred date and can affect the direction you take with your wedding dress. 
Consider possible dates at least 12 months out. It takes the average couple a year to plan their wedding. And if you're looking for cheaper options with more venue availability, a weekday wedding can deliver. 
3. Choose A Wedding Venue
With a Brisbane wedding, you have access to everything from river views, to rainforest retreats, and seaside settings. 
So, here are some of the best local venues that make the most of what Brisbane has to offer:
Inner-City Wedding
Crystalbrook Vincent is a modern inner city hotel overlooking the Brisbane River and the Story Bridge. They have numerous venue spaces available. And with 166 beautifully designed rooms, guests can stay over in style. 
If you're planning a small wedding, the Registry Office has architecturally designed ceremony rooms with Brisbane River views. 
Scenic Wedding
Want a dreamy rainforest wedding without long travel time? Then check out the Bundaleer Rainforest Gardens. Have your ceremony and wedding photos in the lush rainforest. 
Not far from Brisbane, Kooroomba Vineyards and Lavender Farm is perfect for a whimsical wedding. Stroll through the lavender farm overlooking the Scenic Rim for gorgeous wedding photos.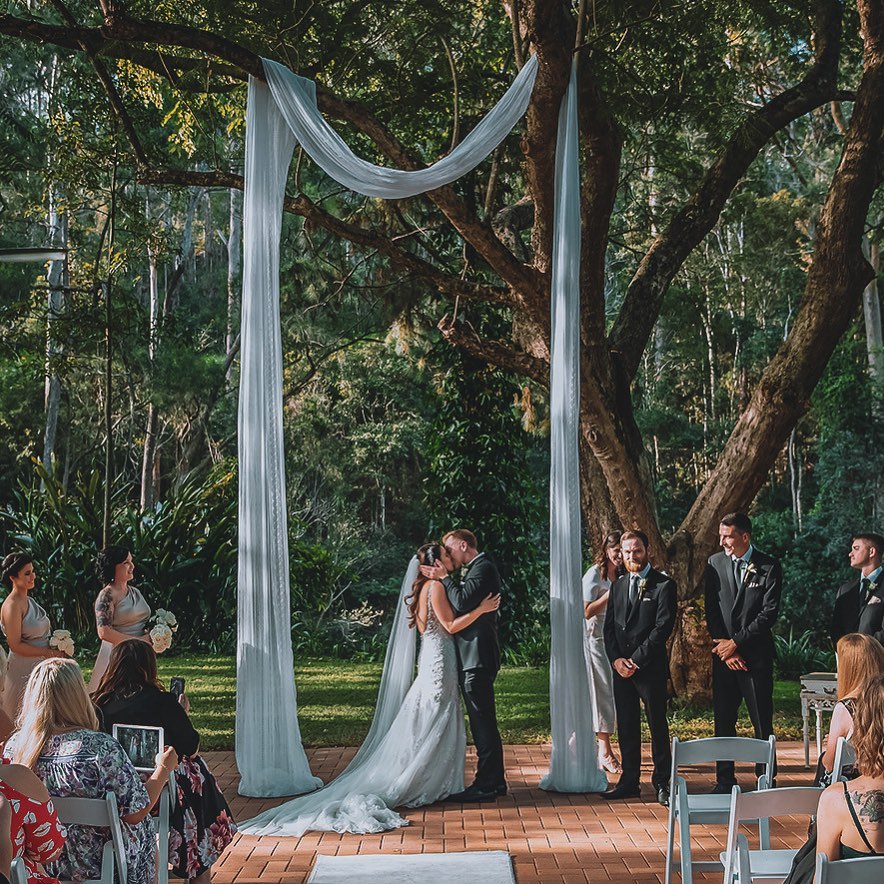 Beach Wedding 
The Courthouse in Cleveland is a popular choice with Brisbane brides. Say "I Do" in their beautiful courtyard overlooking Moreton Bay. Then head over to their award-winning restaurant located in a historic brick and sandstone structure.  
For those prepared for a short trip out of Brisbane, Salt Bar on the Gold Coast provides stunning beach views. Located in Kingscliff, Salt Bar offers a variety of ceremony settings with garden, park and beachfront spaces available.  
Not sure what setting you'd prefer? Why not take a trip to get a feel for some different areas. Take a day trip or weekend adventure to places such as Byron, the Tweed Coast, the Scenic Rim and the Gold Coast to see what draws you in.
4. The Dress
This is the big one! 
You'll want to make sure you have money in the budget. Bridal gowns don't come cheap! And keep in mind that most wedding dresses need to be ordered months in advance, so plan accordingly.
Some of the best bridal boutiques in the Brisbane and Gold Coast area are:
Grace Loves Lace – For the bride who loves a unique but sophisticated style. 
Paddington Weddings – For classic bridal looks.
Babushka Ballerina – For brides looking to make a bold statement.
Karen Willis Holmes – For modern shapes with a nod to vintage glamour. 
5. Assemble Your Team
It takes a team to make the perfect  wedding happen. You'll need to consider hiring different services such as a photographer, videographer, a band, and more. 
Easy Weddings is the #1 Australian wedding directory for services you'll need to book for your special day. 
They have free planning tools to help you out. And offer wedding planning if you decide to delegate.
6. Sort Out The Legalities 
While heading down the aisle is important to celebrate your union. Most of your wedding technically pomp and ceremony.
When it's all said and done you want to make sure you're legally married!
The Queensland Government has all the information you need to apply for legal marriage. They also have a list of registered marriage celebrants. 
7.  Plan The Perfect Hen's Party
Even if you've got a rock star maid of honor, family, and friends helping you out… Things can go haywire. It's Murphy's Law. 
Let it all go and let your hair down with a hen's party. Leave some cash in the budget for a fun hen's bash with your loyal bridesmaid crew.
You can go the traditional route of cocktails and the club. Or you can do something different, like a tour to a beautiful locale. Kiff and Culture offer a bunch of fun and scenic tours planned to perfection. 
Image credit: Ladyplant via Instagram, Glasshouse Country Weddings via Instagram, Easy Weddings via Instagram, Grace Loves Lace via Instagram, Courthouse Weddings via Instagram, Bundaleer via Instagram, Crystalbrook Vincent via Instagram