Ready to embrace the great outdoors and dance around a crackling campfire? There's no better way to brave the chilly winter months than by huddling around a campfire, vino and S'mores in hand. Lucky for us, there are plenty of awesome camping spots where you can do just that!
We've tracked down some of the best camping sites in Queensland where you can build a campfire. But before you hit the road, make sure to:
Check if there are any current fire bans

Never leave fires unattended

If you're camping in a national park,

triple-check

campfire rules on the Department of National Parks, Sport and Racing website
Don't forget to pack the marshmallows!
Mount Barney Lodge, Scenic Rim
Nestled in the picturesque Scenic Rim region, Mount Barney Lodge is a haven for campers seeking a touch of rugged beauty. With its majestic mountain backdrop and wide starry skies, this campfire spot offers an exhilarating range of activities. Hike to the summit of Mount Barney, go rock climbing, or simply unwind by the campfire as the stars blanket the night sky–here you're at the gateway to some of the best remote bushwalking opportunities in the region. 
The campsite is accessible by conventional vehicles, camper trailers, motorhomes, RVs and caravans.
Campfire rules: Campfires are allowed in provided campfire places. Bring clean, untreated firewood or purchase a bag from the lodge's shop.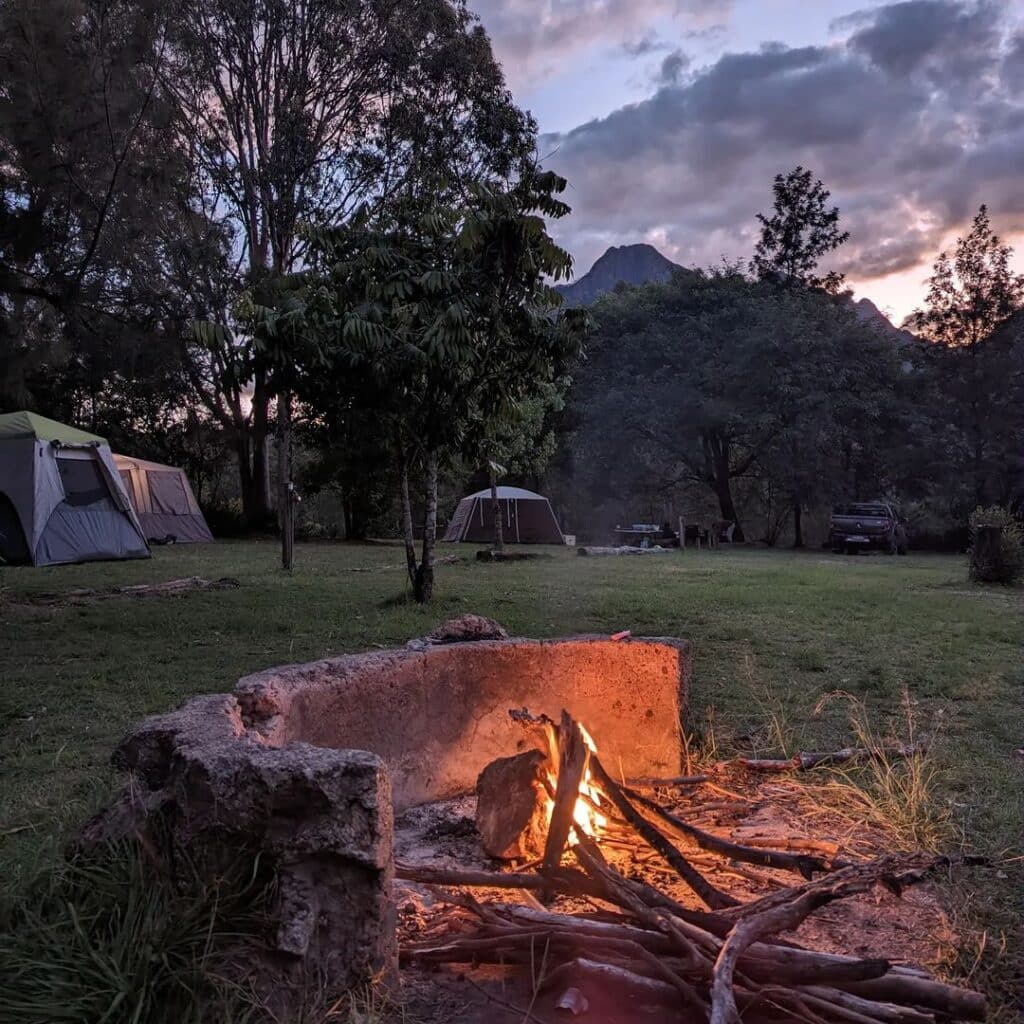 Moreton Island (Mulgumpin)
Escape the city and head to Moreton Island for a true island getaway. Besides indulging in all the regular Moreton activities (e.g. snorkelling, kayaking, and hanging out with dolphins), you can also cosy around a campfire and roast marshmallows–yeehaw!
Campgrounds can be reached by foot, boat or 4WD depending on where you plan to set up. If you plan on walking or 4WDing, you can also jump on the MICAT ferry service from Brisbane to the Tangalooma Wrecks.
Campfire rules: Permitted only in pre-existing fireplaces or fire pits at designated campsites. If you forget to bring your own firewood, you can purchase it at barge departure points or the Bulwer General Store. Cut kindling from your firewood (don't collect twigs and branches from the bush) and make sure you extinguish with water, not sand.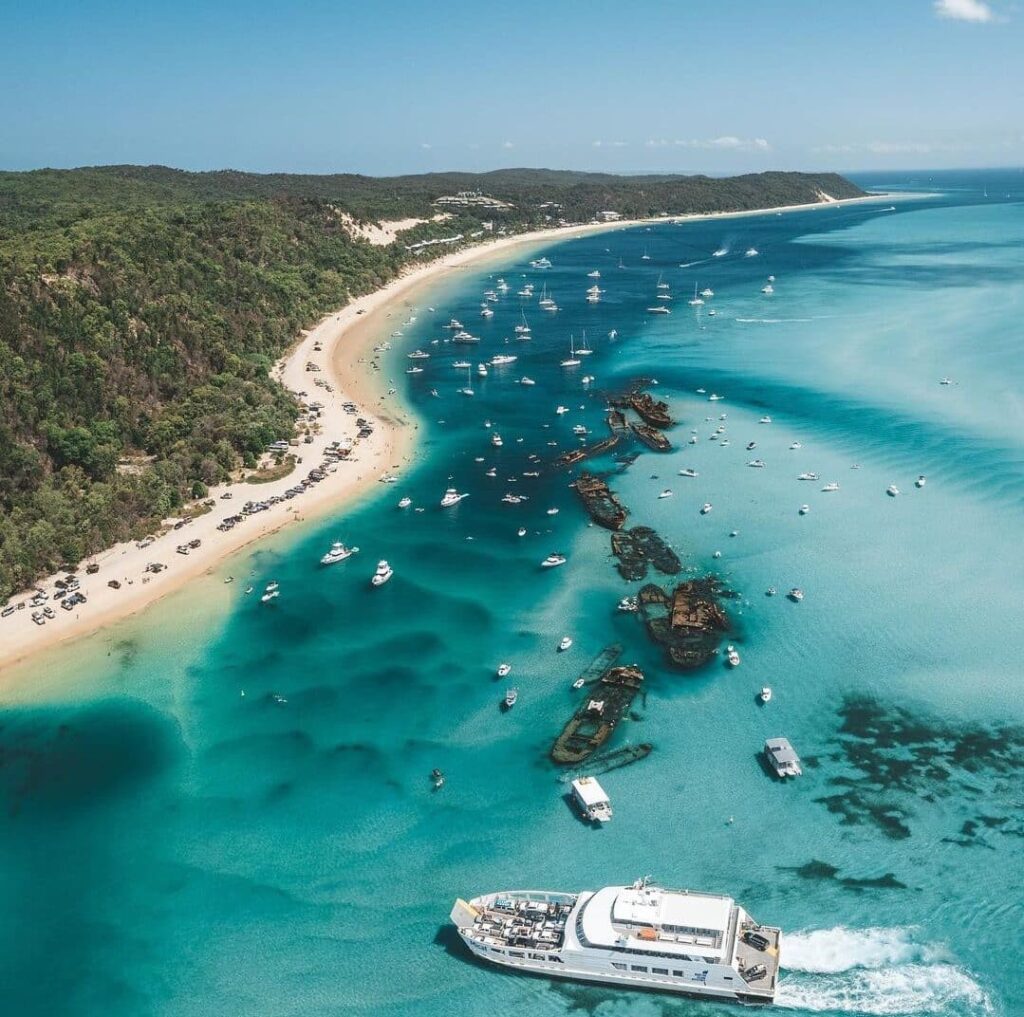 Bribie Island
If you've never been to Bribie Island, we've got news for you–it's basically a camping paradise. Explore mangrove forests, spot wildlife, relax on pristine beaches, and gather 'round the fire when the sun goes down! Campgrounds are accessible either by 4WD or boat.
Campfire rules: Fires are permitted at all campgrounds in the fire rings provided. Bring your own clean, milled firewood as it's illegal to collect firewood in the national park and recreation area.
Imbil State Forest, Sunshine Coast Hinterland
Ready to uncover a hidden gem in the Sunshine Coast Hinterland? Imbil State Forest is your go-to spot for adventure! Hike through scenic trails or hop on a mountain bike for an adrenaline rush. Cool off in the crystal-clear waters of Lake Borumba while kayaking or fishing. And when the day's excitement winds down, chill out and soak in the serene forest vibes.
The campsites are accessible by conventional two-wheel-drive vehicles along Sunday Creek Road.
Campfire rules: Permitted in the individual fire rings provided, so make sure you bring your own clean-cut firewood as it's illegal to collect firewood from the forest.
Make sure to check out Queensland Tourism's full list of the best campfire spots in Queensland for more information.
Inskip Peninsula, Rainbow Beach
According to Tourism Queensland: "Inskip Peninsula is a solid 10 when it comes to beach camping in Queensland, and for good reason."
Where else can you watch the campfire flicker against a mesmerising backdrop of crashing waves?
4WD vehicles are recommended to reach the campgrounds but the M.V. Sarawak site can be accessed by conventional cars if conditions allow. Inskip also doesn't require any vehicle access permits.
Campfire rules: Bring clean, untreated firewood such as milled off-cuts (don't use bush timber as it may contain pests and diseases) plus kindling and firelighters. Use pre-existing fire sites and extinguish with water only (not sand!).
K'gari (Formerly Fraser Island), Fraser Coast
Get ready for breathtaking freshwater lakes, ancient rainforests, and epic sand dunes. Go on wild 4×4 adventures, catch glimpses of majestic whales, and let the campfire light up your nights. K'gari has something for everyone, so pack your sense of adventure.
You can access K'gari via high-clearance 4WDs and off-road camper trailers.
Campfire rules: Allowed in the QPWS-provided fire rings only. Bring your own untreated milled timber (or mill off-cuts) as it's illegal to collect firewood, including leaves and twigs for kindling.