We love a good sustainability story. So when we heard Cape Byron Distillery had transformed a run-down old dairy farm into a thriving subtropical rainforest, we wasted no time teaming up. 
In this post, we speak to Cellar Door Manager, Mel Olsen, to learn about this sustainable gin-making operation.
The Cape Byron Distillery Story
Cape Byron Distillery began in 2016. Its co-founders include Eddie Brook, a passionate, young spirit enthusiast and Jim McEwan, a Scottish distilling legend with 50+ years of experience under his belt. The two bonded over a shared love of spirits, leading Jim to eventually pop in for a visit to the Brook family farm where Ed grew up.
Ed didn't grow up on an ordinary rural plot. The Brooks spent decades transforming their ramshackle hinterland farm into a rainforest habitat. 
"What was once a run-down dairy farm when the Brooks first acquired the land back in 1988 now boasts well over 35,000 subtropical rainforest trees. Over the years, the Brooks have planted thousands of trees in a bid to return it to its original subtropical rainforest state."
Before colonisation, the farm occupied part of our long-lost Big Scrub.
"The Big Scrub was Australia's largest subtropical rainforest. However, this rainforest was completely lost (only 1% remains today) during colonisation. Cape Byron Distillery lies where this enormous rainforest once was. We can proudly say it once again has a healthy, lush, self-sustaining rainforest surrounding it today."
Jim, an astute spirits-maker, saw a unique opportunity to run a sustainable rainforest distillery.
"When Jim first walked through the rainforest, he was in awe of all the beautiful botanical flavours the Northern Rivers region had to offer. He turned to Eddie and said, 'This is destiny. We were meant to meet. We should collaborate and create a gin together.' Soon after, the distillery stood on the last empty plot on the Byron Hinterland farm."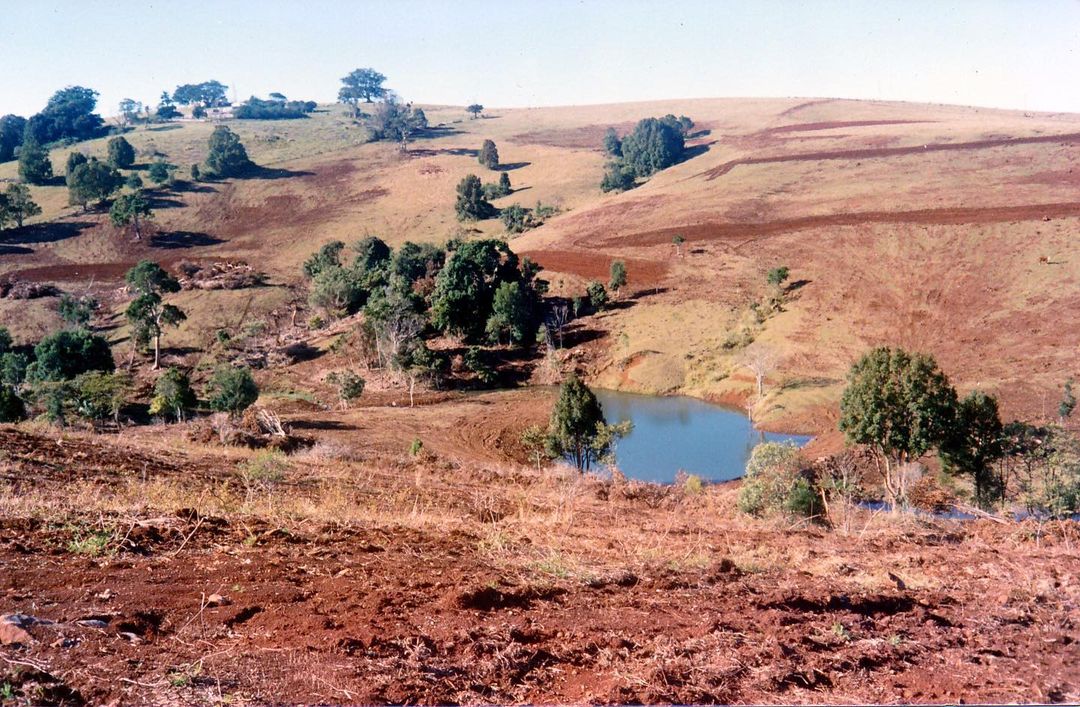 A Sustainable Approach
Keen conservationists, the duo decided from the get-go to put sustainability first in their booze-making pursuits. 
"As one of two distillers in Australia with B Corp certification, we're committed to running an eco-friendly business. Sustainability is in our DNA, and good spirits are our passion."
Part of the low-impact approach involves plucking fresh rainforest botanicals from their property.
"Brookie's Byron Dry Gin was the first spirit produced using 25 botanicals (we didn't hold back!), 17 of which are native to the Northern Rivers. Brookie's Byron Slow Gin came soon after – an Aussie riff on the traditional English Sloe, using the native Davidson Plum instead of sloe berries. Our award-winning Mac liqueur uses toasted native wattleseed and roasted macadamia nuts. The duo has produced several spirits since, each showcasing native flavours in new, creative ways."
The Cellar Door Experience
For a spirits-swilling rainforest aficionado (aren't we all?), a Cape Byron Distillery tasting session offers the best of both worlds.
"We greet our guests on the balcony with a Brookie's Byron Dry gin & tonic garnished with native finger lime and aniseed myrtle. After sharing our story, we walk through the property to touch, taste and smell our botanicals. Guests learn about native botanicals, the trials of rainforest regeneration, and the species now thriving on the land."
Once devoid of wildlife, the forested plot is now a teeming habitat for several native species.
"Occasionally, the tour turns safari when one (or more) of our resident koalas decide to make a guest appearance. At the base of the track, you'll enjoy a rainforest canopy, the sound of birds chirping, and a crystal-clear creek running through the middle of it all."
After the walk, avid spirits distillers can "nerd out on all thing's distillation."
"Guests return to the distillery to get cosy around George—our 2000L copper pot still—for the tasting portion of the tour. Eddie's passion for good quality spirits is contagious. Guests learn how we make every drop and the sustainable practices we use during distillation. Furthermore, they learn how to properly smell and taste our spirits."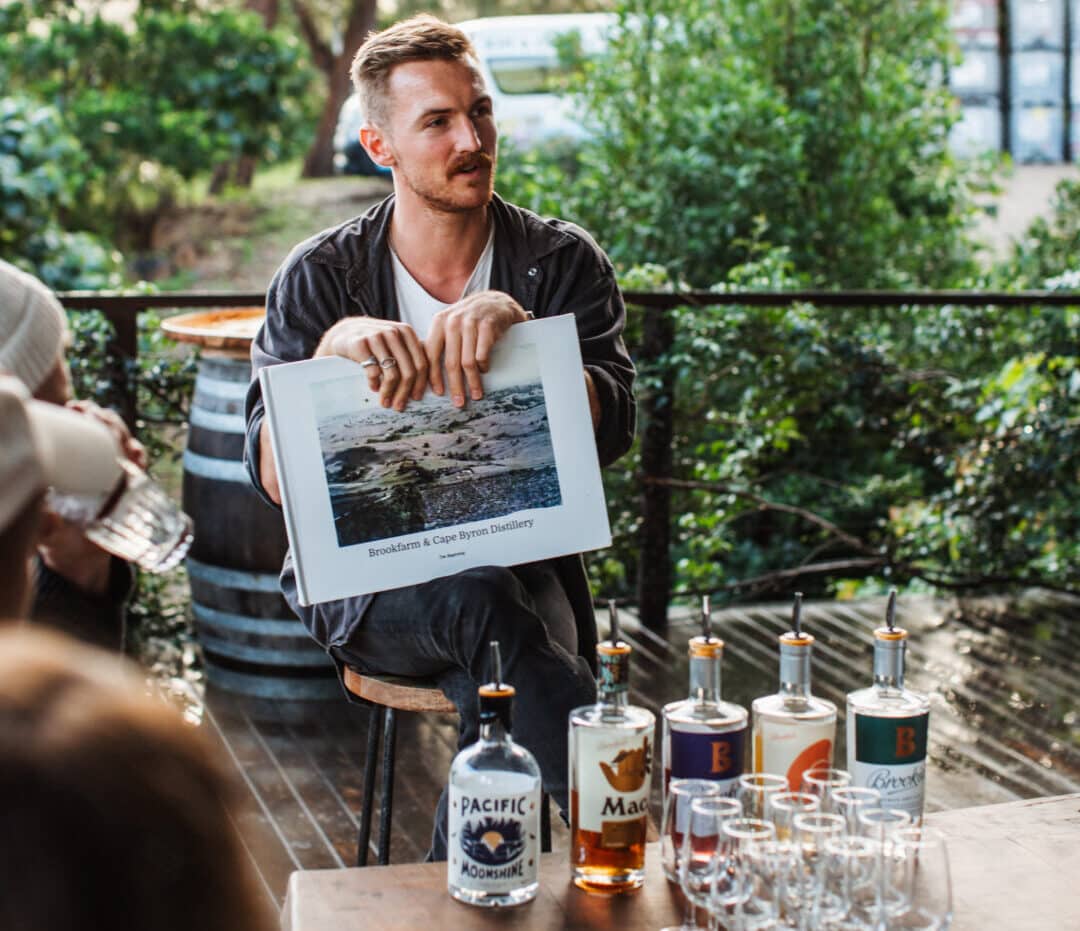 Visit Cape Byron Distillery on a Kiff & Culture Tour
Like the sound of sipping botanical-infused gin in a wildlife-rich rainforest distillery?
Then join us on a trip to visit Cape Byron Distillery. From Friday to Sunday, we pop in for a tasting session on Byron Bay Foodie Tour. Treat yourself to a tastebud-tickling gin cocktail in a Big Scrub rainforest that's fit for a koala.