There's nothing like a few decadent days of gastronomic indulgence to reward a job well done. And that's why the Brisbane to Byron Food Trail is fast becoming Kiff & Culture's top employee incentive itinerary.  
Over three gullet-stuffing days, this food-focused extravaganza bounces between our region's most sought-after epicurean haunts. From chic inner-city eats to farm-to-table feasts and small-batch artisanal sips, this taste bud-tantalising adventure is the ultimate "thank you" gesture.
The Halcyon Knights Team
Last August, we whipped up a customised Brisbane to Byron Food Trail itinerary for Halcyon Knights, one of the Asia-Pacific's leading recruitment agencies.
A lucky squad of 26 high-performing sales staff from Australia, New Zealand, and Singapore attended the occasion. Needless to say, three carefree days of devouring top-notch nosh and sipping exquisite drinks left the entire group in a jolly good mood.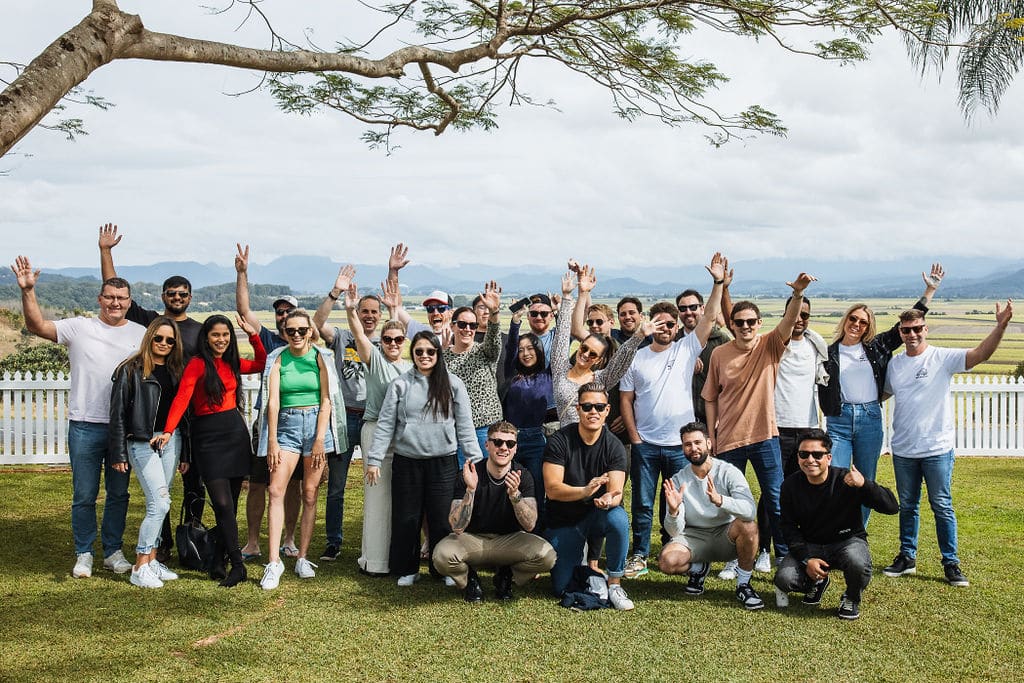 A Customisable Approach
According to attendee Julie Kirk, "We chose K&C to manage our employee event as the experiences they offered were so different and included everything we needed to make it a special celebration for our team. The communication and planning were seamless and made easy for us."
Rather than sticking to a set-in-stone itinerary, we let the Halcyon Knights call the shots. As our preferred hotel partner, Crystalbrook Byron, wasn't available on their dates, we suggested several alternative options. The gang ended up staying beachside at the swanky Elements of Byron Resort & Spa instead.
"From the moment we joined the tour our needs were met, and we could all enjoy and relax into the tour and what was arranged," Julie told us in a Google review.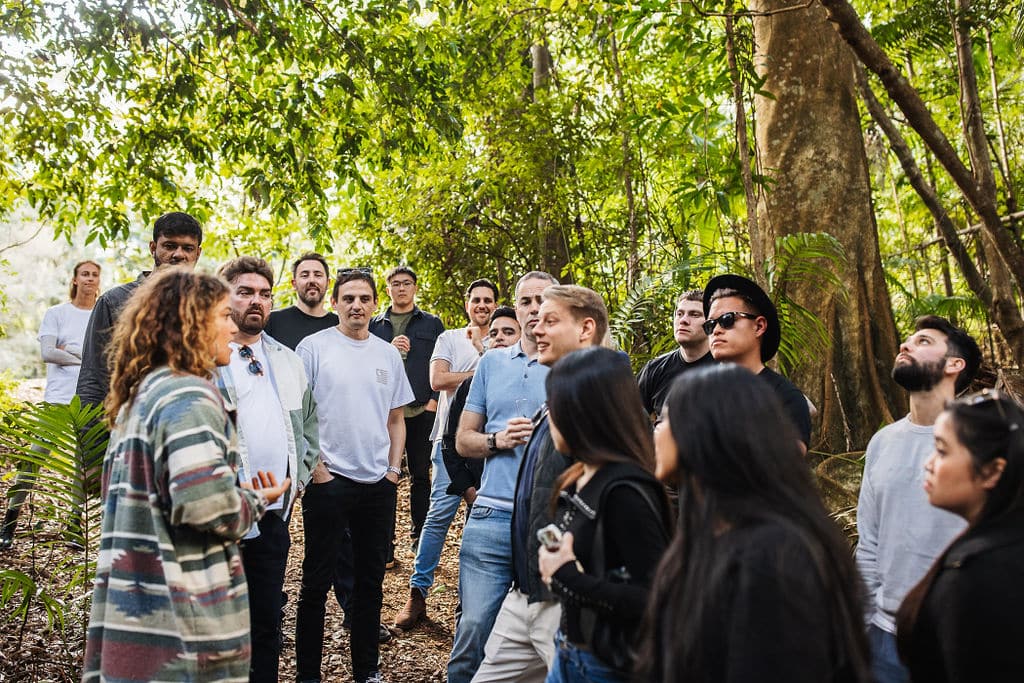 An Indulgent Itinerary
Kiff & Culture Co-Founders, Alex and Drew, travelled far and wide to find the best culinary venues for this tour. But it's not just about the food. Kiff & Culture puts sustainability at the forefront, a value reflected in all our tours. From sustainable distilleries to seasonal farm-to-table digs, each handpicked establishment adheres to strict eco-friendly practices.
On day one, the Halcyon Knights crew devoured a delicious banquet at Brisbane's City Winery before hitting the road to Byron Bay. After checking in at Elements, the gang hopped over to Crystalbrook's Forest Restaurant for a nourishing meal.  
Day two saw a filling lunch at The Farm to line the stomach, followed by a tipsy afternoon sipping artisanal booze. We sunk frothy craft brews at Stone & Wood while learning the art of beer-making on their Behind the Scenes Tasting tour. Next up was Cape Byron Distillery to slurp easy-drinking spirits and hear Brookie's sustainability story.
Though the best bit was yet to come. The evening's indulgence involved a hearty gourmet tasting menu at Harvest Newrybar, Northern NSW's favourite farm-to-table institution.
Day three had us check out of the hotel and hit Tropical Fruit World for a citrusy snack and coffee amid spectacular Tweed Hinterland surroundings. Before returning to Brisbane, we munched on a long lazy lunch at Husk Distillery. Each delicious dish came paired with a top-shelf drop from their award-winning rum and gin range.
"We really enjoyed the gin distillery, location and hearing the history around it. And just sooo much food the whole time – we were able to try lots of cuisine and local treats," Julie adds.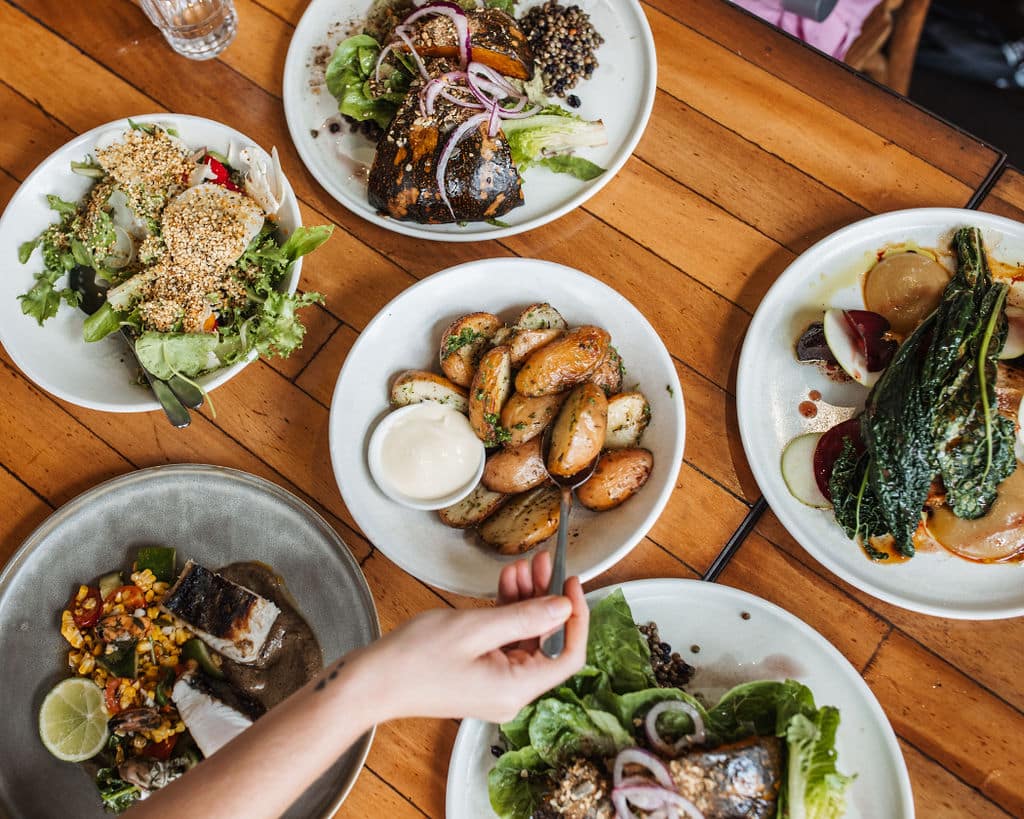 Book Your Employee Incentive with Kiff & Culture
Eager to treat your team to a three-day epicurean escapade?
Then check out our customisable multi-day tour: the Brisbane to Byron Food Trail.
We also offer an array of employee incentive alternatives and corporate retreats. Take a peek at our corporate food tours to find the perfect option for your team.
But just don't take our word for it. As Julie puts it: "If you have an event coming up and want a one-stop-shop partner, get in touch with K&C!"