It's that time of year again, and it's time to start planning your staff Christmas party. At Kiff & Culture, we've got you covered with six unique ideas that go beyond just a boring old bar tab. From a long lazy lunch at one of the city's best restaurants to a fun-filled pleasure cruise around the urban centers, we've got something for everyone.
Treat your team to a fun and informative tour of one of your city's best breweries or distilleries or take things outdoors with a barbeque in the park or a vineyard tour. And if you want to take things to the next level, book a corporate party with Kiff & Culture for a stress-free, custom-created itinerary.
So, let's make this year's staff Christmas party one to remember, with ideas that will leave a lasting impression on your team.
A Long Lazy Lunch
Why not treat your staff to a long lazy lunch at one of your city's best culinary haunts? While not every employee appreciates a big bar tab, we can guarantee all your workers enjoy top-notch nosh.
Spring for a sought-after spot with a scenic view to create a more memorable occasion. And book the table for three hours or more to ensure ample time to socialise. How do we know this? Well, we've hosted hundreds of corporate experiences, so we know a thing or two about planning perfect the event.
A Boat Cruise
From the skyscraper-fringed Brisbane River to the Goldie's glammed up canals, the best way to celebrate in SE-QLD is floating on water. Numerous local operators offer fun-filled pleasure cruises around both urban centres, complete with plenty of nibbles and drinks.
The carefree nautical theme will create an excellent photo op and an inspiring backdrop for your finely-tuned motivational speeches.
A Day Out at the Brewery (or Distillery)
Your employees deserve more than a stock-standard basic beverage package. Treat the team to a fun and informative tour of one of your city's best breweries.
Not only will you learn the craft by producing craft brews, but you'll get to savour the fruits of your labour at the end. Switch to a distillery if staff are more interested in scotch than stout.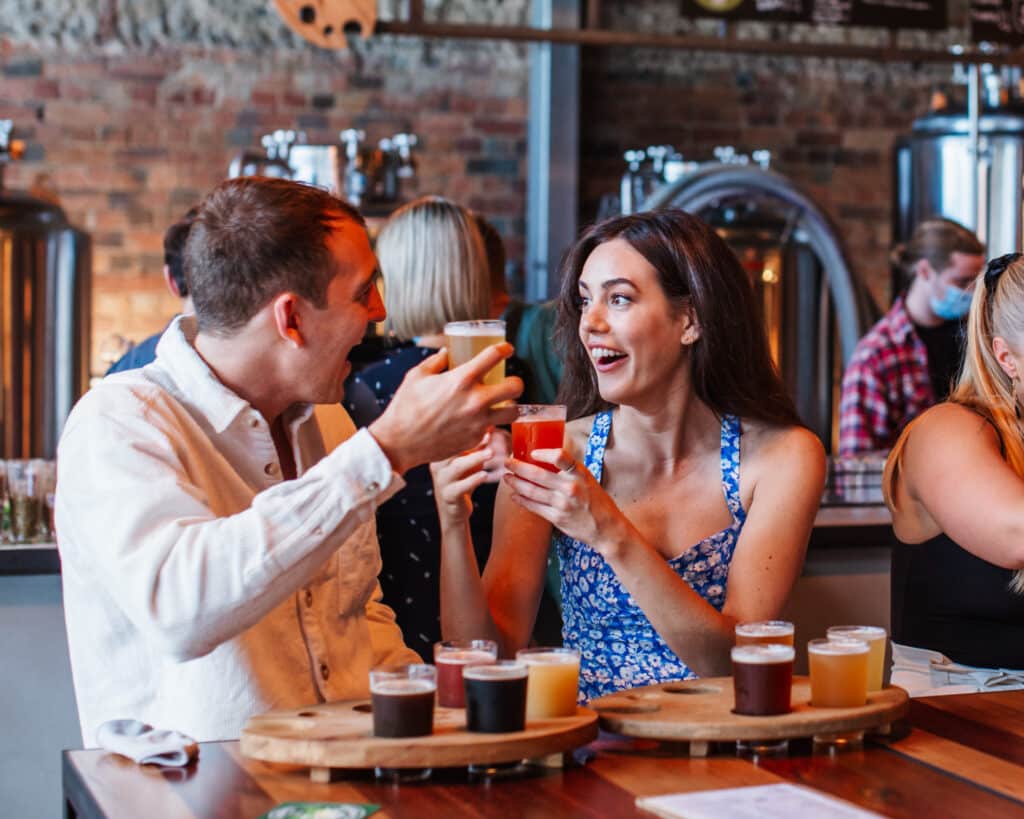 A Barbeque in the Park
Are profits looking a little thin this financial year? A barbeque in the park won't put your company in the red. As far as Staff Christmas Party ideas go, this could be both the simplest and the cheapest.
Stock up on high-quality foodstuffs and get your top-tier employees to cover the cooking. Your employees will appreciate the thoughtful gesture and enjoy socialising in a scenic open-air locale.
A Vineyard Tour
Did you know both Brisbane and the Goldie boast world-class vineyards near their respective CBDs? Known as the Scenic Rim, this gorgeous subtropical rainforest region is home to a slew of wonderful wineries.
Decadent grazing boards, smooth-swilling Grenache, and epic high-altitude views will make for a Staff Christmas Party to remember.
Book a Corporate Party with Kiff & Culture
From vineyard visits to foodie forays and extended distillery tours, we can organise a smorgasbord of fun corporate events. Take the hassle out of the planning process and let us custom-create the ideal itinerary for your team.
Door-to-door transfers, a friendly local guide, and seamless logistics come included in the deal.