In an environmentally-conscious foodie haven like Byron Bay, the "best eco-friendly restaurant" isn't a title to toss around lightly.
But we reckon we've found the top contender.
Nestled within 18-hectares of lush subtropical rainforest, Crystalbrook Byron is the town's most sought-after sustainable luxury hotel. Each of its 93 sleek suites features chic designer furnishings and floor-to-ceiling windows to afford tranquil forest views. And while the soothing wellness spa is a big-ticket attraction; for the foodie, it's the Forest Restaurant that takes centre stage.
An Environmentally-Friendly Ethos
Like the attached resort, Forest Byron Bay takes great strides to minimise its environmental impact.
Its eco-conscious kitchen team works hand-in-hand with local growers, farmers, and artisans to reduce transport emissions. Over 80% of ingredients come from within a three-hour drive of the hotel—think sustainably sourced seafood and free-range meats from regional raisers.
Some ingredients are sourced even closer to home. Executive Chef Jordan Staniford oversees an onsite herb garden, from where he plucks fresh flavours to infuse in every meal. The garden doubles as a compost heap to break down uneaten scraps and return nutrients to the soil.
"For me, a good restaurant is about being good for the planet. We're fortunate to be surrounded by amazing farmers and producers here in the Northern Rivers. That sense of connection and relevance is the backbone of our menu," Jordan says.
In addition to the in-house herb garden, the team maintains seven Subpods®, an innovative type of worm-powered organic compost system. 
"When you're eating out, you want to know that care has been taken in sourcing ingredients and disposing of food waste. Where are the recycling and packaging going? These are important questions that we in the industry, and as diners, need to be asking," Jordan adds.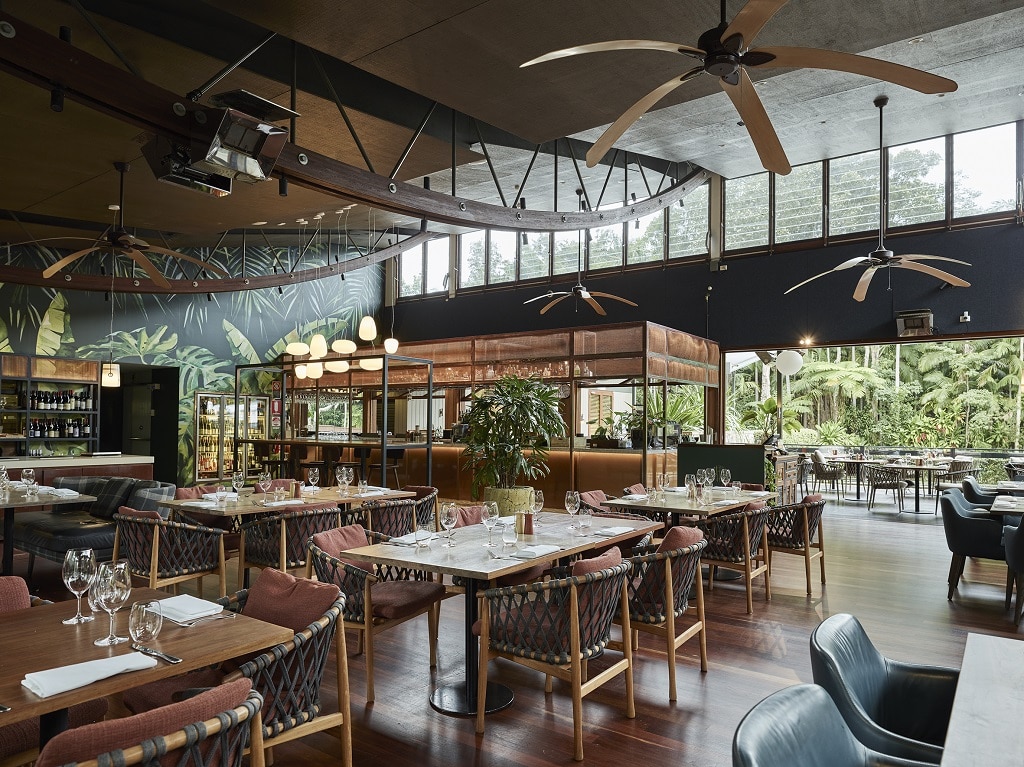 A Delectable Gourmet Menu
But it's not enough to just follow best environmental practices to stand out on Byron's hyper-competitive culinary scene. A good restaurant has to serve superb cuisine with immaculate presentation.   
This elegant Mod-Oz venue does three meals a day, each with an extensive menu of carefully curated treats.
To fuel an action-packed day, give the Ballina chilli prawn omelette a try. The hearty dish comes complete with shallots, tomato relish, local leaves, lemon, and chargrilled organic sourdough. For something light, a freshly baked croissant will suffice (go the Bangalow sweet pork with smoked ham and cheddar).
Come lunch, and you'll choose from a tasty selection of pasta, flatbread sandwiches, and fresh seafood delicacies. The kingfish carbonara is hard to beat, complete with smoked pork cheek guanciale, cracked pepper, free-range egg, parsley and shaved bottarga.
The dinner menu features everything from light, shareable bites to ocean-dwelling delicacies and a divine, five-course tasting menu. Meat lovers can't go past the premium, pasture-fed Grassland's eye fillet, served with local greens, horseradish, and green peppercorn sauce.
Whatever you get, wash it down with Forest's sublime boozy treats. Options include Brookie's Dry Gin-infused cocktails, the Insta-famous Fairy Dust Martini, and 30 varieties of sustainable organic wine.
Dine at the Forest on a Kiff & Culture Tour
Our three-day epicurean adventure, the Brisbane to Byron Food Trail, includes a two-night stay at this brilliant sustainable luxury hotel. Aside from dining at the divine Forest Byron Bay, guests will get to sink their teeth into a smorgasbord of other local gastronomic offerings.