After the shake up we received during the pandemic, the future of work shifted. Not only did we need to embrace remote work models. But the pandemic made many of us take pause, and consider what's important.
And these factors have influenced what employees are looking for in a workplace in 2022. 
So, what does the future of work look like? We've compiled 5 trends that are set to stay and shape the future of our workplaces. 
1. Hybrid Work
Hybrid work allows companies and staff to leverage the best of both worlds. It provides the benefit of in-person connection and the flexibility of remote work. 
Allowing staff to work from home a few days a week can work-life balance. And many companies are realising that hybrid work can increase job satisfaction.
The future of work is a hybrid model, according to a study undertaken by Swinburne University. The study found that 58% of workers wanted flexible work arrangements. And 43% of knowledge workers were prepared to leave if flexible arrangements were lacking. 
Big name companies like Microsoft, Apple and Shopify are switching to hybrid work. And many more will follow, particularly if they want to attract and keep staff. In fact, a recent Stanford University survey found that hybrid work reduced employee loss by 35% with no negative impact on performance ratings or promotions (there was actually an increase in productivity). 
2. Dedication to Sustainability
As we experience the effects of climate change, sustainability has become a core concern for the future of work. The environmental stance of companies has increased in importance for consumers. And for existing and potential employees. 
A 2020 survey showed that 65% of knowledge workers favoured companies with sustainable practices.
To attract talent, companies are stepping up to the plate when it comes to the environment. 
3. Leveraging Technology 
The future of work will have an expanded reliance on technology. Project management, collaborative and video meeting tools are now commonplace to stay connected in hybrid work models. 
In fact, adapting to remote work and tech unlocked efficiencies for many companies during the pandemic. 62% of organisations created improved workflows in the switch to remote work and adoption of tech, according to the Foundry Future of Work 2022 study. 
4. Health and Wellness Initiatives
According to recent research, Australians are increasingly burned out. 4 in 10 Australian workers reported feeling burned out within the last year. And 32% reported a decline in their mental health.  
The pandemic, shifting work models, and world events have taken their toll on many people. And when coupled with overwork and unhealthy workplace culture, wellbeing can dip. 
To attract and motivate talent, organisations are making staff health and wellbeing a priority. More people are looking for robust wellness programs when considering a position. Wellness perks like counseling, physical health initiatives, and team bonding activities can help boost job satisfaction.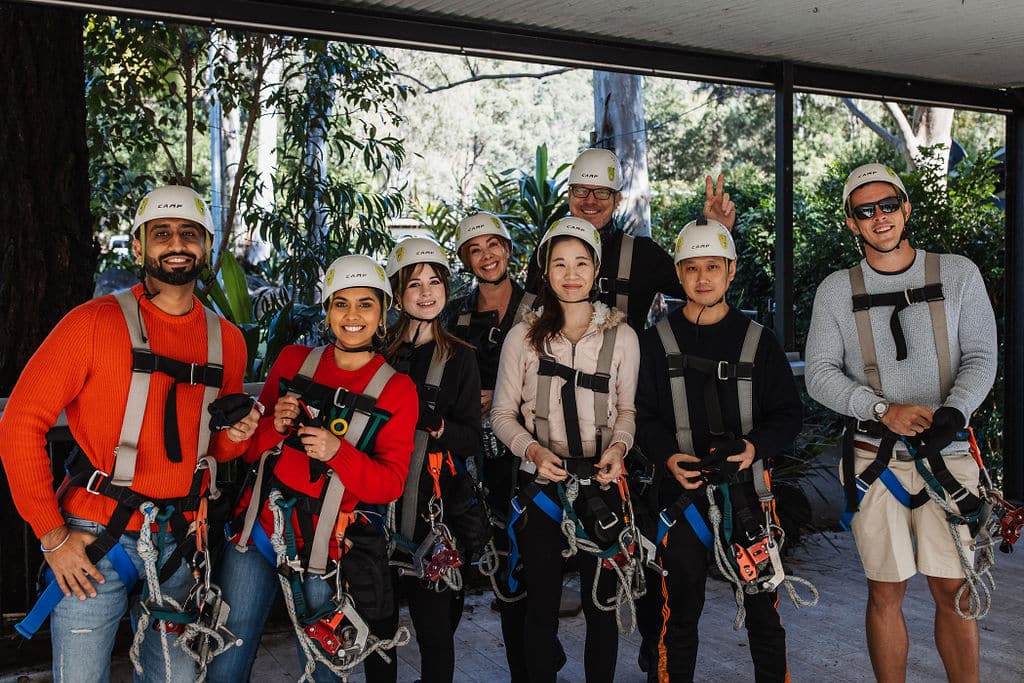 5. In Person Activities
91% of staff still want in-person activities, according to Swinburne University's report on hybrid work. It's been estimated that 90% of communication relies on non-verbal cues. And Zoom calls or chat functions can't always capture this.
Also, in order to thrive, humans need to feel part of a community. A feeling of workplace belonging can lead to a 56% higher level of job performance. Making time for social gatherings can uplift morale and strengthen team bonds. 
The future of work will involve making time for teams to truly connect and collaborate in person. 
Team socialising events can be a fun way to strengthen belonging.We can help you to create a bespoke team experience. Or, you can choose from our packages that take you to stunning locations between Brissie and Byron. 
We've got the low down on the best food, beverages, and experiences. And we partner with local businesses that have sustainability front of mind. 
Contact us today and get the team together for a memorable experience.