Are you dreaming of a lavish vacation on the Gold Coast? Look no further than the stunning beachfront Airbnbs in this list. These luxurious properties boast sleek whitewashed interiors, cool contemporary decor, and breathtaking ocean views. Some even offer private plunge pools and viewing decks to make your stay even more memorable.
If you're ready to splurge on your upcoming getaway, check out these seven insanely opulent Gold Coast Airbnbs. With most located on Mermaid Beach's prestigious Hedges Avenue, also known as "Millionaire's Row," these properties are sure to take your breath away.
Beachfront Luxury
Featuring an elegant sandstone façade and 150-year-old timbers, this spectacular five-bedroom property could be the hottest ticket on Millionaires Row.
Its award-winning architecture sees a series of light-luring louvres and opening bi-folds flood the complex with natural light. Open-plan living spaces connect to hidden alfresco terraces (with their own tiny pools). Some open out onto the beach-facing front lawn.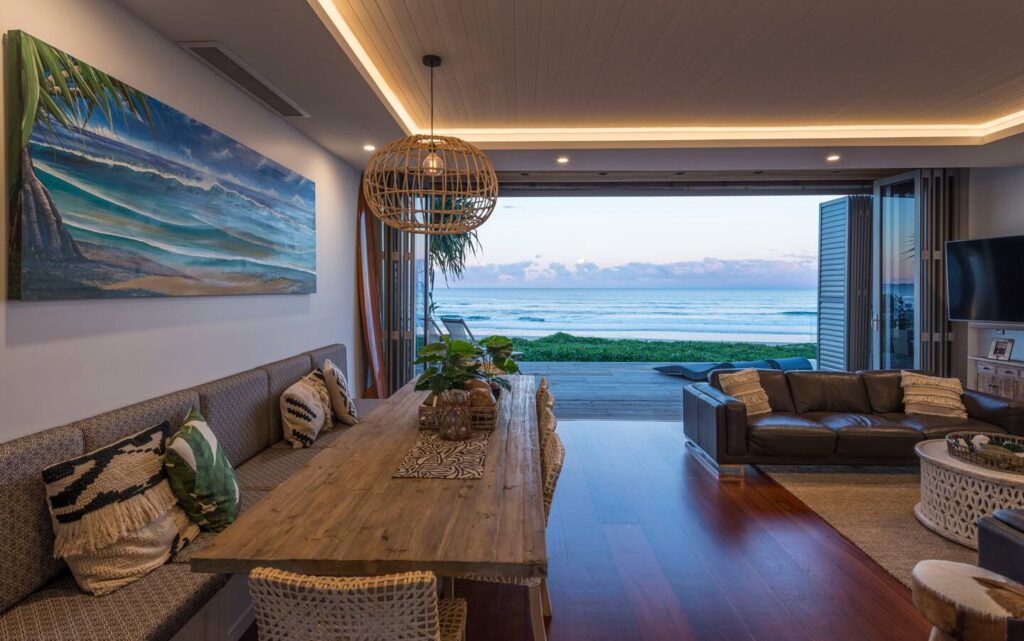 Gold Coast Beachfront "Paradise" Luxury
We're not sure why the host added suss quotation marks because this ocean-facing mansion sums up paradise to a tee. A breezy whitewashed colour theme, chic rustic décor, and sparkling ensuite bathrooms make this a truly paradisiacal place to stay.
The crème de la crème, however, is the open-plan living and kitchen space. Opening out onto the glistening shoreline, the pad feels more beach club than ordinary Airbnb.
Absolute Beachfront Luxury
Treat yourself to something different at this hip Mermaid Beach abode. Featuring innovative architecture and rustic nature-inspired interiors, it's one for the design buffs to drool over.  
An award-winning Aussie architect concocted the highly-acclaimed pad, which blends seamlessly from the sleek interiors to the coastal environment outside. And yes. It is absolute beachfront.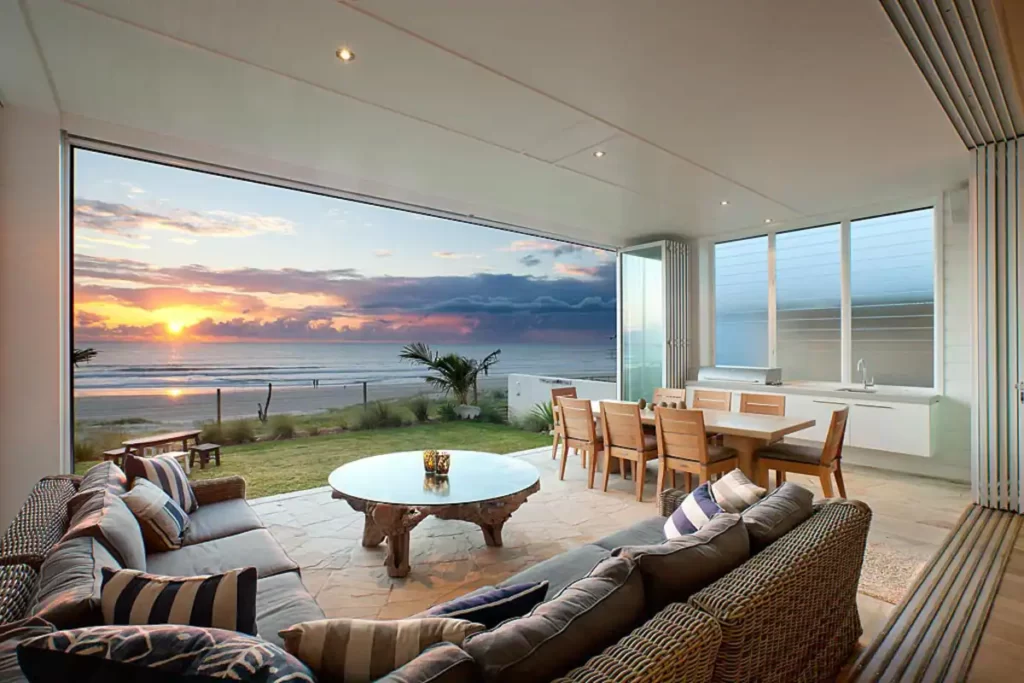 Entire floor luxury beachfront villa
Occupying an entire floor of a luxe beachfront apartment block, this groovy Albatross Avenue property gives you knee-wobbling sea views. The sandy stuff is a simple stroll away should you fancy a dip, but there's plenty to keep you amused indoors.
From the wrap-around couches to the breezy patio and the fully-equipped designer kitchen, it's certainly a palatial place to stay.
Luxury Beach Living
Another Millionaire's Row masterpiece, this classic beachfront bungalow has been lovingly restored into a fabulous contemporary holiday home. Its Insta-friendly interiors come complete with stark white hues and natural, earthy tones—think caramel leathers and oak flooring.
An enormous, semi-enclosed terrace overlooking the beach lets you enjoy the alfresco good life in style.
SeaView on Hedges
No list of Gold Coast Airbnbs would be complete without SeaView on Hedges. This charming beachfront home is a brilliant option for bigger groups—it sleeps up to 10. The chic open-plan living room and kitchen open out onto your private deck with uninterrupted beach views.
Venture further indoors, and you'll stumble upon state-of-the-art entertainment systems and fun games like ping pong.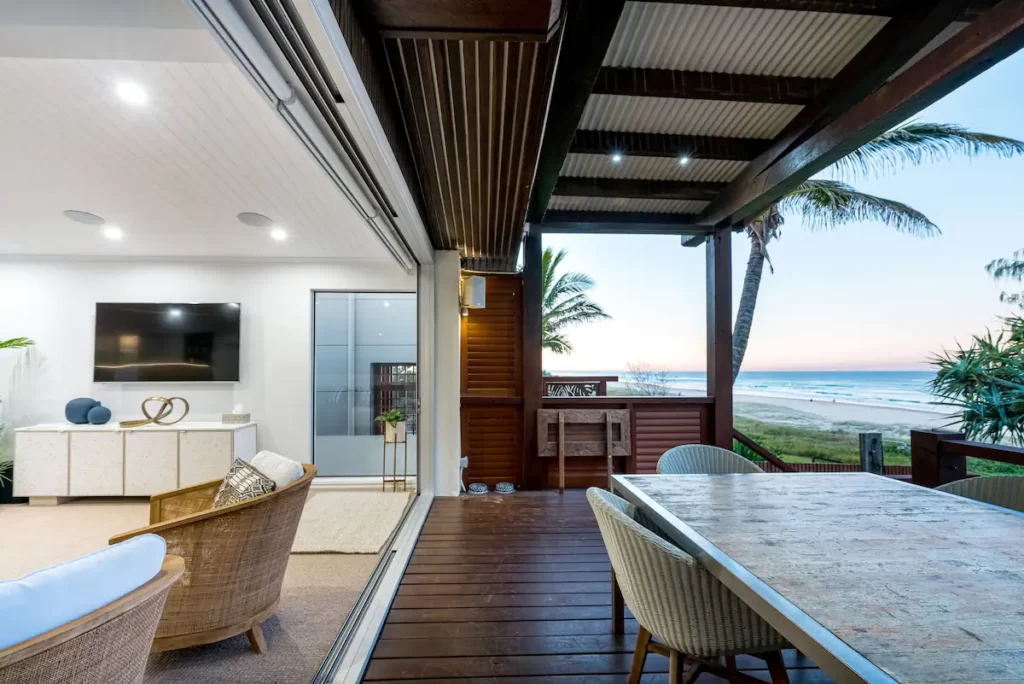 Add a Kiff & Culture Tour To Your Gold Coast Airbnb Stay
You've settled into your shmick little holiday home. It's now time to head out and grab a bite to eat.
But don't just visit any random restaurant or café. Chew through town the right way on our carefully curated Eat & Drink the Gold Coast tour.
Image Credit: Luxico Queensland via Airbnb, Kelly via Airbnb, Airbnb, Airbnb, Airbnb & Airbnb and Fiona via Airbnb.