A short drive from the CBD, the Gold Coast Hinterland is a lusciously green region chock full of sleek eco-retreats. Spectacular scenery, proximity to the city, and next-level lodgings appeal to stressed-out urbanites craving a quick city escape.
Wondering where to go?
Check out this shortlist of four fantastic Gold Coast Hinterland retreat ideas.
Hit Tamborine Mountain
Tamborine Mountain is a classic destination famed for its scenic wineries and rainforest-shrouded falls.
Wine-lovers should savour a tasting session at Witches Falls Winery, Queensland's most celebrated wine-maker. But before you start quaffing premium plonk, line the stomach with one of their epic charcuterie boards—some say they're the best in SE-QLD.
You'll need somewhere plush to rest your wine-riddled head. A slew of ritzy resorts lies peppered around the mountain, the best of which is Verandah House Country Estate. Gorgeous weatherboard abodes, swanky interiors, and lofty Gold Coast hinterland views guarantee an unforgettable stay.
Sound like your glass of Rosé? Check out our Hinterland Wine Luxury Stay tour.
Book a Rainforest Retreat
If soothing rainforest sounds get you giddier than bottomless vino, head southwest towards Springbrook or Lamington National Park. But there's no need to rough it bush camping here. Luxurious, eco-friendly resorts offer next-level comfort with a sweeping hinterland view.
O'Reilly's Rainforest Retreat is a popular spot overlooking the rugged McPherson Ranges near Lamington National Park. Surrounded by wildlife-rich rainforest, the sprawling resort boasts an on-site winery, café, and alpaca farm. Talented local bands belt out smooth acoustic tunes by the creek on weekend afternoons.
Another enticing option is Mouses House Rainforest Retreat, which puts you within spitting distance of Springbrook National Park. Fourteen hardwood timber chalets nestle within lush rainforest, most straddling a tranquil mountain stream.
Glamp near Lamington National Park
For next-level natural immersion, set up camp near Lamington National Park. But don't worry; you won't need to faff about with tent pegs and lacklustre mattresses here.
Nightfall Camp is a lux glamping retreat with permanent, architect-inspired safari tents straddling Christmas Creek. Each hand-built canvas abode boasts a steamy twin tub and a rotating fireplace for romantic nights in. Only eight guests can stay overnight, ensuring utmost privacy and a fully bespoke approach.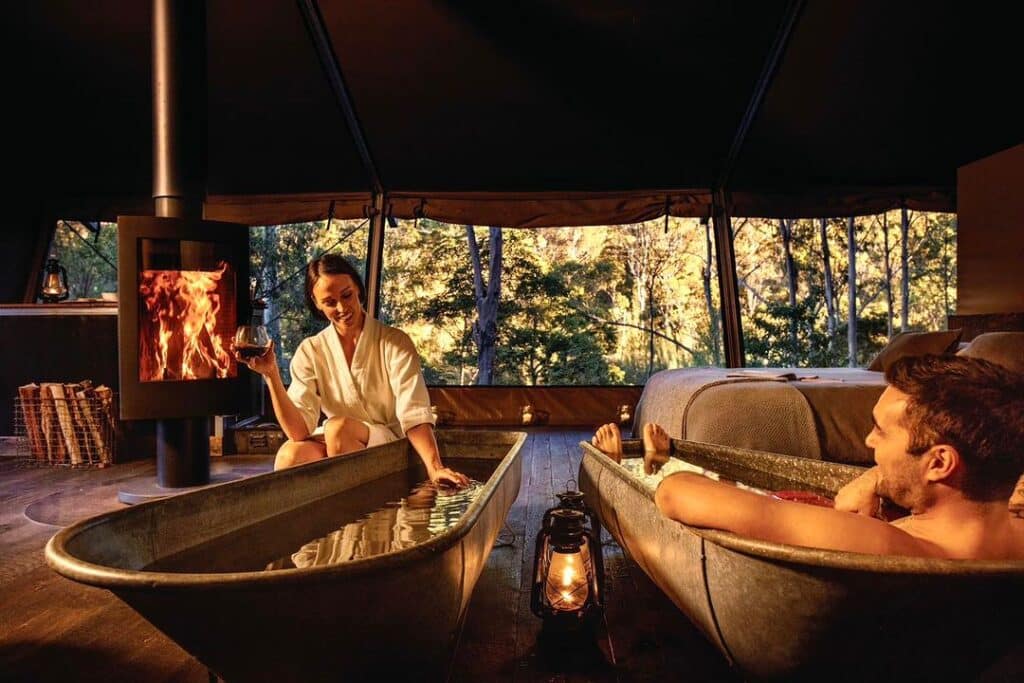 Try a Farm Stay Retreat
There's nothing like a Gold Coast hinterland farm stay to escape the bustle of urban living and appreciate the simpler things in life.
The closest option is Paradise Country, a family-friendly rural resort with eco-friendly safari tents. An on-site restaurant covers the cooking duties so you can spend more time admiring cute barnyard animals with the kids. Pop into the shearing shed and the daily stock horse show.
If you fancy somewhere more secluded, there's a slew of other farm stays near the Gold Coast to consider.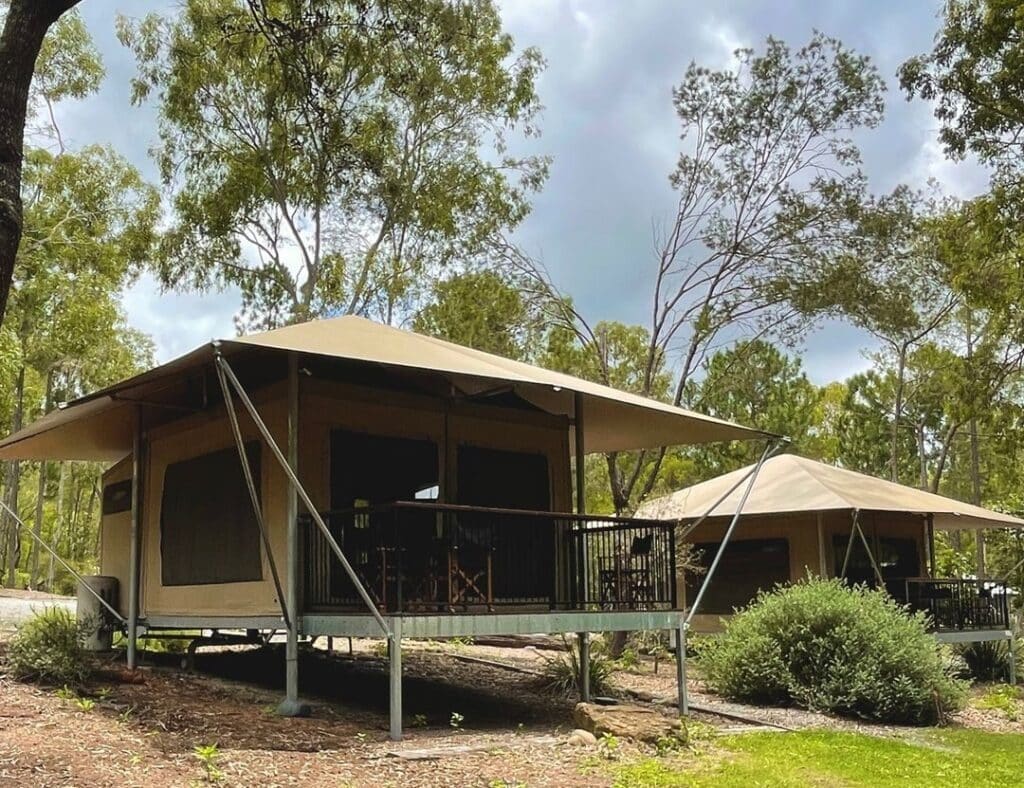 Book a Gold Coast Hinterland Retreat with Kiff & Culture
Ready to treat yourself to a peaceful hinterland retreat?
Then take a look at our Hinterland Wine Luxury Stay tour. Over two glorious days, we'll whisk you between top Tamborine Mountain vineyards and distilleries. Plus, we'll soothe your soul with a rainforest walk (or spa session) and fill the belly with gourmet eats.