Looking to quench your thirst with a view? Here's our guide to the best rooftop bars on the Gold Coast! From swanky suburban sips to beachfront bevies, these elevated open-air boozers will take your breath away.
So come for the drinks, stay for the vistas, and experience the top-notch scene that these Gold Coast bars have to offer.
Burleigh Pavilion – Bar & Bistro
A long-standing Burleigh Heads hotspot, the Pavilion does delicious drinks on a sunny terrace overlooking the sea. Cruisey tunes, casual vibes, and spellbinding coastal views see it pack out most afternoons. Pop next door to Rick Shores if you fancy gourmet Pan-Asian fusion fare. They do the best Moreton Bay Bug Rolls in town. A banquet at Rick Shores is actually the first stop of our Eat & Drink The Gold Coast tour.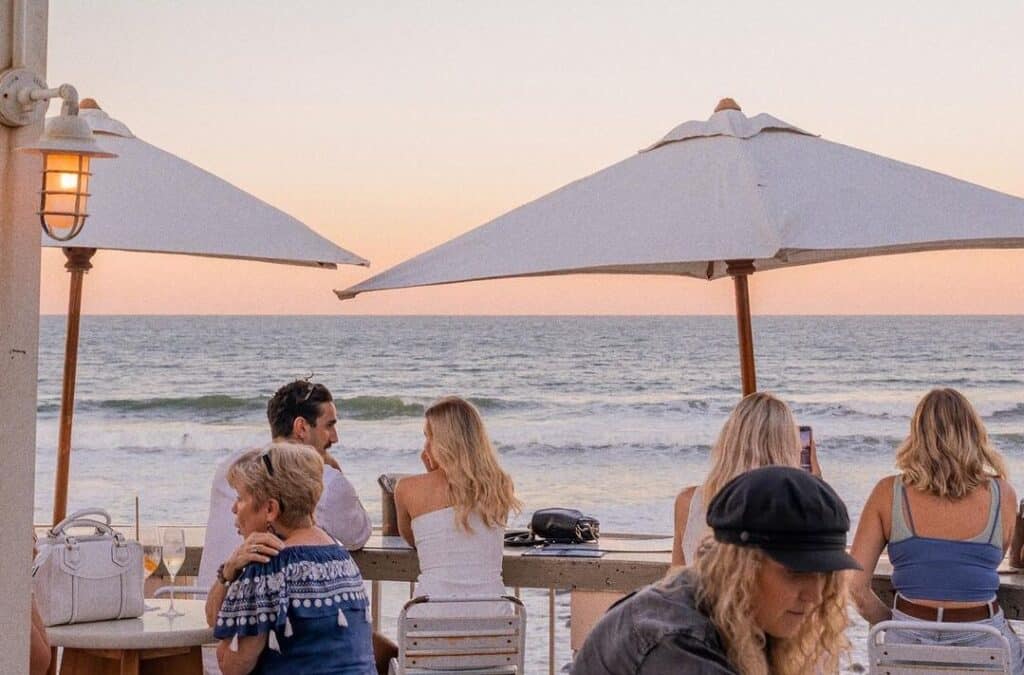 Justin Lane Burleigh Heads
The original and the best, Justin Lane has been buzzing Burleigh booze lovers since time immemorial. The vintage rooftop space offers sweeping views of the famed Burleigh Point, plus a well-rounded menu of pizzas and drinks. With a motto like "eat, drink, and be messy," you can bet this joint gets rowdy. Gold Coast rooftop bars really don't get much better than this!
The Island Rooftop
In bar-studded Surfers Paradise, it takes something special to stand out. The team behind Island Rooftop have done just that with this festive Beach Road haunt. Punters pack out the fairy-light-festooned venue to slurp tropical-themed cocktails while admiring the skyscraper-framed scene. Hedonistic happy hour jugs and a buzzy vibe make it perfect for a Sunday sesh.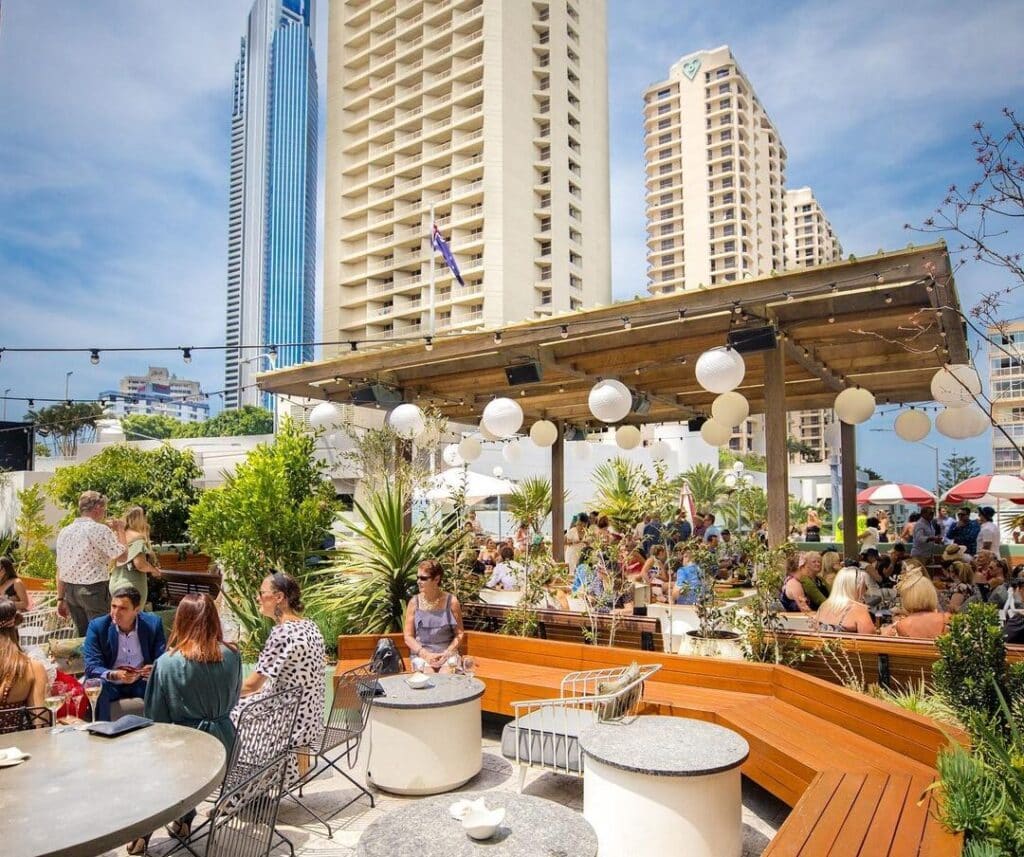 Frida Sol
Located in Palm Beach, this hip Mexican restaurant and Gold Coast bar offers a lively rooftop drinking experience. Come for the spicy topping-stuffed tacos, stay for the sangria and tequila-based cocktails. Enjoy the breezy Maya Riviera-inspired décor, rustic Tiki huts, and energetic vibe, making it a top spot for a fiesta.
Nineteen at The Star
Looking for a rooftop bar that screams luxury with a view to match? Head to Nineteen at The Star, one of the Gold Coast bars that oozes high-rolling vibes. This fine dining destination boasts killer steaks, fresh seafood, and a wine list that will impress even the snobbiest of connoisseurs.
And if you visit during the day, be sure to dip your toes in the sky-high infinity pool while sipping on a fancy cocktail – it's an experience that's worth bragging about to your colleagues at the water cooler.
Santeria Rooftop Bar at The Pink Hotel
Iconic Coolangatta boutique, the Pink Hotel, has upped the ante by opening its breezy Santeria Rooftop Bar. With uninterrupted beachfront views, it's a scenic spot to sip a sundowner or two. Non-guests are welcome to pop in for a pint. Just be aware it only opens on Friday and Saturday afternoons and nights.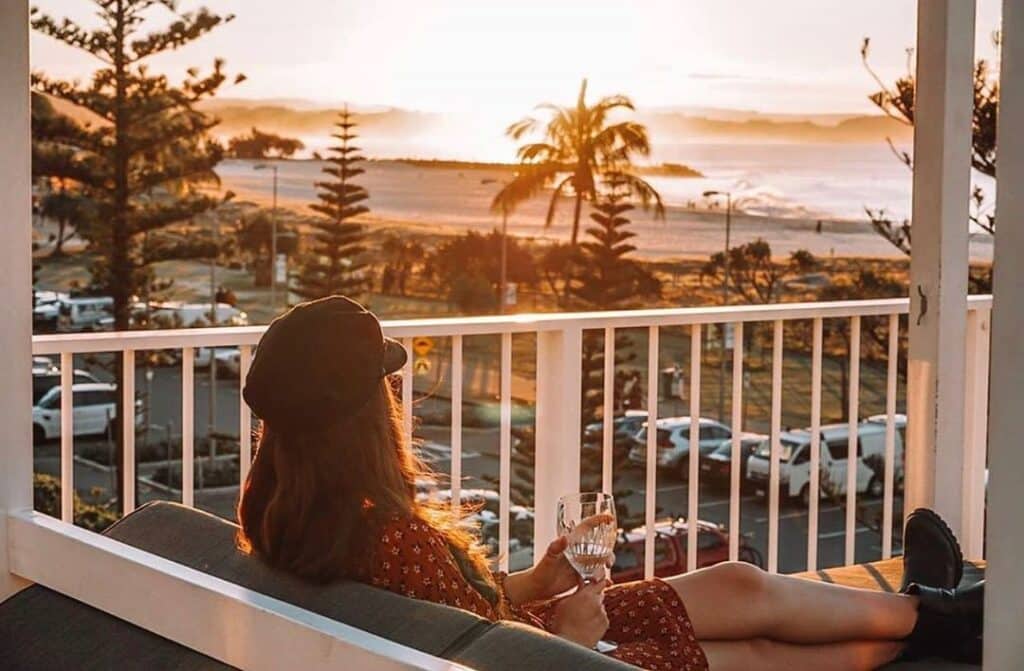 Tropic Vice
This Mermaid Beach rooftop bar boasts a breezy and carefree atmosphere, perfect for those seeking a tropical escape on the Gold Coast. The vintage décor and vibrant hues add to the laid-back vibe, while leafy pot plants and vine-strewn pergolas provide a touch of greenery.
Whether you're watching the sun set or dancing to the low-tempo beats of the DJ, this is one of the top spots to experience the nightlife of the Gold Coast.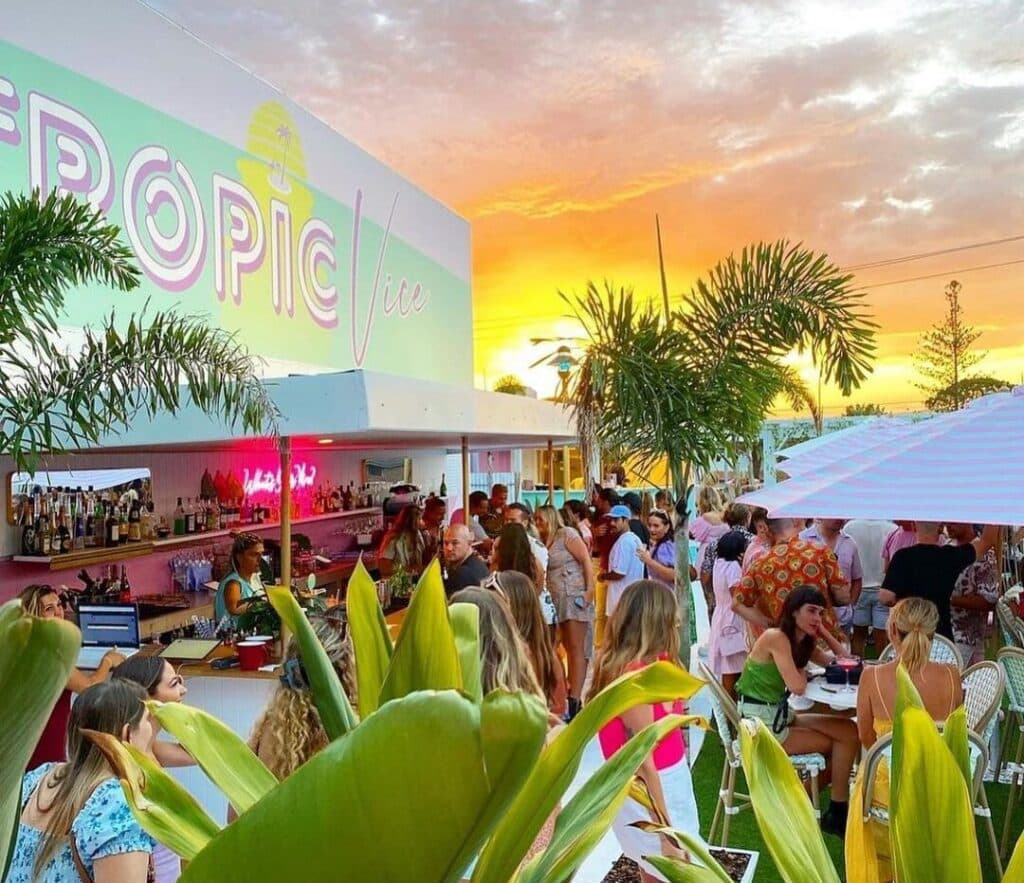 Savouring The Gold Coast's Best Rooftop Bars
You've got the drinks sorted. Now, it's time to think about what you'll eat.
Rather than take a punt, join us on a carefully curated epicurean adventure of the city's most celebrated culinary haunts. We chew through a handpicked selection of our favourite restaurants and small-batch booze producers on the Eat & Drink the Gold Coast tour.
Image Credit: Burleigh Pavilion via Instagram, Justin Lane via Instagram, The Island via Instagram, Frida Sol via Instagram, Nineteen at The Star via Instagram, The Pink Hotel via Instagram & Tropic Vice via Instagram