Thought Queensland booze-making was all about XXXX and Bundy Rum?
Think again. While the Sunshine State isn't famed for its terroir, one wine-growing destination is turning heads among oenophiles. Boasting above-average rainfall, acidic free-draining soil, and dry winters, the Granite Belt grows the tastiest cool-climate grapes in the state.
The best bit? It's a quick three-hour trip from Brisbane, perfect for a weekend escape. 
Kiff & Culture embarked on a vino-sipping tour of the best wineries of the Granite Belt to see what all the fuss is about.
Granite Belt Wine Country
Before we present our favourite vineyards, let's get up to speed on Granite Belt terroir. That way, you can talk the talk while quaffing silky smooth plonk at the cellar door.
Straddling the Great Dividing Range, this mountainous Southern Downs strip sits between 680m and 1,300 metres above sea level. Most of its 50-odd vineyards lie scattered around Stanthorpe at about 1,000 metres, making this the highest wine-growing region in Australia.
That subtropical highland climate ensures idyllic grape-growing conditions, thanks to ample annual rainfall and a long cool season. Couple this favourable climate with granitic free-draining soil, and you've got a recipe for viniculture success.
This unique terroir means Granite Belt wines offer a novel flavour profile. You won't get the thick earthy tones of other cool-climate wines. Instead, expect a delicate body with distinct hints of floral and aromatic flavours.
So which Granite belt varietal is best?
It's got to be the Shiraz. While the region pumps out exceptional Cabernet Sauvignon, Chardonnay, Verdelho, and Merlot, Shiraz rules the roost.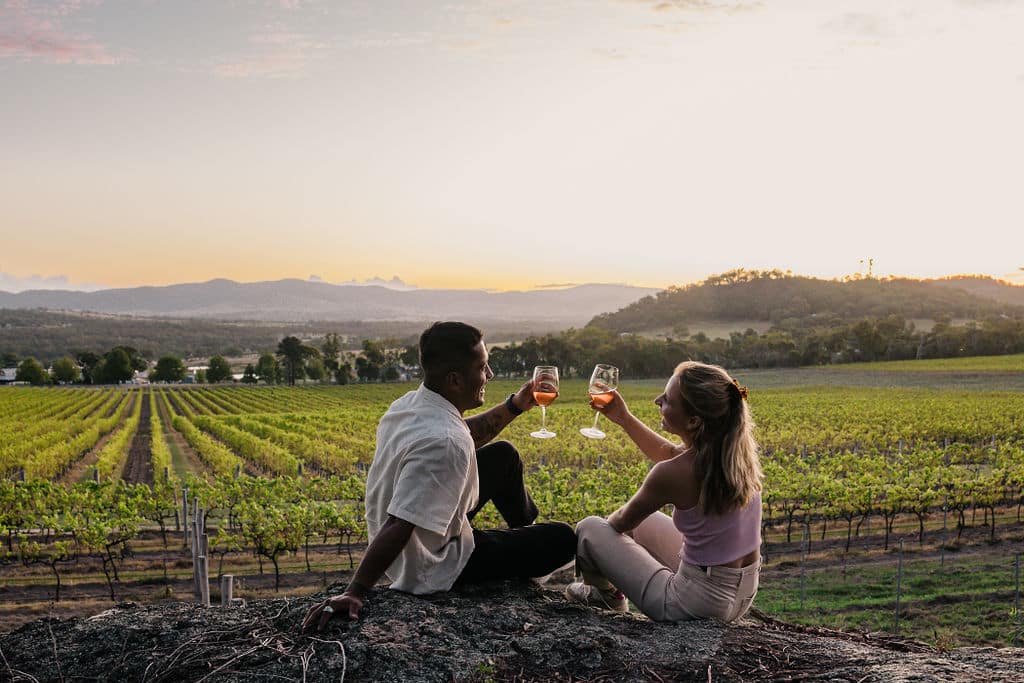 Balancing Heart Wines
Located right outside Girraween National Park, this stellar cellar door is our go-to Granite Belt vineyard.
What makes it so special?
The scenic spot strikes the perfect balance (pardon the pun) between epic vistas and sublime wine. Head viticulturist Mike Hayes, who won the Australian Wine-maker of the Year in 2017, draws on 40 years of experience to ensure every vintage delivers. And with varietals ranging from Shiraz to Verdeloh, there's something for every taste.
But it's not just about the quaffable plonk. Gourmet Traveller Wine voted Balancing Heart their "Best Cellar Door." With sprawling Girraween views, cruisy live tunes, and wood-fired pizza dinners, it's easy to see why.
Ridgemill Estate Wines
A stone's throw from Stanthorpe, this superb cellar door is the brainchild of a passionate local husband and wife team.
Former Queensland College of Wine Tourism project manager, Martin Cooper, and his partner, Michelle Feenan, purchased the property in 2004. Shortly after, acclaimed viniculture guru Peter McGlashan took the helm as head wine-maker, incorporating his expertise into each Ridgemill drop.
The landmark local business has expanded to become one of the Granite Belt's leading wineries. We loved learning about their wine-making success story through the Grape to Grape Masterclass.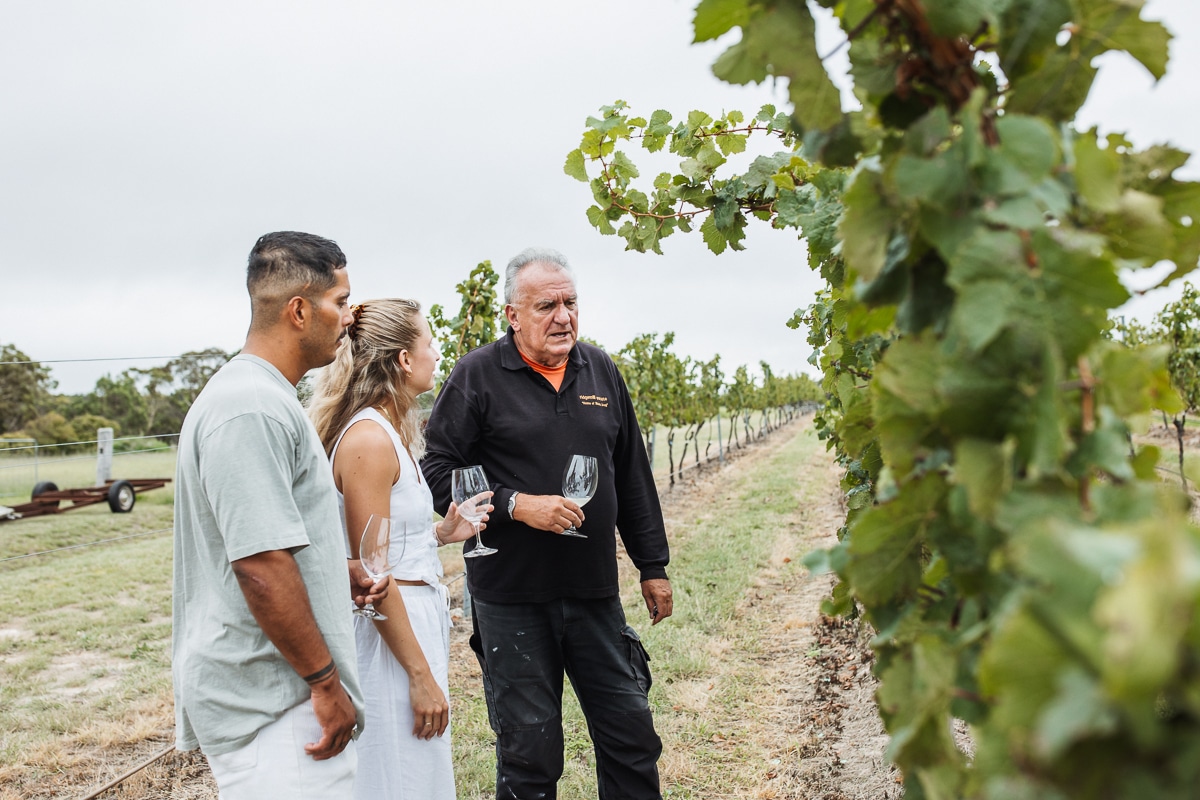 Ballandean Estate Wines
Established 1932, this historical spot is the region's OG winery and the oldest family-operated vineyard in Queensland. Ballandean Estate clings to its roots with a beautiful old-timey homestead housing the cellar door. The venture draws on five generations of grape-growing experience and the finesse of head wine-maker Dylan Rhymer.
We loved our wine-tasting session with Leanne and couldn't get enough of their locally-sourced charcuterie board. If you fancy devouring something more substantial, the chef's-hatted Barrelroom restaurant cooks delicious country-style dishes from regional ingredients.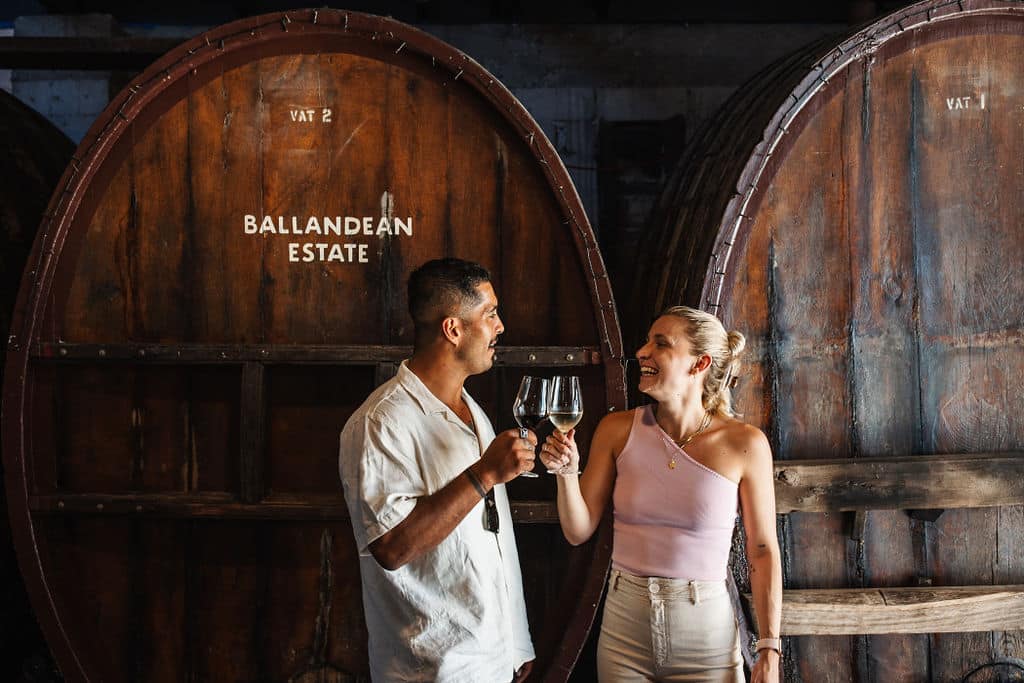 Discover the Best Wineries of the Granite Belt
With limited time and delicate livers, we only had the chance to visit three of the region's finest cellar doors.
For more in-depth information, we recommend you download the Council's Wine Country Guide. This nifty, info-packed PDF covers everything you need to know for a decadent epicurean adventure in the Granite Belt.