Move over Margaret River and ta-ta Tamar Valley; a hot new foodie destination is taking Aussie epicureans by storm.
Dubbed the Green Cauldron, this verdant volcanic expanse stretches from the sunny vineyards of the Scenic Rim to the fertile farmlands of the Byron Shire. A smorgasbord of farm-to-table restaurants has sprouted up everywhere in-between, plonking freshly plucked produce into their refined gourmet fare.
Keen to hear what the hype is about? Today we're covering the east coast's most enchanting foodie haunt.
What is the Green Cauldron?
The Green Cauldron encircles a slice of South East Queensland and Northern NSW, roughly from Tamborine Mountain down to Byron Bay. Its average annual rainfall is much higher than most other Australian regions, resulting in a lush, rainforest-strewn landscape indispersed with fertile agricultural land. It's not hard to see why they call it "green."
As for "cauldron," the area is a mysterious melting pot of mineral-rich volcanic earth, prehistoric Gondwanan wildlife, verdant farming valleys, and crystalline coastal waves. But more importantly, much of the majestic landscape has been shaped by Mount Warning (Wollumbin), an ancient volcanic caldera. Meaning "cloud catcher" to the Bundjalong Nation, this towering volcano is the first place in Australia to see the sun's rays.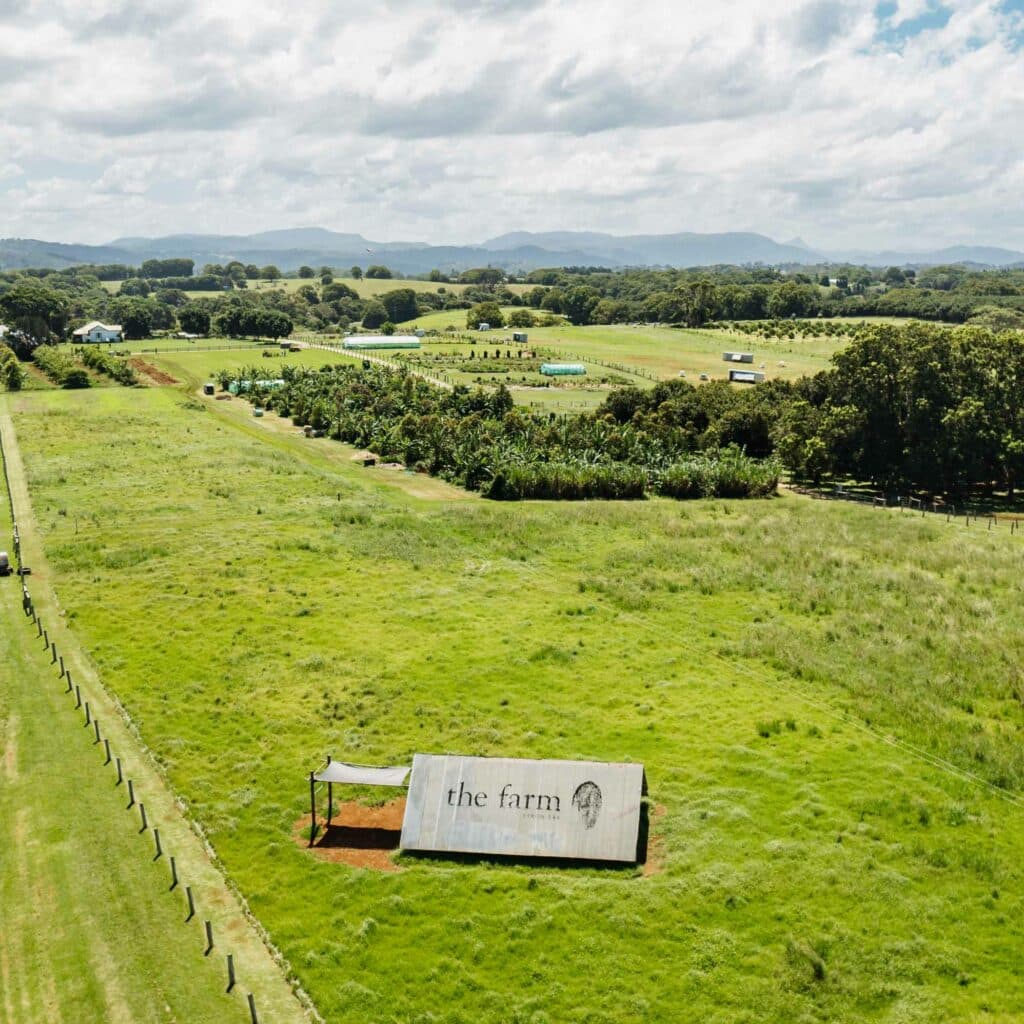 Prime Agricultural Land
Reliable rainfall and fertile volcanic soil make the Green Cauldron a top spot to grow crops. Despite the rugged terrain and ever-present flood risk, local farmers have developed a well-earned reputation for harvesting top-notch produce.
And it's not just your stock-standard fruit and veg grown here. Innovative Green Cauldron farmers are trying their hand at a slew of more exotic crops. From feijoas to ginger and macadamia nuts, you'll be amazed at what you stumble upon during a Saturday morning market run.
Caffeine addicts should know Northern NSW boasts some of Australia's most idyllic coffee-growing conditions. Temperate year-round weather, rich volcanic soils, and abundant rainfall make it a mainstay of the domestic industry. Visitors can sample authentic crop-to-cup coffee at Zentveld's, a sustainable plantation with a "Roastery Door" overlooking the Byron Hinterlands.
Then you've got the Sunshine Coast Hinterlands dairy industry, among the most well-regarded in Australia. A temperate year-round climate allows esteemed dairy farmers to concoct delicious yoghurts and cheese, at times made from exotic milk like buffalo or camel. Kenilworth Dairies and Maleny Dairy are the creams of the crop.
Over on the coast, local fishers pluck the fruits of the sea fresh from the waves each day. Tin Can Bay prawns, Noosa spanner crabs, and wood-smoked salmon are just some of the ocean-dwelling delicacies on offer.
Although large-scale agricultural corporations comprise the lion's share of production, a growing number of boutique farmers have taken to ploughing the land. Sustainability-focused, small-scale producers are sowing environmentally friendly crops; most get slapped straight into a dish at a trendy, farm-to-table restaurant.
Book a Green Cauldron Gastronomy Tour with Kiff & Culture
Looking to savour the best Green Cauldron gastronomic experiences in one action-packed excursion?
Then let Kiff & Culture guide you through the fertile region on our three-day Brisbane to Byron Food Trail. Enjoy long, lazy lunches at top farm-to-plate venues, tasting sessions from boutique booze-makers, an insightful indigenous culture experience, and a two-night stay in Byron's best sustainable luxury lodging.
Don't have three days up your sleeve?
We operate various food-focused day trips in the Byron and Tweed regions.
Give your tastebuds the pampering they deserve. Book yourself a spot today.