Tucked away off the Pacific Motorway lies the Byron Hinterland's most adorable one-street town.
From a chefs-hatted restaurant to chic boutiques and laidback farm stays, we're covering the essentials in this go-to Newrybar guide.
Where to Eat In Newrybar
Foodies flock to this tiny little town to dine at Harvest, one of Northern NSW's top farm-to-table haunts. Blending country charm and urban chic, the airy weatherboard abode evokes a laidback vibe. Rustic furnishings and homely décor add old-style elegance to the white-washed space.
The chefs-hatted establishment sources fresh ingredients from the on-site veggie patch and handpicked local providers. Skilled hands then plate up delicious delicacies like mahi mahi ceviche and pulled lamb with Davidson's plum.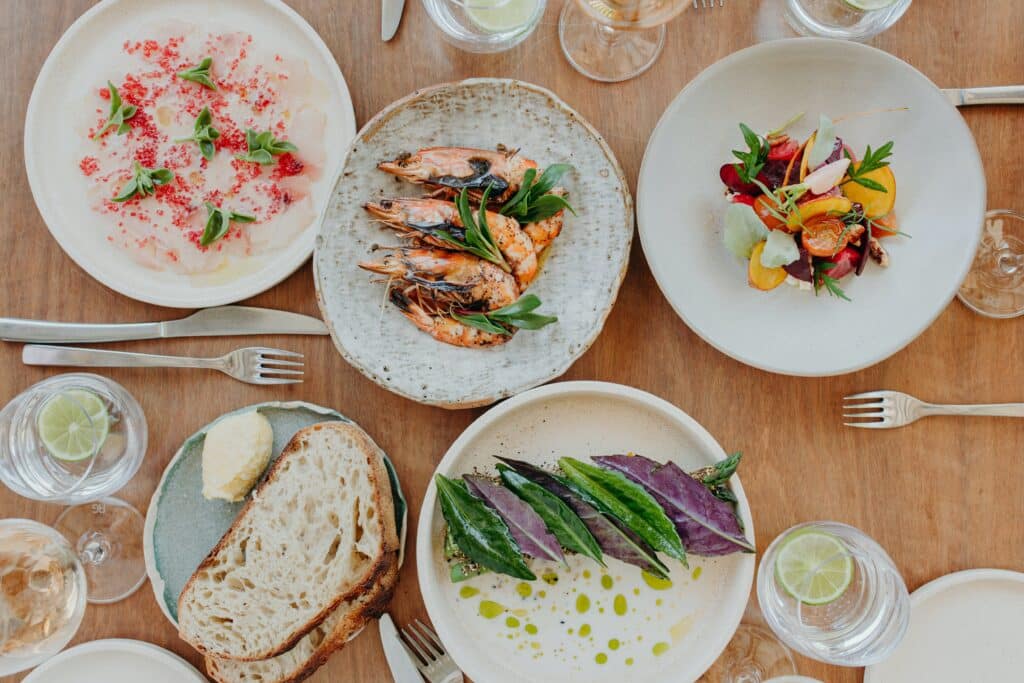 Not keen on an extended gourmet feast?
Step next door to Harvest Bakery, where a 120-year-old wood-fired oven bakes tasty pastries and sourdough from native grains. The on-site Deli uses these fluffy white delights in its light lunches—try the house-smoked pastrami sandwiches. If coffee calls, grab an aromatic cup of Harvest Blend from the on-site café cart.
No need to eat elsewhere. All your catering needs are covered at the one paddock-to-plate place.
Where to Stay in Newrybar
One of our favourite hinterland digs is Heartwood Farm, a historic 1900 cottage with jaw-dropping hilltop views. Vibrant vintage décor, rustic barnyard vibes, and adorable farmyard animals make it a sublime spot to stay. Soak in the endearing old claw bath while soaking up scenic vistas of verdant ridgelines and dewy meadows.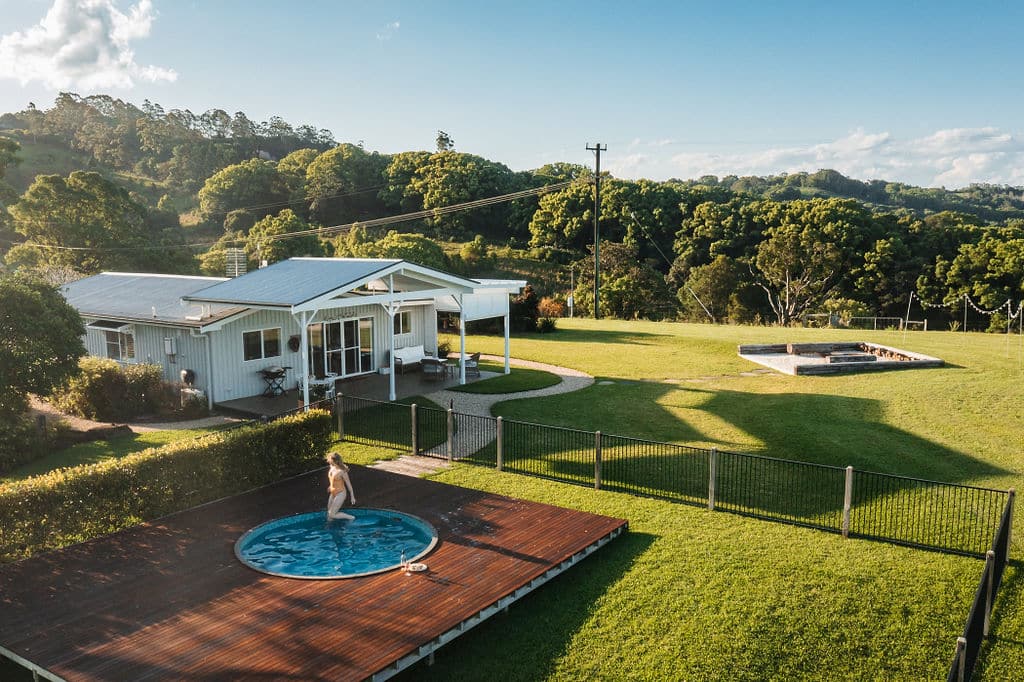 Another top-notch option is Glenfernie Farm, a self-contained one-bedroom studio with chic contemporary flair. Breezy white-washed interiors contrast with the undulating hills outside, where you'll find a splash-worthy pool with stunning hinterland views. 
Where to Shop in Newrybar
A smattering of chic boutiques and antique dealers has sprung up in Newrybar.
Most sit within the Newrybar Merchants Collective, an innovative ensemble of creative micro-businesses. From homewares to fashion and beauty products, the collective showcases a bewitching array of boutique goods.
Driftlab blends urban style with coastal soul in its dreamy women's apparel—the store stocks everything from shirts to dresses and tops. If you fancy loading the cupboards up with crockery, Uscha sells a slick selection of lovingly-crafted kitchen wares.
Take the time to browse the other in-house merchants. You'd be hard pressed not to find something you like.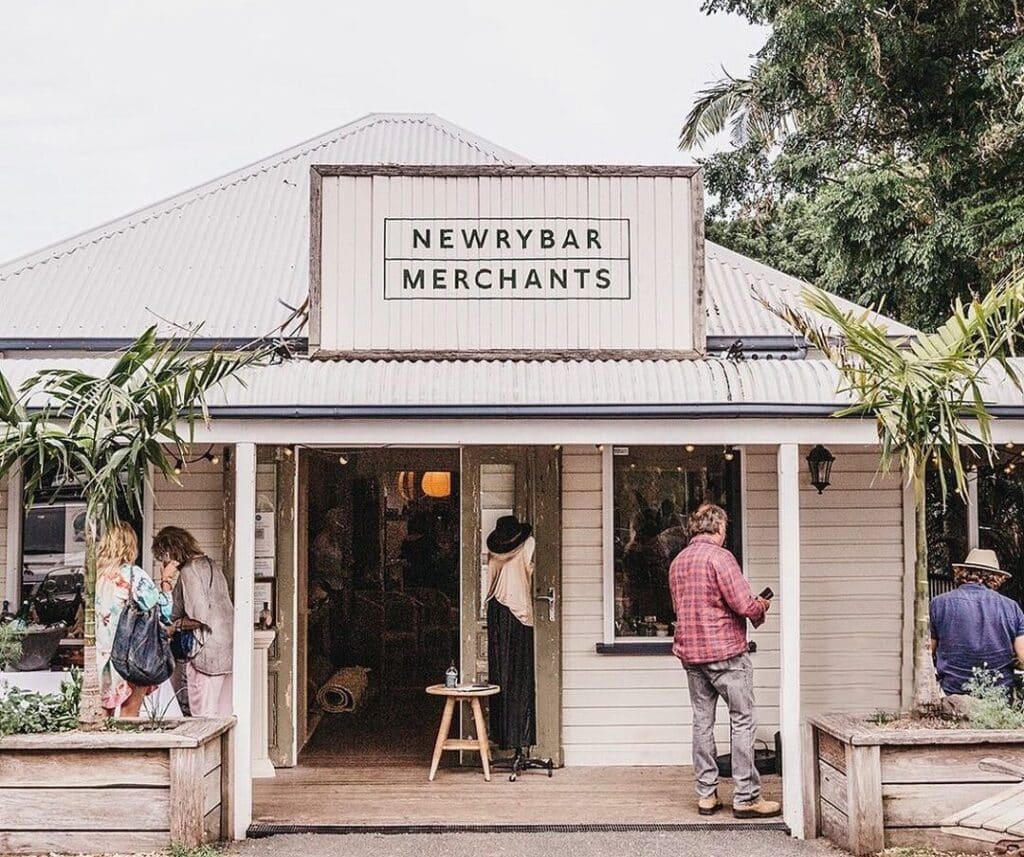 Crop-to-Cup Coffee Near Newrybar
Harvest might be the top dog in the paddock-to-plate gastronomy game. But you can't beat Zentveld's Coffee Farm & Roastery when it comes to top-notch beans.
As one of Australia's only crop-to-cup experiences, Zentveld's grows, roasts, and brews superb single-origin coffee on-site. Take a tour of the lush hinterland estate, and then treat your tastebuds to a steamy cappuccino made from freshly-plucked beans.
The Zentveld family has been growing world-class coffee in the hinterlands for decades, and they've perfected the art to a tee.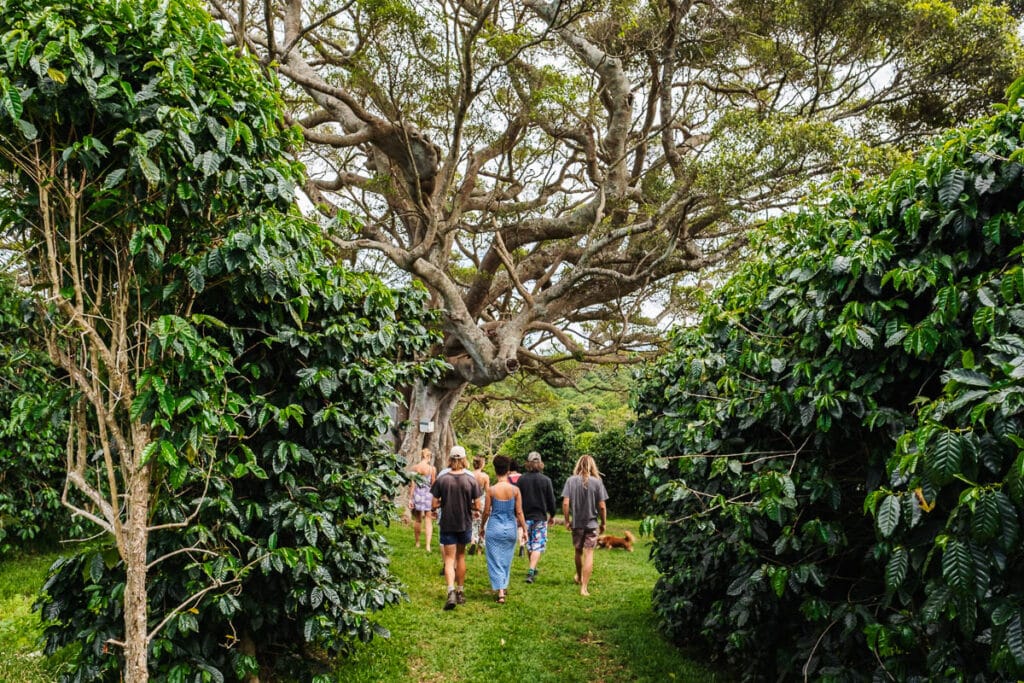 Get an Expert Newrybar Guide with Kiff & Culture
Pumped to experience this lovely little town in person?
Then join us on our Byron Hinterlands Paddock-to-Plate tour. We hit Newrybar to savour a crop-to-cup coffee experience at Zentveld's and a deli-style lunch at Harvest. Then, to cap off a decadent day, we'll swing by a hinterland distillery or brewery for a cheeky tipple.