Discerning Aussie spirits-sippers seek more than mass-produced swill. Eco-friendly practices and a connection to country have become the hallmarks of today's top-shelf tipple.
With a firm focus on Tweed terroir, Husk Distillers have met this ever-increasing demand. Here's how this renowned distillery impresses connoisseurs with its sustainable, locally-made tipples.
The Husk Distillers Story
Founder, Paul Messenger, came up with the concept in the early 90s. While flicking through an inflight Ansett Australia magazine, he found an inspiring distillery story. A bloke named Bill Lark was distilling a Tasmanian interpretation of Scottish single-malt whisky.
Years later, on a trip through the Caribbean, Paul became enamoured with the local rendition of sweet sugar cane rum. Each island had unique variations reflecting regional culture and terroir.
With booming sugar cane production in his native Queensland, Paul dreamed of replicating the Lark story using locally-sourced rum.
Sugar Cane Rum
English-style molasses-based rum has been the staple of Aussie distillers for over 200 years. That's been the case since convicts traded the tipple as currency. Transitioning into sugar cane juice rum would be a ground-breaking innovation.
The primary motivator behind molasses rum is price. Sugar cane rum involves a labour-intensive process, which other distillers aren't willing to explore. Paul took a calculated risk to bring his idea to the Australian market.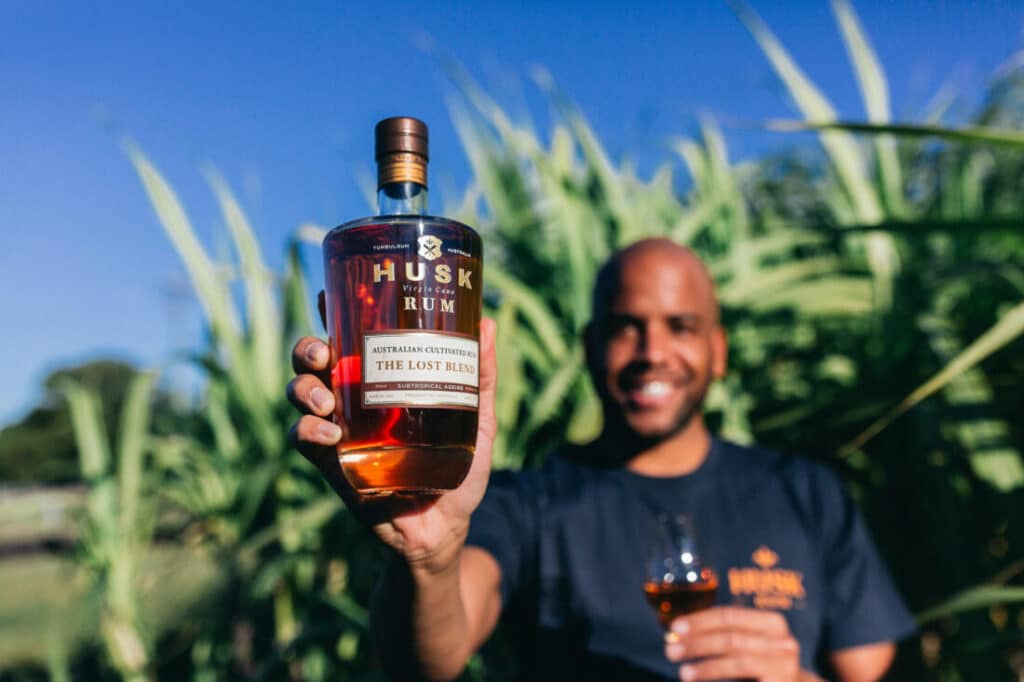 Tweed Terroir
Terroir, a fancy French word meaning "sense of place," is the cornerstone of Husk's numerous boozy creations.
Although pricey to produce, Tweed sugar cane has a more favourable flavour profile than cheaper Far North Queensland alternatives.
The region's fertile volcanic soil gets reflected in each bottle. Climatic conditions affect each annual harvest, and the environment adds a unique taste. Husk Distillers harvests sugar cane on-site, distilling it into an eclectic range of tasty paddock-to-bottle products. Everything happens in the same place.
As Paul says, "The driving ambition for me is to create something unique. Something that, in time, might come to be appreciated and recognised as unique, of this place."
Sustainability Practices
In addition to this paddock-to-bottle philosophy, Husk takes great strides to minimise its environmental impact.
All organic waste gets composted or fed to happy cattle on the Husk farm. Up to 300,000 litres of rainwater is collected from the roof and sent to the distillery to be used in production and in the "Kitchen & Cocktail Garden". Large-scale Landcare reforestation programs have seen over 3,000 new natives thrive across the farm.
All spirits get bundled in bulk and filled in reusable bottles to reduce unnecessary packaging. The in-house tasting room uses kegged mixers to save up to 20,000 glass bottles per year (a first in Australia). Waste gets recycled, up-cycled, or composted in every conceivable way.  
Visit Husk Distillers with Kiff & Culture
Keen to slurp sensational sips with a firm focus on terroir?
Then join us on our Tweed Hinterland Food & Drink (private) or Tweed Valley Food & Culture (public) tours.
We visit  Husk Distillers for tasty tipples and to learn about their sustainable, paddock-to-bottle approach. We'll also check out a smorgasbord of other exceptional food and beverage venues.