With a bewildering array of venues straddling this buzzy Fortitude Valley strip, finding the best James Street restaurants is no easy feat.
We've searched long and hard to curate a short list of our top precinct picks, from exotic Asian eateries to traditional Italian digs. That's dinner sorted.
Gerard's Bistro
Can't decide on a cuisine type for an upcoming special event? Gerard's serves scrumptious flavours from all corners of the globe. A multinational kitchen team plates up refined culinary staples from Africa, Europe, and the Middle East, each lovingly prepared with a touch of contemporary technique.
Locally sourced ingredients comprise the eclectic share plate venue at this fancy fine dining dig. Chic décor—check out the trippy 3D timber wall—and top-notch service ensure an unforgettable night out.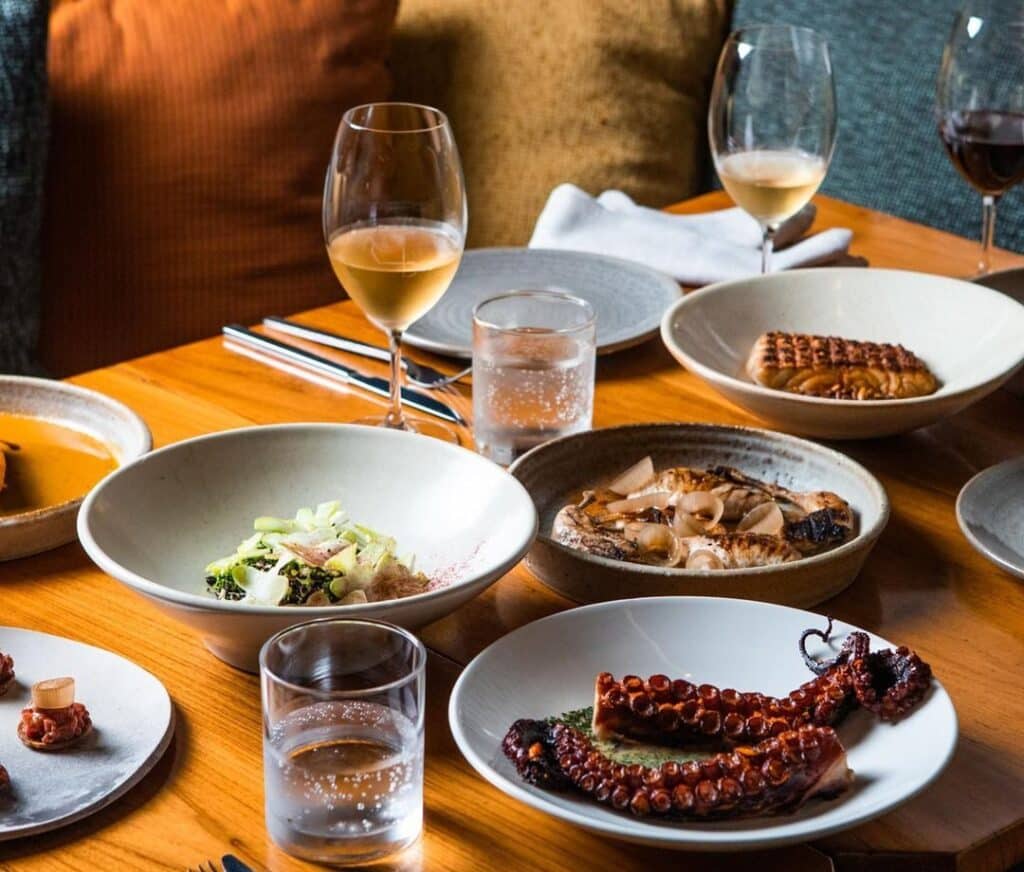 sAme sAme Restaurant
This upscale institution puts a fusion twist on Thailand's world-famous street food. Ravenous diners should stuff their bellies with the mountainous Thai-style banquet, where hearty dishes hail from Chang Mai to Hat Yai. If you fancy a light bite, the crab boa buns and Moreton Bay bug rolls always go down a treat.
The hip, rustic chic haunt features sleek whitewashed décor and exposed brick walls. Exceptional service and next-level cocktails (try the spicy Mai Thai margaritas) keep the good times rolling.
Gemelli Italian – James St
Tantalising wood-oven aromas waft through the air in this authentic Italian pizza and pasta joint. Translating to "twins" in English, the Gemelli franchise is the brainchild of two food-loving Italian brothers. The duo brought their passion for traditional home-style cooking to the Gold Coast and recently expanded to include this thriving James Street locale.
Come for the authentic thin-crust wood-fired pizza. Stay for the wine.
Bianca
The culinary hotshots behind Honto and sAme sAme recently added this slick Italian venue to their already-impressive repertoire. While the menu boasts a buffet of the usual Italian favourites, it's the pasta that takes centre stage. The team handcraft these fluffy flavoursome creations and serve them with a plethora of top-notch toppings—the paccheri al pomodoro is a winner.
Save room for their signature dessert: a soft-serve gelato made in-house on the Carpigiani machine. 
Essa Restaurant
Head chef Phil Marchant (you may remember him from Gauge) runs the kitchen at this fabulous farm-to-table haunt. Sourcing fresh produce straight from local providers, Phil prepares an eclectic array of tempting dishes, from pickled kohlrabi to spatchcock quail.
The moody décor comes courtesy of prestigious interior designer Craig Channon. Featuring dark timber banquette seating, black marble tiles, and soothing underlighting, it's perfect for a sophisticated date night.
Happy Boy
On the outer edge of the precinct, Happy Boy is a jolly good South Chinese restaurant serving a mean Guangdong-style BBQ. Steamy noodle dishes, succulent pork belly, and delectable mini chicken burgers round out the al la carte menu, or there's a hearty banquet for the big eaters.
Grab a seat on the fairy light-festooned patio to people-watch and sip top-quality plonk while waiting for your meal.

Savour the Best James Street Restaurants with Kiff & Culture
Ready to chow down on our top precinct picks?
Then book your spot on the James Street Bites & Sights Walking Tour. We stroll into the precinct's best bakehouse, restaurant, and wine bar on one fun-filled afternoon.
Alternatively, check out our Brisbane Artisan Food & Drink tour for the best gourmet gastronomy in the River City.
Image Credit: Gerard's Bistro via Instagram, sAme sAme Restaurant via Instagram, Gemelli via Instagram, Bianca via Instagram, Essa via Instagram & Happy Boy via Instagram