Byron Bay's lucrative tourism sector has long gravitated around its beautiful beaches and chic cafes. But a unique offering has been turning heads in recent years. Led by an Arakwal custodian, Explore Byron Bay runs an insightful Aboriginal-led cultural tour.
In this post, we're giving you the low-down on Delta Kay, a proud indigenous woman and the star of Byron's most intriguing tour.
The Aboriginal-Led Tour
Delta is committed to creating meaningful partnerships with her local community.
As Explore Byron Bay told Kiff & Culture, "The purpose of our tours is to share Arakwal Bundjalung history and culture with our community, as well as with the many visitors to Byron Bay. We want people to develop a deeper understanding and respect for our traditions and spiritual relationship with this Country.
Their tour offers the perfect platform to achieve these goals. The popular, small-group excursions explore the Bundjalung Nation's history, providing in-depth insight into its age-old traditions. From Dreamtime stories to gut-wrenching colonial tales, Delta offers a first-hand appreciation of her people.
Delta Kay: The Person
In-between tours, Delta dedicates her time to promoting her culture through other means—not to mention her full-time role as a loving mother and grandmother.
Delta provides a Welcome to Country ceremony for an array of visitors, from tour groups to large corporate gatherings. A local Aboriginal person of significance must run the ceremony. In Byron, that means a member of the Bundjalung of Byron Bay Aboriginal Corporation.
Her Welcome to Country enables non-Aboriginal people to show respect for Arakwal Bumberbin as the First Peoples. More importantly, it provides consent for events on their traditional land. The ceremony could include a speech, a story, a song, or, in exceptional situations, a smoking ceremony.
Delta has also participated in events, dances, and fund-raisers to promote a better understanding of her people . She's narrated Dreamtime stories for the ABC and played a pivotal role in the Arakwal Dubay Dancers Calendar.
Delta is an active member of the Bundjalung of Byron Bay Aboriginal Corporation (Arakwal). Established in 1996, the Corporation helps manage traditional land. It also improves housing, healthcare, and employment opportunities for vulnerable people.
Together with Explore Byron Bay, they also "run educational programs from local teachers and students, participate in community events, such as NAIDOC Day and offer mentoring with the Tweed Byron Police Commanders Program".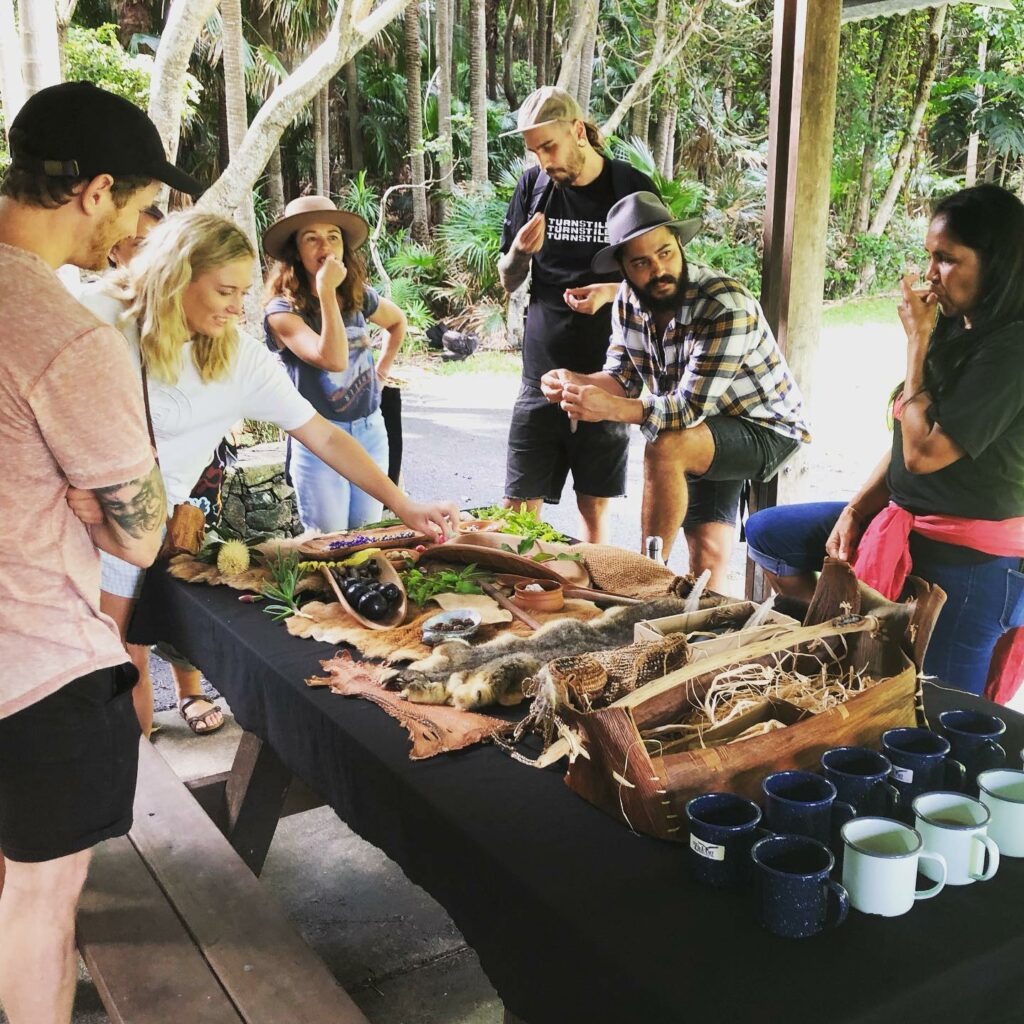 Meet Delta Kay on Our Brisbane to Byron Food Trail
Our three-day foodie extravaganza lets you meet Delta Kay in person while sampling tasty indigenous bush tucker. If she's not available that day, we'll dine at the acclaimed Aboriginal-owned Karkalla restaurant instead.
Book your spot on the Brisbane to Byron Food Trail today to pay your respects to the Bundjalung Nation. What's more, you'll get to savour the finest gourmet gastronomy in the Green Cauldron.