Hankering to guzzle down a few frothy artisanal ales on your next Northern NSW trip?
We've got your back. From Ballina to Brunswick and Byron to Bangalow, the Northern Rivers region is awash with top-notch local brewpubs. So give the mass-produced mainstream swill a miss and try these five superb Northern NSW breweries instead.
Stone & Wood (Byron Bay)
A long-standing Byron institution, this down-to-earth brewery has been pumping out the good stuff since 2008. Despite rapid expansion, the trio of local co-founders maintain a community-driven approach. Stone & Wood give back through initiatives like grants programmes and sustainability strategies.
But it's the glorious amber nectar that saw this legendary brewer achieve nationwide fame. Their refreshing ales and lagers sell from bottlos Australia-wide. Of course, there's no better place to sample some suds than right here at the source.
Earth Beer Company (Cudgen)
Craving a creamy avocado-infused Kolsch?
Probably not. But you'll soon change your stance towards this laurel family fruit upon savouring Earth Beer Company's signature creation. The ultra-innovative Avocado Kolsch goes down a treat on a hot summer's afternoon (or anytime, really).
The boutique Cudgen beer-maker creates an eclectic ensemble of other hoppy drops. And you can quaff each tasty creation at their renovated tin packing shed-cum-brewery. Almost all ingredients come from the on-site farm or nearby Tropical Fruit World—a true farm-to-pint glass experience.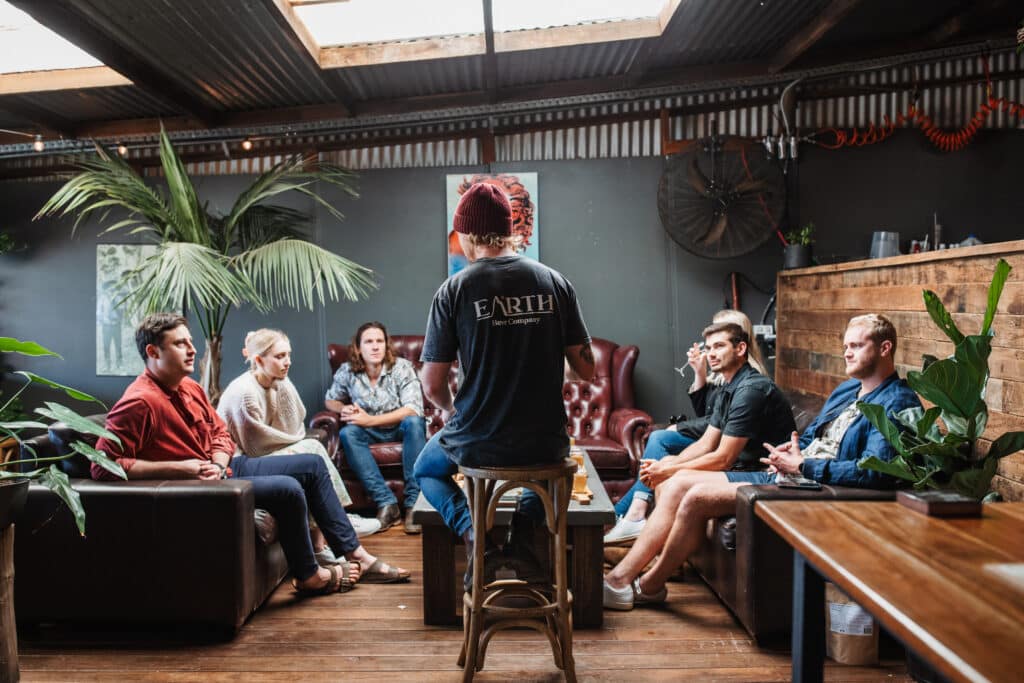 Common People Brewing Co (Bangalow)
Bangalow isn't just about bric-a-brac boutiques and chic main street cafes. In a nondescript nearby industrial estate lies Common People Brewing Co, an exciting up-and-comer producing next-level suds.
From IPAs to white ales and experimental special batch brews, each sessional beverage comes from quality regional ingredients. The locally-born owners created a cosy imbibing space, complete with comfy couches and a fireplace for frigid winter nights. Their pizzas are on point, and your four-legged friends are always welcome.
Wandana Brewing Co (Mullumbimby)
The alternative culture enclave of Mullumbimby is no stranger to artistic expression. So it should come as no surprise to hear its premiere beer-maker plays non-stop tunes to each batch while it brews. Custom-made fermenters feature in-built speakers blasting everything from classical music to Kiwi dub.
But this isn't some silly gimmick. Lab coat-wearing research boffins found sound vibrations enhance yeast cell growth efficiency—you can't argue with science. Swing by the lively warehouse-style venue to sample these music-loving ales for yourself. Live bands, a kiddies' room, top-notch food, and Mt Chincogan views guarantee a good time.
Seven Mile Brewing Co (Ballina)
Start your Northern Rivers adventure on the right foot with a refreshing ale at Seven Mile Brewing Co. Conveniently located right outside Ballina Airport, you could be throwing back a frothy within minutes of hitting the tarmac.
Flight delayed?
You've found the perfect place to pass the time. The family-run business sells a dozen-odd delicious drops from the taproom and selected regional bottleshops.
Visit the Best Northern NSW Breweries with Kiff & Culture
Ready to quaff top-notch suds from awesome Northern Rivers brewers?
We visit some of the region's best beer-makers on our Byron and Tweed Hinterland tours. Gourmet gastronomy, epic vistas, and tasty tipples come included in every tour.