Sustainable luxury is a big deal in the travel business right now.
Unfamiliar with the term?
The concept refers to when an upmarket brand adheres to an eco-friendly ethos. We're not talking about a sustainable product with a premium slapped on top—rather, it's a premium product made in a sustainable way.
The niche has been exploding in the fashion sector for some time, and it's starting to take off in the travel industry, too. 
Now you're up to speed, let's check-in to the five most luxurious yet eco-friendly lodges in Australia.
Crystalbrook Byron
Located in the eastern seaboard's most celebrated beach town, this chic five-star hotel offers serene seclusion within easy reach of Cape Byron. Its 93 sleek suites boast floor-to-ceiling windows with tranquil rainforest views, while a world-class wellness spa bolsters the soothing vibe.
With 18 hectares of pristine subtropical forest, it's the greenest place to stay in Byron Bay. And the Crystalbrook Byron eco ethos extends to all operational facets—laundry, power consumption, architectural design, and more.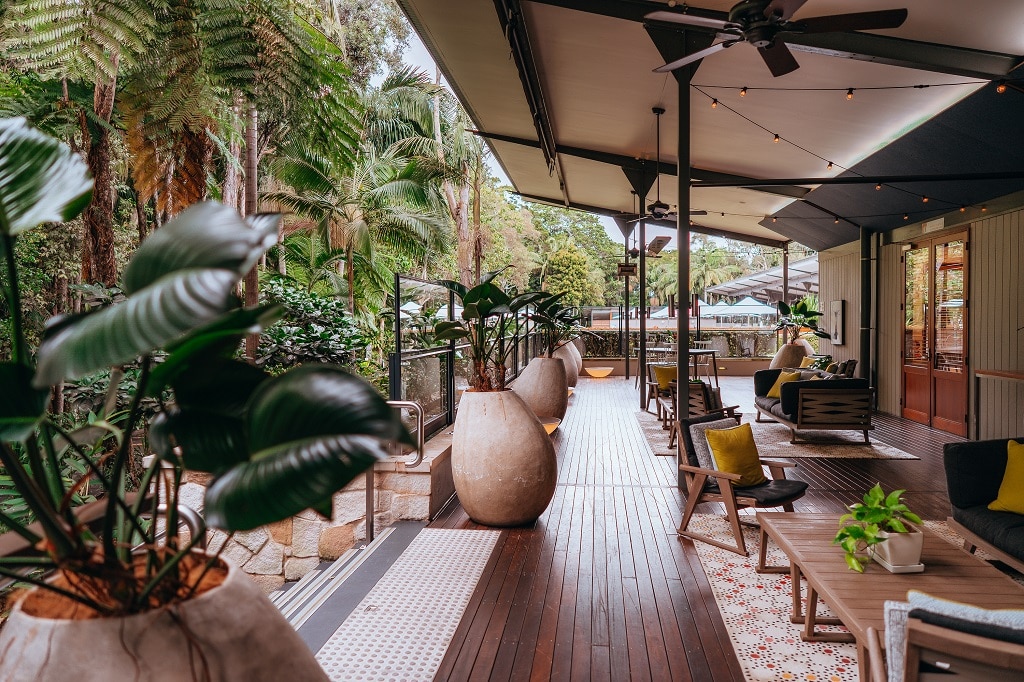 Longitude 131°
Figured you'd be forced to rough it way out in Woop Woop? Think again.
Located near the iconic Uluru-Kata Tjuta National Park, Longitude 131° brings luxury living to the remote Red Centre. In-depth environmental impact studies gave the all-clear for construction here, and the developers opted for sustainable tented pavilions to keep the footprint low.
When you're not kicking back in your uber-luxe glamping pad, you can learn the traditions of the Anangu people, the oldest living culture on earth. It's also a top spot for stargazers—there's a kitted out observatory and expert astronomer on hand. 
Arkaba Conservancy
Set in a former sheep station in South Australia's spectacular Flinders Ranges, Arkaba has done a sustainability 180 to become a certified wildlife reserve. The beautiful bush conservancy now safeguards a community of cute marsupials, from the Red Kangaroo to the Eastern Grey and the endangered Yellow-footed rock wallaby.
The historic 1851 homestead keeps things intimate with just five luxurious cottages. None have WiFi, TV, telephones, or other modern gizmos, prompting guests to immerse themselves in an authentic Aussie bush experience. Part of the proceeds goes towards other biodiversity initiatives around Australia.
El Questo Homestead
El Questro Station is a legendary outback experience for hardy four-wheel drivers exploring the rugged Kimberly region. And within the vast 700,000-hectare expanse lies something unexpected: a luxurious eco-friendly hotel.
Featuring ten chic little suites on the shores of the tranquil Chamberlin River, El Questro Homestead isn't as extravagant as its big city five-star counterparts. But considering the far-flung location (you need a high-clearance four-wheel drive to get here), it's amazing the lodge exists in the first place. The homestead adheres to strict eco-friendly principles, and guests can enjoy indigenous-led tours of the land.
Sal Salis
Sal Salis is a privately run eco-retreat on the shores of the World Heritage Listed Ningaloo Reef. Smack bang in the centre of Western Australia's Cape Range National Park, these plush safari-style tents plonk you within easy reach of world-class snorkelling sites.
After a tough day of coral spotting or frolicking in the turquoise waves, you'll get to kick back in your own private beachfront pad. The Department of Parks and Wildlife have strict rules for lodges operating in their land, so rest assured the eco-credentials are all above board.
Sustainable Luxury on Kiff & Culture's 3-day Brisbane to Byron Food Trail
We're massive fans of the sustainable luxury movement. At Kiff & Culture, we handpick the top local hospitality providers that comply with strict ethical and sustainability standards. What's more, we're teaming up with one of these amazing sustainable luxury hotels for our 3-Day Brisbane to Byron Food Trail.