Have you heard of the term "terroir"? It's French for "a sense of place" and encompasses all the key factors that contribute to the unique characteristics of a wine, such as climate, soil, and farming techniques.
Well, guess what? Small-batch spirits makers like Husk Farm Distillery are taking this concept to the next level by creating artisanal drinks that truly reflect the land they come from. From wheat grain whiskey to botanical-infused gin, these farm-to-bottle producers are revolutionizing the booze scene and making it a lot more interesting!
We caught up with Harriet Messenger from Husk Farm Distillery to get the lowdown on this exciting trend, and let me tell you, it's a game-changer!
Husk Farm's Terroir
Husk's fertile Tweed Hinterland property has the perfect soil and climatic conditions to grow sugar cane, the critical ingredient in their famous Husk Rum.
"The land influences the character of the product. Like wine, cane juice rum is seasonal and variable. The unique conditions such as the geology, the soil and that year's climatic conditions mean each harvest sings a slightly different song," Harriet says.
Most Aussie sugar cane comes from Far North Queensland. But it doesn't have the same smooth taste.
"You could take the equipment and distiller and move them to a different region like North Queensland. The rum would taste different because the cane has been grown in a different environment," Harriet says.
Although pricier than importing from Mossman, locally produced sugar cane has been a crucial piece of Husk's rum-making puzzle.
"The trade-off for us is crafting spirits rooted in the region. Husk Rum reflects the provenance of the Caldera Coast – the ancient, eroded core of a volcano which erupted 23 million years ago. Each year the soil, season, and climate affect the harvest."
The Farm-to-Bottle Philosophy
Provenance affects flavour. But there's more to the story than taste. With climate change-related catastrophes menacing Australia for consecutive years, consumers are putting sustainability first.
Zero kilometre produce is an easy way the layman can do their bit to reduce greenhouse gas emissions. The concept exploded in Spain and Italy some time ago and is making inroads in the Aussie mindset.
"Farm to bottle means that Husk Rum is made 100% on our farm, from sugarcane grown 100% on our farm. Everything happens in one place."
Not content with sticking to just sugar cane, Husk Farm Distillery has set about growing almost all their ingredients on-site.
"We grow as many of our ingredients as we can. We harvest what we need, when we need it. Native ginger used in our spiced rum Bam Bam is foraged from around our farm. Since 2017, we've planted over 2000 native trees, plants, and shrubs on our farm in rainforest plots."
Other Northern NSW spirits makers, such as Cape Byron Distillery, adopt a similar farm-to-bottle approach. Nonetheless, Husk Distillers proudly remains the only farm-to-bottle rum maker in Australia.
Sustainable Production Practices
Minimising transport emissions is only part of a sustainable production model. From recycling stormwater to composting agricultural waste, Husk Farm is reducing its footprint in numerous ways.
"We manage all our waste streams carefully. Our organic waste is either fed to our herd of spoilt cattle or returned to the land as compost. We're moving towards zero glass waste in our bar. Therefore, our spirits come in bulk from the distillery and filled in reusable glass bottles. Our premium mixers come in kegs from Strangelove."
"Our cardboard waste is either recycled or shredded and used to pack up orders in a dispatch. We also have 300,000 litres of rainwater in storage to run our production cooler and flush our loos."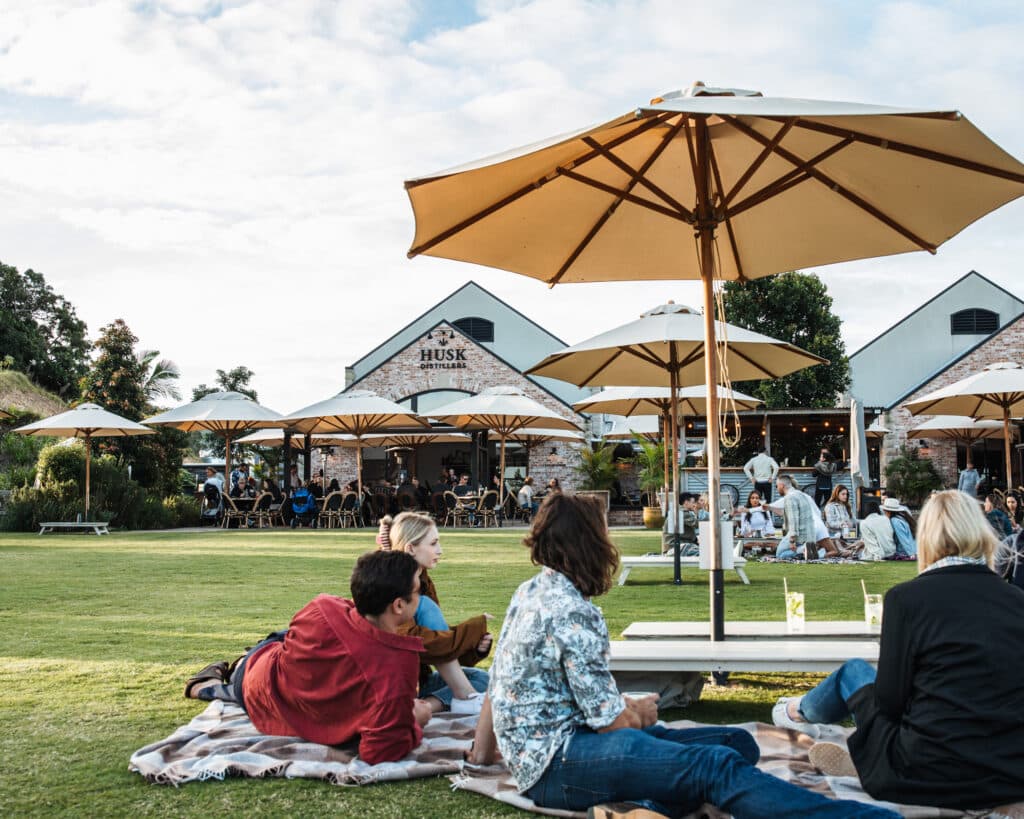 Sip Farm-to-Bottle Spirits at Husk with Kiff & Culture
Ready to try tasty tipples while doing your bit for the environment?
At Kiff & Culture Tours, we work with curated eco-conscious providers to minimise our carbon footprint on every tour. Experience farm-to-bottle flavours with us at Husk Farm Distillery and other Northern NSW venues.