More than a chefs-hatted restaurant, Harvest Newrybar has a sustainable on-site garden. And this leafy sanctuary has become a go-to destination for community connection.
Here's how the Harvest garden helps protect the environment while fostering community engagement.
The Harvest Garden
The staff at Harvest are staunch sustainability warriors and horticulturists at heart. Wherever possible, they pluck fresh ingredients direct from their on-site garden.
The mastermind is Richie, a classic Newrybar character with a horticulture background. Expect to see Richie digging around in the garden, planting new herbs and picking fresh produce for the day's dinner service.
Species come and go with the seasons, from native grasses to blue-tone flowers and fresh fruit.
Richie injects passion into every sapling and loves discussing his art with curious passersby. Don't be afraid to ask what he's up to. Chances are you'll learn something new.
Supplying zero-kilometre ingredients to award-winning chefs is the garden's raison d'etre. However, it also serves to spruce up the exterior—and it does a mighty fine job.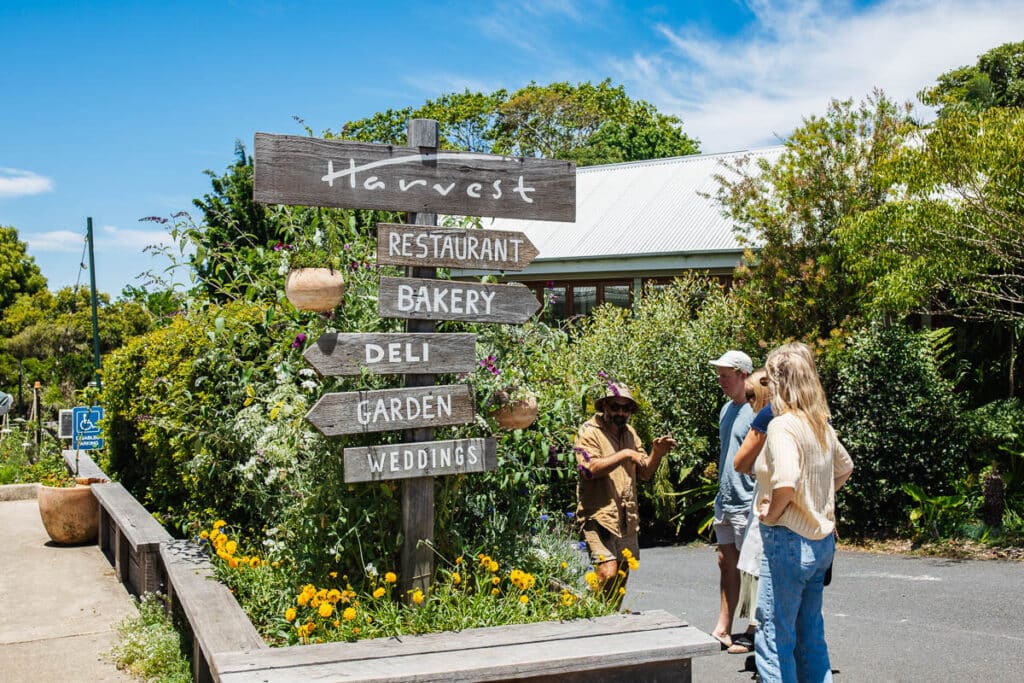 A Commitment to Sustainability
The garden plays a pivotal role in Harvest's ongoing sustainability efforts. 100% organic, it feeds on the compost of kitchen scraps. The aim is to reduce food miles and give diners a closer connection with the natural world.
Both ornamental and edible plants—herbs, vegetables, and fruit— sprout in the garden. Chefs use its colourful native flowers as edible garnishes in their immaculately-presented dishes.
Ingredients they can't source on-site come from small-scale local suppliers. Harvest has a vast network of Northern Rivers producers underpinning its paddock-to-plate philosophy.
The restaurant incorporates other sustainability best practices into its everyday operations. The bakery runs off solar power, and staff create soda on-site to minimise plastic waste. Even the coffee cups come from recycled wood-fired ash.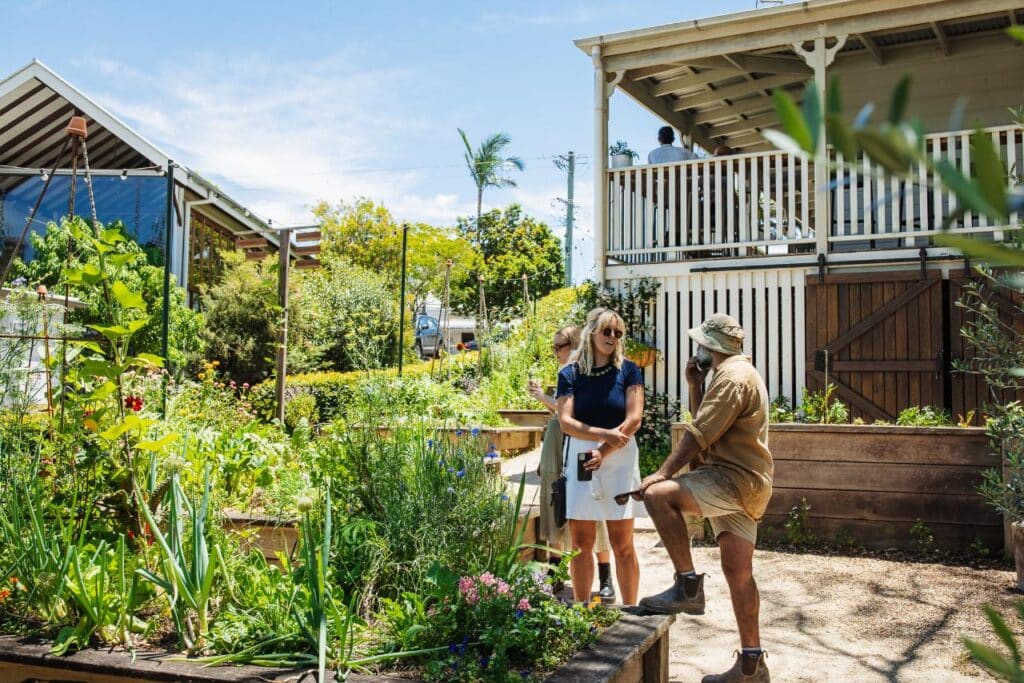 Harvest Garden Events
Celebration and connection are fundamental to the Harvest Newrybar experience. And through its leafy open-air garden, the venue is fast becoming a thriving community space.
Its proprietors, Kass and Tristan, have been running the restaurant for over 15 years. The duo has formed a close community connection in that time. Unlike recent interstate arrivals, Harvest is an authentic Northern Rivers establishment.
Harvest Newrybar hosts a roster of events to foster community engagement. Horticulture workshops encourage participants to learn about small-scale food production. Other shindigs are more recreational, from live music Fridays to Sunday breakfast BBQs.
Keep an eye on their website to see what's on.
Visit Harvest Newrybar with Kiff & Culture
Keen to sink your teeth into the Northern Rivers' best paddock-to-plate gastronomy?
Then join us on our Byron Bay Foodie or Byron Hinterland Paddock-to-Plate tours. We hit Harvest to devour a delicious deli-style lunch and swing by a smorgasbord of other sensational regional venues. 
Go on. Treat your taste buds to top-tier flavours with us. You've earned it.