If you're planning your big day, checking out wedding venues on the Gold Coast is a must.
Think magical settings, elegant estates, and the best that nature has to offer. 
Your wedding venue can set the tone and the ambiance for the day. So it's a big decision. 
You'll want your location to be one to remember. The food and drink need to be on point, as does the all-important wedding photo backdrop. 
That's why we've compiled 9 of the most stunning wedding venues on the Gold Coast. So get set to plan your perfect day.
1. Braeside at Gin House Creek Estate
Did someone say fairytale wedding? Braeside at Gin House Creek Estate is one of the most beautiful garden wedding venues on the Gold Coast.
The sprawling estate offers different ceremony options. Say I Do in their gorgeous non-denominational chapel. Or exchange vows under their majestic giant tree dripping in fairy lights. 
Then head over to the Pavillion, their elegant reception space. It can hold up to 120 people and features sandstone accents and chandeliers. 
2. Austinvilla Estate
Located in the Gold Coast Hinterland, Austinvilla Estate is a great all-in-one location. 
They've got on-site accommodation for up to 90 people, a 110-acre estate filled with picturesque photo spots,  and an in-house wedding coordinator. 
Exchange vows at the Pavillion with Hinterland views and share post-ceremony drinks on the rainforest deck. 
Then eat, drink and be merry at the Homestead, their reception location with plenty of vintage charm. 
3. Mason Wines
Mason Wines is a boutique winery with rustic county whimsy. Its location in picturesque Tamborine Mountain makes it one of the most popular wedding venues near the Gold Coast.
Have your ceremony in their lush gardens, and stroll through the vineyard for epic photos.
They specialise in serving up quality, fresh produce for their exceptional menu. And the best part about having your wedding at a winery is enjoying a drop of their locally produced tipple. 
Book a stay in their cottage accommodation as a base to get ready for the day. 
4. Sol Gardens 
Sol Gardens, nestled in the Currumbin Valley, offers beautiful natural splendor for you and your guests to enjoy. 
You can choose to hold your ceremony at the pond-side gardens, or by the bubbling Currumbin creek. And if there's wet weather, they're all over it with a covered solution available. 
Have your reception under the stars, or head to the Pavilion with views overlooking the gardens. 
Sol Gardens has an in-house award-winning catering team to serve up delicious treats.  
You can choose to fully customise your wedding, or select one of their all-inclusive packages. 
5. Mavis' Kitchen 
If you want majestic wedding photos with Wollumbin (Mount Warning) in the background… then take a look at Mavis' Kitchen.
This former dairy farm on 25 acres is surrounded by lush rainforest only a stones throw from the Gold Coast.
They're passionate about sustainability, offering on-site eco-friendly cabins, and providing an organic menu with goods straight from their garden.  
It's a "do it all" venue, with ceremony, reception, and accommodation facilities in the one stunning location.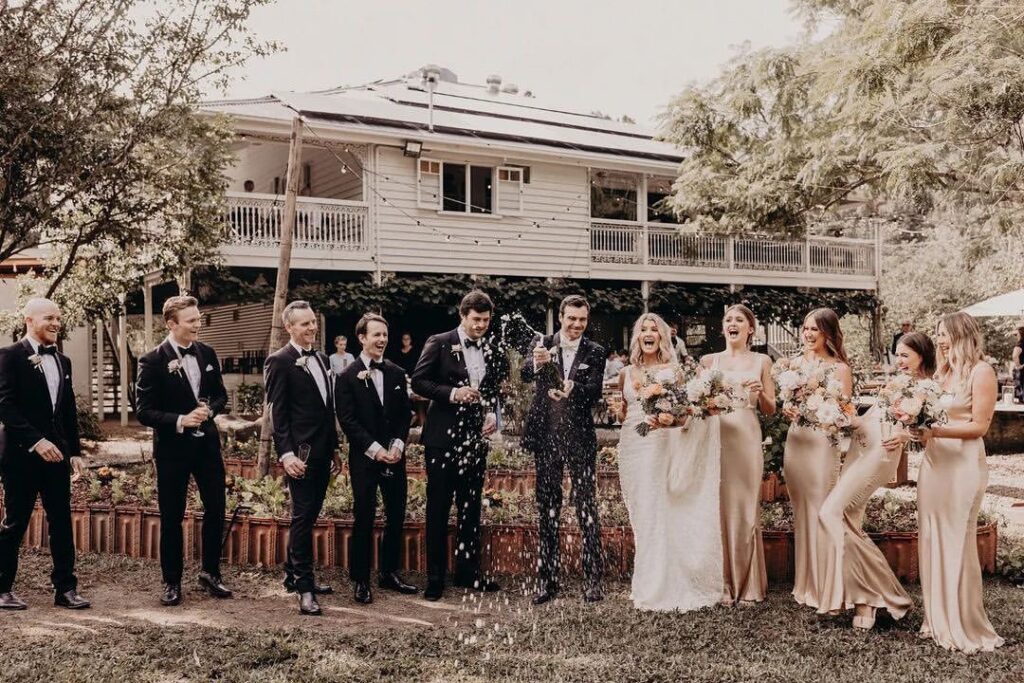 6. Hampton Estate
Hampton Estate, located in the glorious Tamborine Mountain Hinterland, provides an elegant, picture-worthy wedding location. 
Choose from indoor or outdoor venues for your ceremony, drinks, and reception. And enjoy premium wines, beer, and delectable food crafted from the best local produce. 
For the ultimate convenience, you and your guests can stay in their beautifully decked-out cottages, which house up to 16 guests.
You and your guests will receive full access to the Estate grounds to enjoy the curated gardens and scenic views. 
7. Bower Estate
A 120-acre estate surrounded by magical National parks sounds pretty good, right?
The Bower Estate is a full-service wedding venue deep in the Hinterland. 
You can have your ceremony and reception conveniently in one place. And there's accommodation on the estate for you or your guests to enjoy.
Dance the night away under a canopy of romantic fairy lights. And enjoy delicious food and drink sourced from local providers. 
They also have an event team to help you pull off the day without a hitch.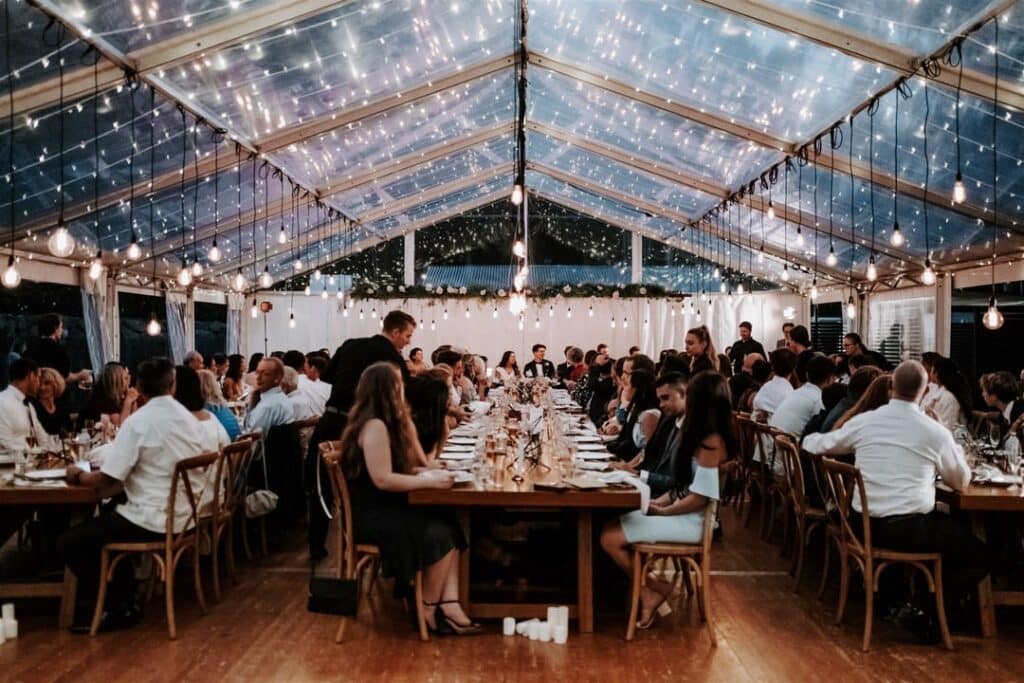 8. Rivermead Estate
If you feel like being a bit fancy, then check out Rivermead Estate. 
The former dairy farm has been transformed into an equestrian centre. It's famous for being one of the most elegant wedding venues on the Gold Coast. 
Rivermead Estate caters to the couple who want to feel like royalty.
Surrounded by prime scenery, you'll have plenty of beautiful photo opportunities. 
They have accommodation for up to 18 guests in their 3-storey homestead next to their breathtaking pool area.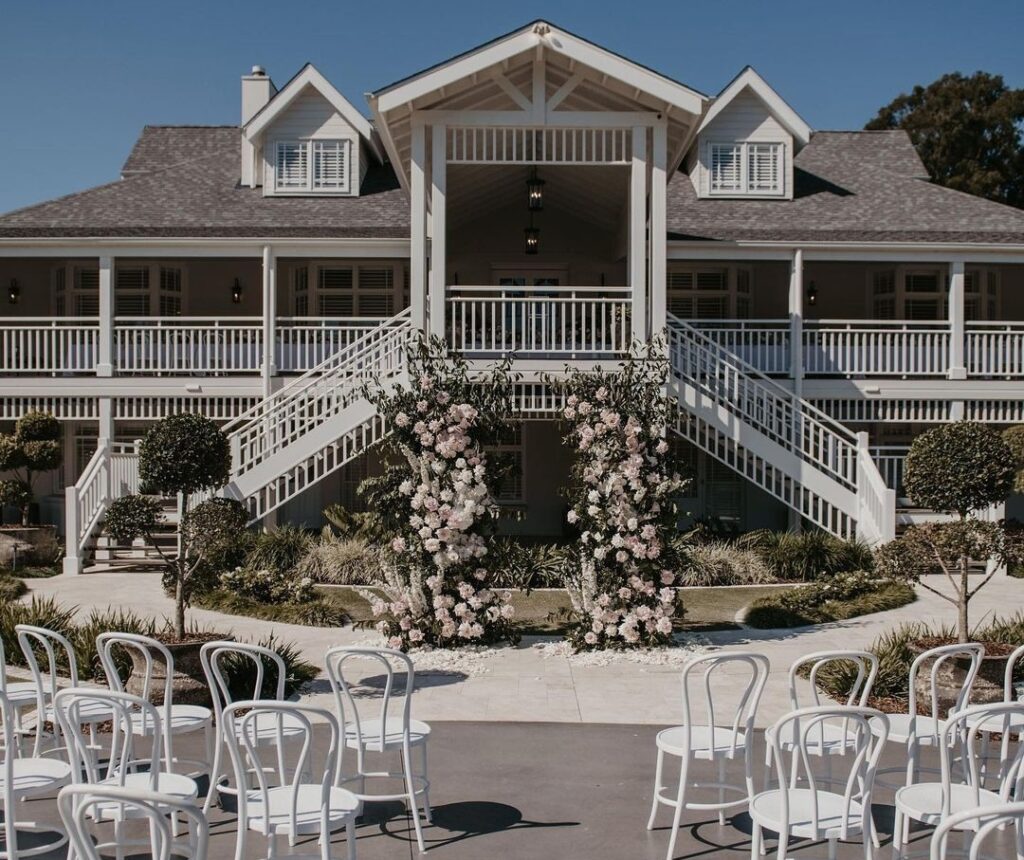 9. The Valley Estate
The Valley Estate is the new kid on the block, having opened in 2021.
Dubbed one of the most exclusive wedding venues on the Gold Coast, it's the perfect location for the bougie couple. 
The luxurious finishes, awe-inspiring chandeliers, and expertly manicured gardens will provide the perfect backdrop for photographs… and wow your guests.
It's a convenient one-and-done venue, catering for your ceremony, photoshoot, and reception.
Want to shoot your wedding party some hens or bucks night ideas? Check out our day trips for full-filled celebrations fuelled by the best food, and drink, in the Brisbane, Gold Coast, Tweed, and Byron regions.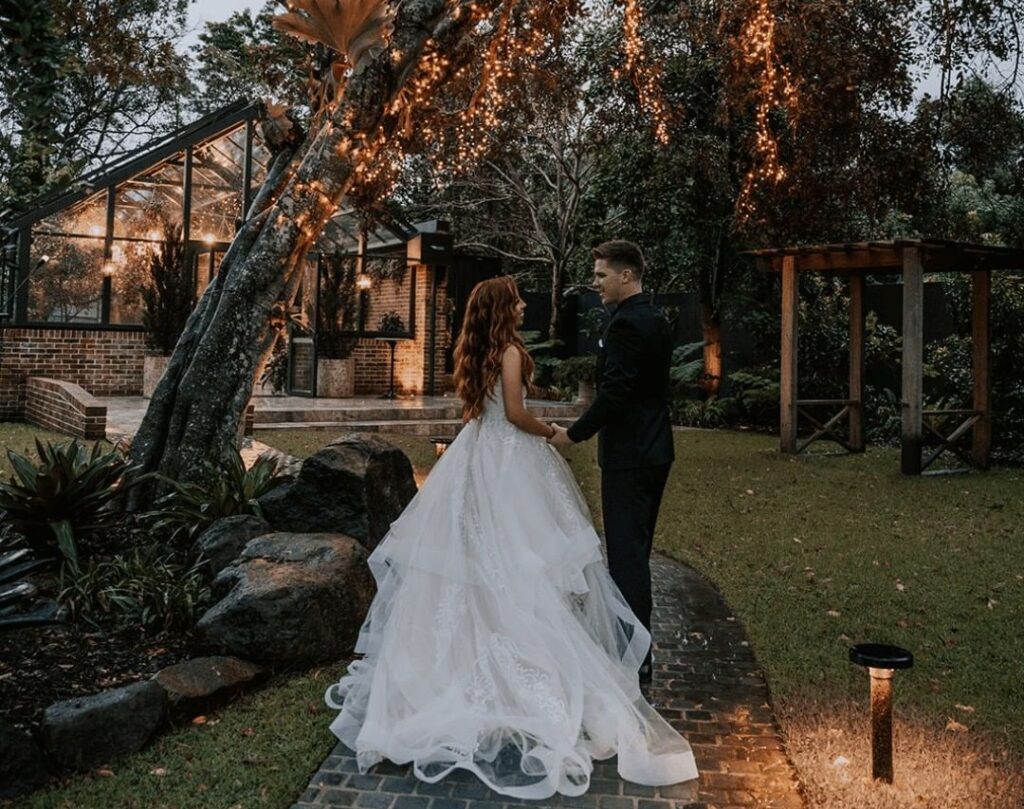 Image Credit: Braeside Estate via Instagram, Austinvilla Estate via Instagram, Mason Wines via Instagram, Sol Gardens via Instagram, Mavis Kitchen via Instagram, Hampton Estate via Instagram, Bower Estate via Instagram, Rivermead Estate via Instagram & The Valley Estate via Instagram