Craving a unique getaway? Give Byron's bumper-to-bumper traffic a wide berth and book a weekend in Bangalow instead.
Just one hour south of the Gold Coast, this quaint country town oozes old-world rural charm. An eclectic range of farm-to-table eateries, chic luxury lodgings, and gorgeous natural attractions make for an idyllic two-day escape.
Bangalow Accommodation
You can't go past Hinterland House for elegant countryside vibes. Set on a 20-acre macadamia plantation, this opulent 1906 homestead harks back to the sophisticated grace of yesteryear.
Loved-up couples should book its romantic standalone cottages; big groups can huddle up in the historic homestead. Either way, quaint antique décor and sweeping hinterland views guarantee an unforgettable stay.
The stunning spot is a popular wedding destination—it doesn't get much more scenic than this.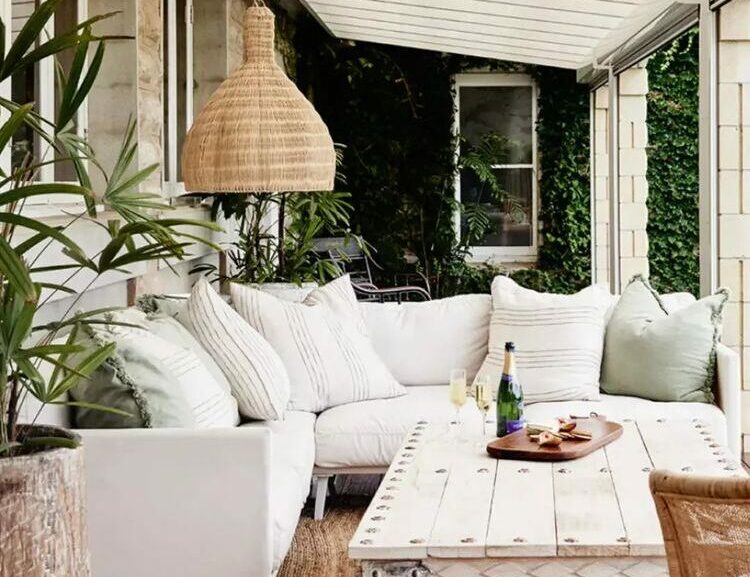 Another mind-bogglingly beautiful option is Heartwood Farm, a scenic 100-acre plot in nearby Federal (15 mins away). A quaint 1900 homestead sits on a hilltop to soak up those breathtaking views—best enjoyed while lazing about by the pool. 
Gorgeous vintage decor, rustic farmhouse vibes, and cute, curious barnyard animals make this one of our favourite Byron Airbnbs. Wake up early to watch a magical sunrise and meander dewy meadows in your own hinterland paradise.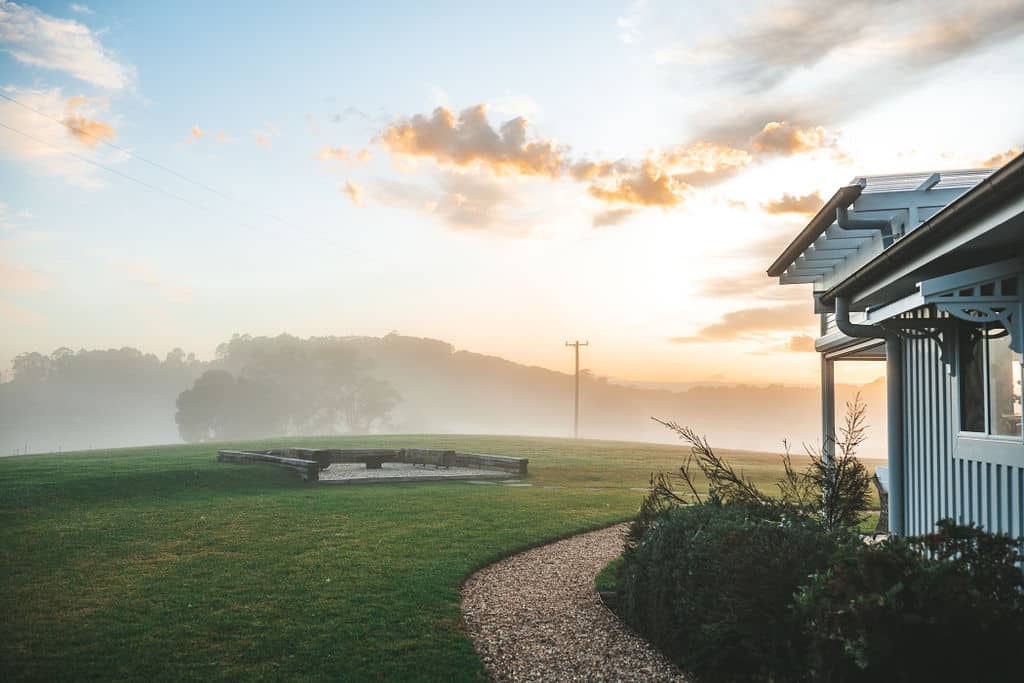 Eating & Drinking in Bangalow
Tiny Bangalow has a thriving culinary scene punching well above its weight. A long row of well-regarded eateries lines Bangalow Road, luring fervent foodies from Ballina to Byron Bay.
Pop into Butcher, Baker, Bangalow for tasty meat-filled tapas, baked delicacies, and fresh baguettes. Set in an airy historic building, the chic earthy-hued venue does a roaring breakfast and lunchtime trade.
For well-priced eats in a warm, family-friendly setting, the Bangalow Bowlo is a must. Esteemed catering team One Green Acre sources fresh produce from hinterland farmers to concoct its superb seasonal menu. Locals flock to the community-driven hub to devour sensational curries and grilled Sunday barbeques.
Book a table at Frida's Field if a decadent long lunch tickles your fancy. This renowned 120-acre eco-farm puts on an alfresco weekend feast under a shady tree on its luscious grounds. Award-winning chef Alastair Waddell curates the paddock-to-plate banquet, which got rave reviews in the Good Food Guide 2022.
For a cheeky evening tipple, make a beeline for the historic Bangalow Hotel. Local characters swap yarns, and live bands belt out tunes on weekends.
Shopping in Bangalow
Chic boutiques and gift shops rub shoulders with iconic restaurants on Bangalow Road and beyond.
The Island Luxe is your one-stop shop for earthy, all-natural décor and slick leather apparel. Eco-conscious consumers should pop into Wax Jumba Emporium. The gift shop stocks an eclectic range of ethically-sourced clothing and antique bric-a-brac.
Our Corner Store puts a boho spin on a century-old timber grocery shop. Packed with stylish threads, artisanal linen and organic lotions, you'll surely find something you fancy. 
The Northern Rivers' rotating Sunday Market sets up shop in Bangalow once per month. Local vendors flog regional produce, designer apparel, beauty products, and other assorted wares.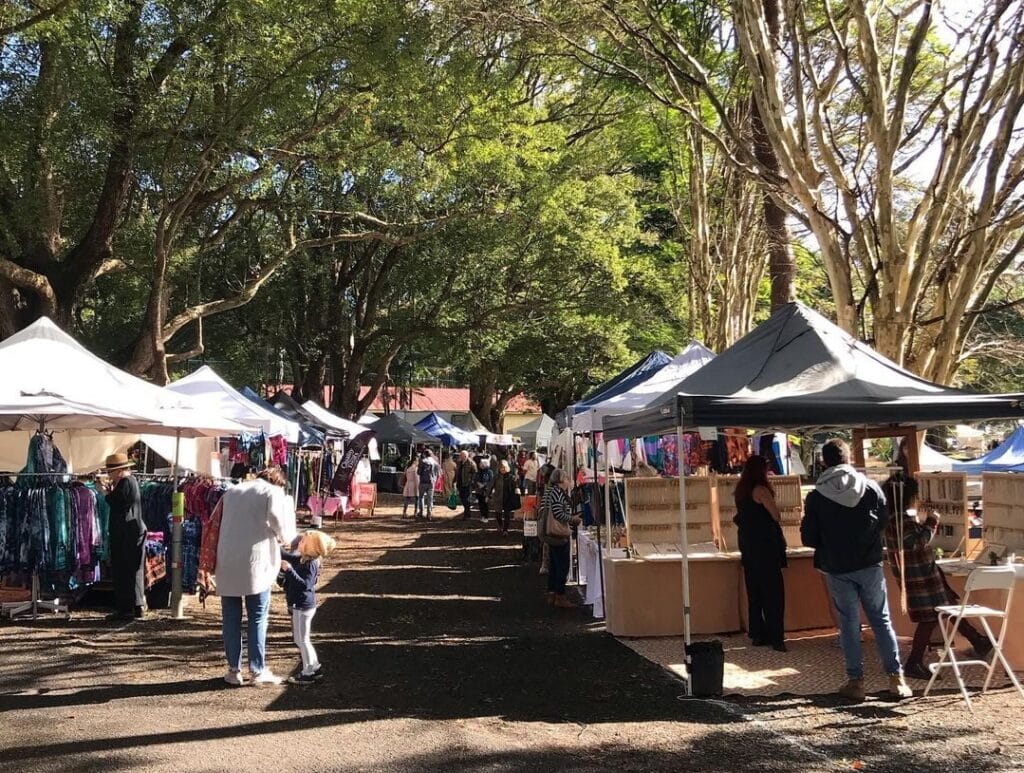 Exploring Bangalow and Beyond
A scenic half-hour drive through verdant rolling hills leads you to the luscious Nightcap National Park. Make a pit stop at the cascading Minyon Falls to admire the gushing wonder from an easy-to-access viewing platform.
If you're not done chasing waterfalls, Protestors Falls is a tranquil oasis amid thick wildlife-rich rainforest. Other nearby options include Whian Whian Falls and Killen Falls.
Rocky Creek Dam boasts excellent amenities and sparkling waterfront views for a scenic picnic.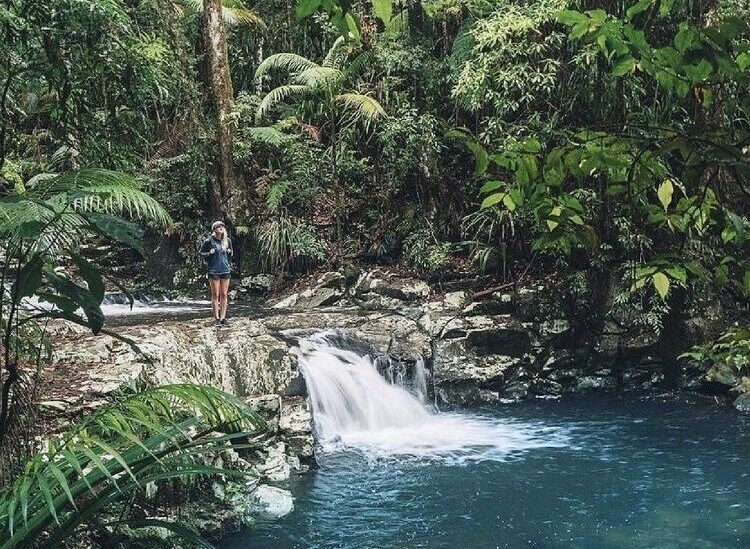 Add a Kiff & Culture Tour To Your Weekend in Bangalow
Looking to savour the Northern Rivers' top gastronomic haunts during your weekend in Bangalow?
We tour a curated selection of gourmet eateries and small-batch booze producers on our Tweed & Byron Hinterland tours. Tasty tipples, delicious nibbles, and spectacular scenery are the hallmarks of every adventure.  
Image Credit: Hinterland House via Instagram, Frida's Field via Instagram, Peanut Butter Visuals via Instagram & Australia via Instagram