Are you tired of mediocre dining experiences? With approximately 45,000 restaurants and cafés in Australia, discovering the best ones can be a challenge. But fear not! If you're curious about the factors of great restaurants, we've got you covered with the top five non-negotiable elements that make a restaurant truly shine.
So, get ready to tantalise your taste buds as we dive into the factors of great restaurants.  
Impeccable Service
As the old hospitality-industry adage goes, "While good service can excuse bad food, good food can't make up for bad service." When customers feel their waiter is inattentive or rude, even the most delectable chef's hatted cuisine won't win them over.
Good floor staff have a genuine passion for the industry and a knack for fixing tiny imperfections—crumpled napkins, wobbly tables, and half-full water bottles. The skilled waiter knows the menu inside out and will wait for a suitable conversation break before butting in. It's a tough gig to master, and maintaining a pleasant demeanour is daunting on a frantic, all-day shift.
Appropriate Décor
A great restaurant's interior design will complement its overarching style. Whether it's an elegant fine dining venue or a hip burger haunt, the décor needs to vibe with the brand's image. This isn't something you can wing—get in-depth advice from an expert interior designer to get it right.
Never neglect the bathroom. While a grotty dunny might pass in a boozy low-end watering hole, sober diners want somewhere clean and luxurious when nature calls. Flowers, scented candles, proper towels, and snazzy splashbacks amp up the luxe factor.
The Comfort Factor
Tables should contain ample space to fit every plate without a stressful jigsaw puzzle-style reshuffle. While it's tempting to cram them together to optimise capacity, they need to be placed far enough apart that no one is climbing over other diners (or suffering through a stranger's conversation). Chairs and booths should also let customers reach their table without awkwardly leaning forward.
Music and lighting should vary on the venue, but there are still a few golden rules. Low-lit establishments must have enough light to read the menu (and the facial expression of the person opposite you). Music should be an audible background hum rather than an intrusive annoyance.  
Consistently Good Cuisine (and Booze)
While true epicureans appreciate the other four factors, nothing is as important as the food. A great restaurant doesn't just do a mean signature dish (or two); it pumps out top-quality fare consistently. The savvy restaurateur has a backup plan when their head chef inevitably falls ill.
A creative drinks menu adds enjoyment to the restaurant experience—dining is a social activity, after all. Exotic cocktails, homebrewed beers, novelty shots, and an extensive wine list (preferably with pairing options) add cachet.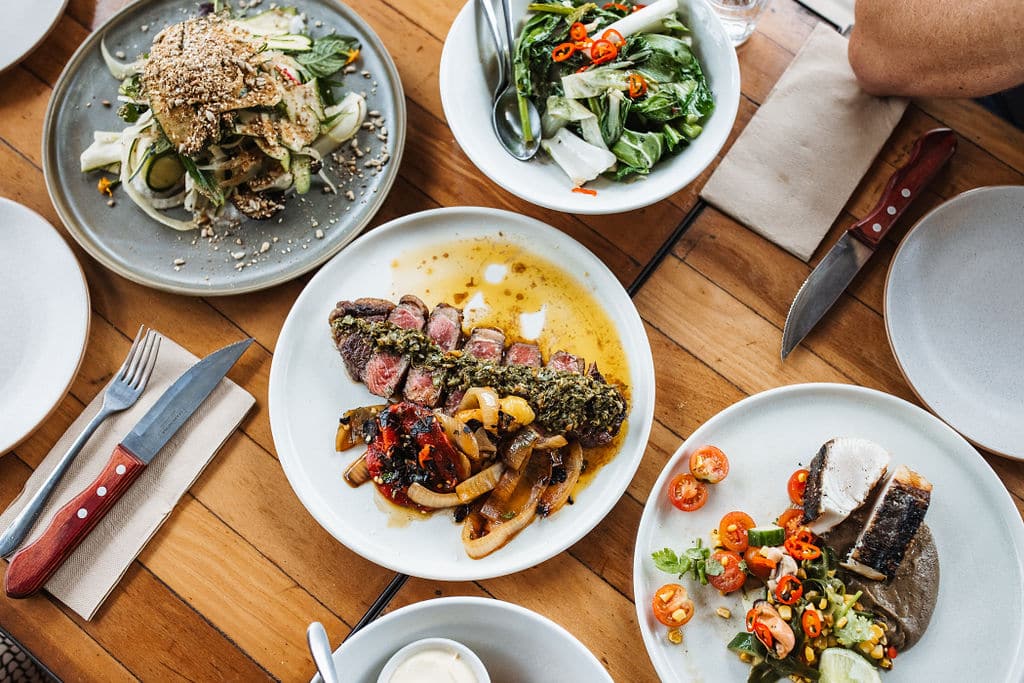 Eco-Credibility
It's not a deal-breaker for everyone, but the eco-friendly approach is becoming more popular and profitable each year. Environmentally conscious consumers adore feasting on farm-to-table cuisine—seasonal, locally sourced produce is in right now.
A solid vegetarian menu with a slew of tasty vegan options is an easy way to enhance your eco credibility.
As Sam Martin from The Ducks (The Farm, Byron Bay) told Kiff & Culture, "we get stoked by creating venues that champion delicious, ethical produce, sustainable practices, an escape from the day-to-day, and a relaxed and fun-loving atmosphere."
Book a Kiff & Culture Tour
Keen to sample genuinely great restaurants in SE-QLD and Northern NSW? We run fun, small-group food and drink tours in the Gold Coast, Brisbane, Tamborine Mountain, the Tweed Hinterlands, and Byron Bay.
All our culinary escapades include door-to-door transfers, delicious food & drink, a lively local guide, and newfound friends.