High in the Gold Coast Hinterland lies one of Australia's leading viticulturists: Witches Falls Winery.
While Queensland doesn't get the same wine-making cache as our southern states, a few local wine-makers are handcrafting award-winning drops. And Witches Falls Winery is leading the way.
The Witches Falls Winery Story
The business began in 2003 when Jon and Kim Heslop moved from the Hunter Valley to Tamborine Mountain to kick-start a new viticulture venture. Their inaugural vintage hit the shelves one year later, and the duo has spent two decades perfecting the craft. As a result of their efforts, Witches Falls is now the largest wine-maker in Queensland.
Jon is the brainchild behind the wine-making process. With a degree in Applied Science (Oenology) from CSU and almost 30 years of experience, Jon knows how to fine-tune the perfect drop. Before launching this vineyard, Jon made fine wine in the Hunter and Barossa. He's also worked in prestigious overseas regions like Burgundy and Napa Valley.
Kim is the managerial Queen Bee. Working behind the scenes, she oversees everything from marketing to exports and distribution.
The latest addition to the Heslop family business is Abbey, an up-and-comer with a Bachelor of Viticulture and Oenology. When she's not learning the craft from her father, Abby works as an assistant brewer at Brisbane's Sea Legs brewery.
A dozen staff handle other facets, from wine-making to taste-testing and business development.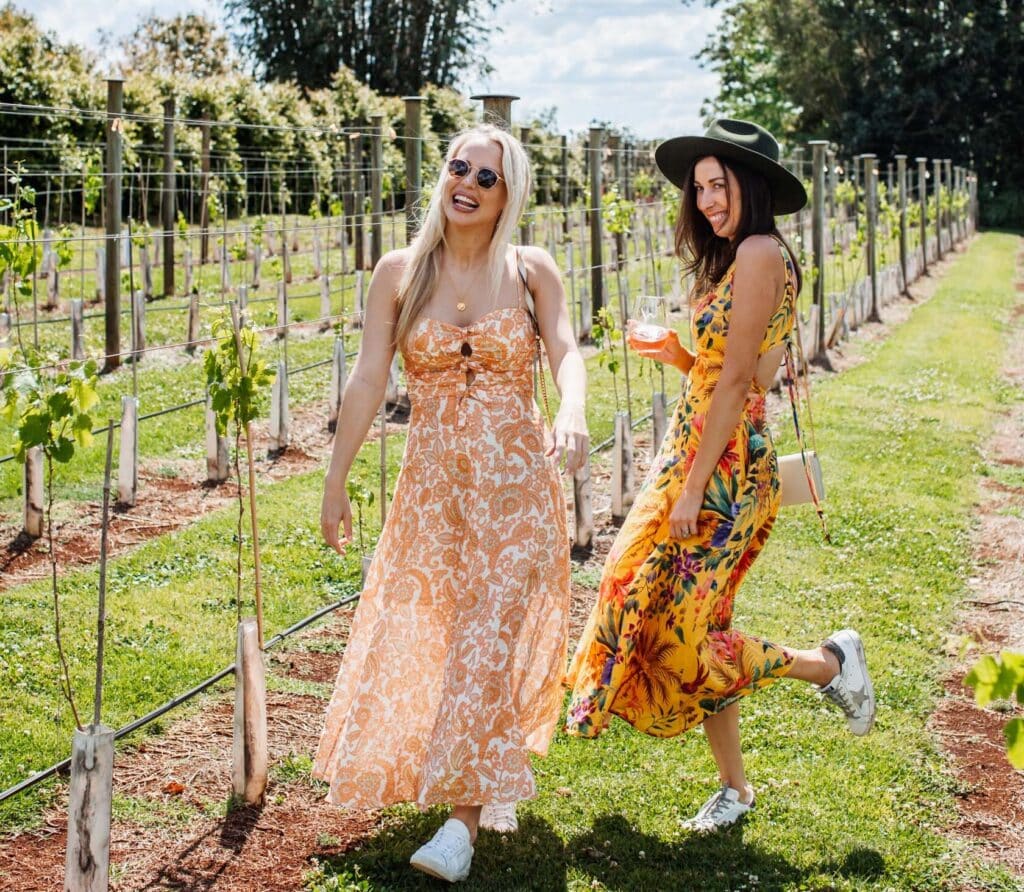 The Witches Falls Name
The Heslops' named their endeavour after a waterfall down the road in Tamborine National Park. These bewitching cascades get their name from local children who thought the cragged forest branches looked like witches' brooms.
The stunning Witches Falls section became protected in 1908, making it Queensland's oldest national park.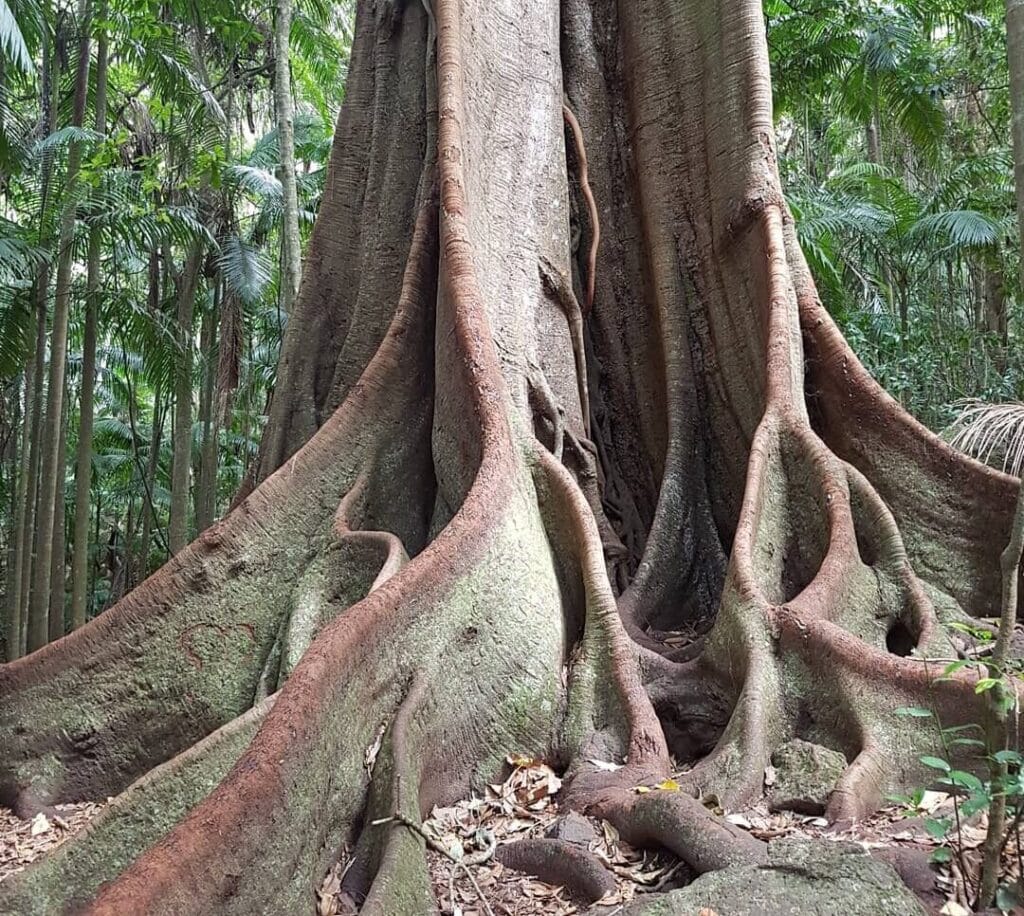 Witches Falls Wines
The gang sources most grapes from the Granite Belt, a high-altitude wine-growing region on the western end of the Scenic Rim. One of the highest wine regions in Australia (800-1020m), this cool climate zone owes its name to its free-draining granitic soils. Idyllic wine-growing conditions resemble those of the Northern Rhone in France.
With Jon at the helm, the team adopts traditional wine-making techniques. State-of-the-art technology helps create a unique flavour profile. As wine writer Tony Harper puts it: "Witches Falls wines shine with individuality and confidence melded with regional style."
The vineyard produces three distinct ranges: Provenance, Wild Ferment, and Prophecy. Each has distinct wine-making procedures and characteristics. The brand specialises in Cabernet Sauvignon, Chardonnay, Fiano, Syrah, and Verdelho.
James Halliday awarded Witches Falls Winery a Five Red Star rating. That prestigious accolade puts them in the top 10% of wine-makers Australia-wide.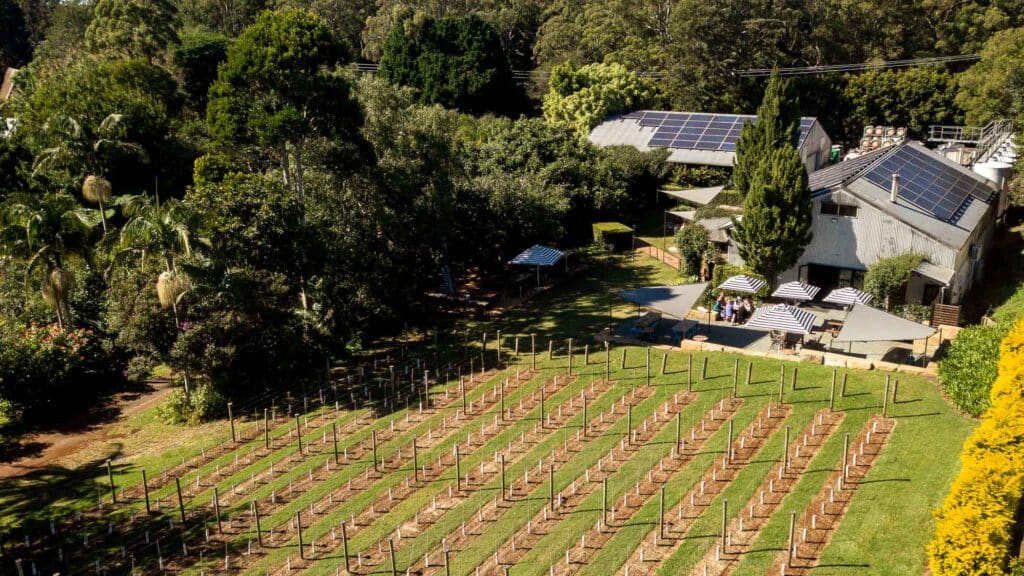 The Cellar Door Experience
Quaffing award-winning plonk at their verdant hinterland estate is one of the best things to do on Tamborine Mountain.
Knowledgeable staff guide guests through the six-pour tasting process. Once you're done, feel free to grab a bottle of your favourite drop and lay a picnic blanket down on the luscious lawns.
There's no on-site restaurant, but the signature charcuterie board is superb.
Visit Witches Falls Winery with Kiff & Culture
Keen to spend a lazy day on the mountain sipping sublime Five Red Star wines?
We've got the perfect option for you. Our Tamborine Mountain Wine & Dine tour visits Witches Falls, plus two other vineyards and a distillery in one tipsy afternoon. Top-quality drops and non-stop belly laughs come guaranteed.