Farm-to-table dining is all the rage in Australia, where foodies adore devouring top-tier dishes straight from the source.
Most zero-kilometre venues grow, forage, or raise ingredients on-site—or source them from nearby producers. This practice reduces transport-related carbon emissions and ensures utmost freshness. However, some unscrupulous operators make shady claims about their paddock-to-plate prowess.
Keen to sort the freshly-plucked wheat from the mass-produced chaff?
This post will teach you how to spot the tell-tale hallmarks of authentic zero-kilometre dining. We'll get the lowdown from Peter, who owns one of our favourite NSW farm-to-table venues: Potager – A Kitchen Garden.
Locally Sourced Ingredients
The most critical farm-to-table requisite is a menu featuring locally sourced ingredients. If the calamari comes from Cambodia or the mangoes from Madagascar, you're not at an authentic venue.
But how local do the ingredients need to be?
That's up for discussion. The best paddock-to-plate restaurants produce most ingredients on-site. But it's not always practical to source everything from one farm, so many fill in the gaps from local suppliers. The consensus is an approximate 100km radius classifies as "local."
As for Potager: "We grow around 40% of our produce on-site. The rest we procure from local producers where possible or via local independently owned businesses," Peter says.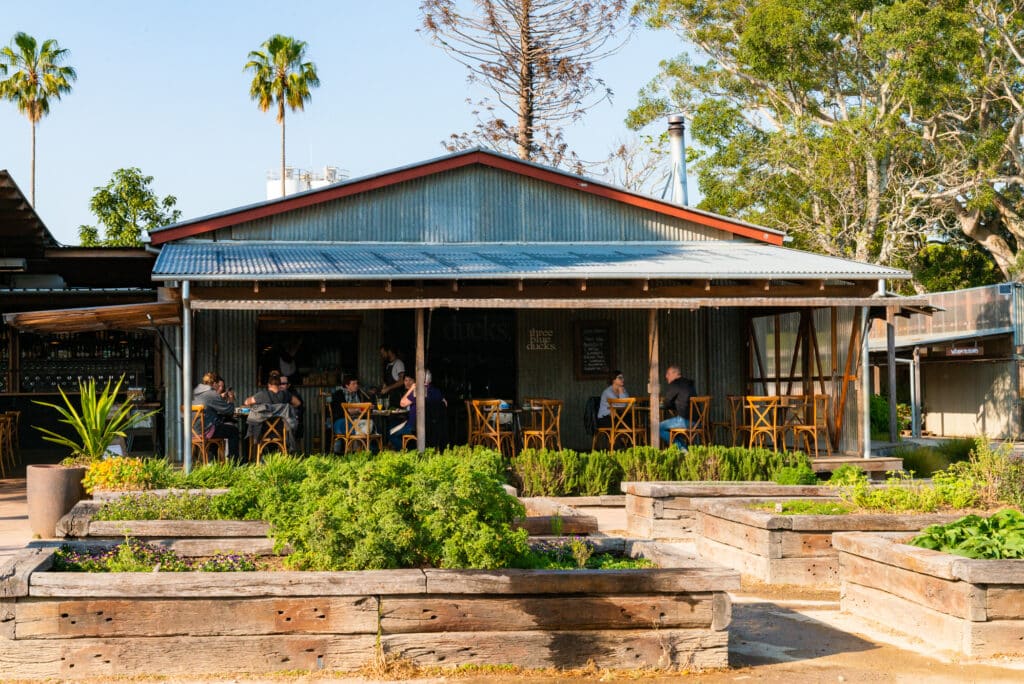 Traceable Origins
As we can see, "locally sourced" means different things to different people. A reputable farm-to-table restaurant discloses its ingredient origins. A Northern NSW restaurant with Bingara beef, for example, is a pretty safe bet.
According to Peter, "Customers love to know where our food comes from. Provenance storytelling is key to our customer experience."
Seasonal Menus
A legit farm-to-table dining venue features a rotating menu that transforms with the seasons. From spring silver beet to autumn spinach, seasonal ingredients ensure every dish is 100% fresh.
Authentic venues like Potager vary their menus throughout the year to highlight recent harvests.
Sustainable Practices
A steadfast commitment to sustainability is a core part of farm-to-table dining. After all, the movement's primary driver is reducing our carbon footprint by minimising transport emissions. Other eco-friendly practices include solar panels, bio-dynamic farming, food waste reduction, and recycling.
As Peter tells us, "Restaurants are enormous consumers of energy. That's why we have invested in a 20kw solar system with a battery to reduce our reliance on the grid. We feed food waste to our animals and compost what we can. We have a water purification system to serve rain and spring water in reusable bottles, reducing recycling waste."
Chef-Driven
Passionate zero-kilometre chefs helm the best farm-to-table restaurants. Food provenance should take a top priority, with the head chef forming a close relationship with local suppliers. Many visit providers in person and forage for local ingredients.
"Head Chef Michael (Mikey) Lee delights in showcasing what the Northern Rivers has to offer. He has been largely responsible for us achieving a Chef's Hat for the last three years running," Peter says.
Educational Component
The best farm-to-table chefs incorporate an educational component. Discerning diners love knowing where ingredients come from and how they're produced. Restaurants can educate customers in numerous ways, from descriptive menus to waiter explanations and special events. 
"Our meet the Locals events provide guests with the opportunity to hear first-hand the stories of the producers and suppliers we support," Peter says.
Savour Farm-to-Table Dining Experiences with Kiff & Culture
Keen to munch delicious farm-to-table gastronomy in Southeast Queensland or Northern NSW?
We'll take you to the region's top zero-kilometre spots in a decadent gourmet tour. We rigorously vet our paddock-to-plate partners (including Potagers) to guarantee authenticity. With foodie tours in Byron, the Scenic Rim, Gold Coast, Brisbane, and beyond, there's a fabulous farm-to-table dining dig near you.