With Omicron subsiding and quarantine/PCR tests becoming a thing of the past (touch wood), it's time to start smashing your Northern NSW travel goals.
If you're living in the Gold Coast (or even Brissie), a quick trip to the Northern Rivers is within easy reach. Hit the road early enough, and you can spend an entire day basking in its glory and still get home in time for tea.
Need some inspo on where to go? We've rounded down the top seven day trips to Northern NSW.
Kingscliff
Drive time from the Gold Coast: 40 mins
Can't be arsed with a long drive? Uncrowded Kingscliff boasts pristine beaches a stone's throw from the state line. Aquatic activities like swimming, snorkelling, and surfing are the big drawcard here—these turquoise-tinged waters are divine.
Cycle along the paved path from Kingscliff to Pottsville to savour the coastline in one fell swoop. The scenic 17km route takes an hour one way at a cracking pace, but you'll need more time to stop and spot dolphins (or maybe even whales) at the lookouts enroute.
Murwillumbah
Drive time from the Gold Coast: 55 mins
Art lovers will adore Murwillumbah, a quaint country town showcasing Australia's top talent. Surrounded by lush parklands, the Tweed Regional Gallery hosts an impressive collection of permanent exhibits and touring displays.
Attached is the Margaret Olley Art Centre, which pays homage to one of our most celebrated painters. Plan to spend at least an hour perusing the intriguing recreation of her home studio—there are 20,000 artefacts to sift through.
Byron Bay
Time from the Gold Coast: 1 hour 15 mins
Hipsters, hippies, and celebs rub shoulders in NSW's (or dare we say, Australia's) coolest coastal town. Once a laid back surfer hub, Byron has evolved to become a tourism behemoth in recent years. Chic boutiques, trendy cafes, and boisterous late-night bars define the town—it's the place to see and be seen.
If you'd like the same epic coastlines with a more low-key vibe, slow-paced Brunswick Heads is even closer to Queensland.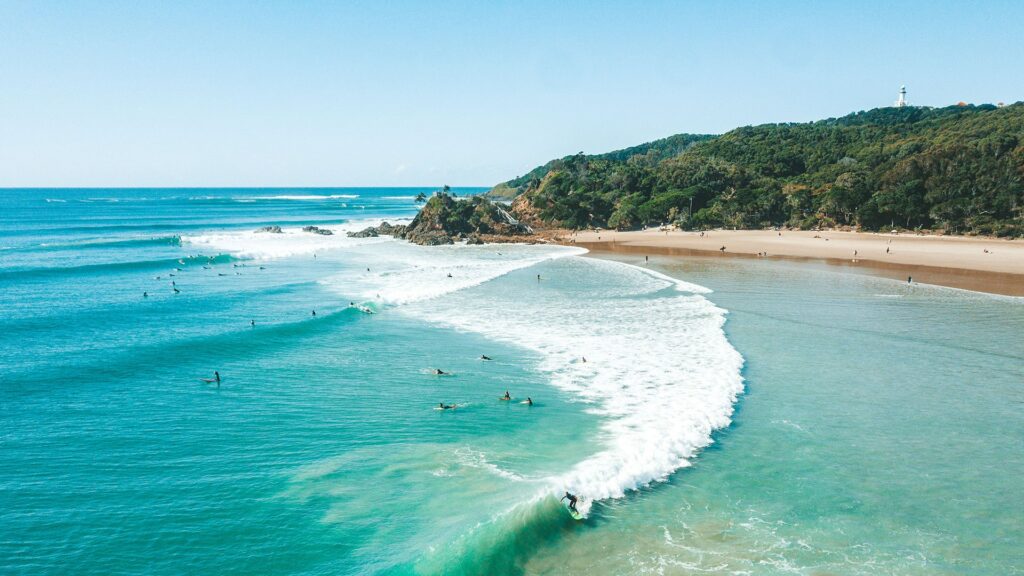 Bangalow
Time from the Gold Coast: 1 hour 15 mins
Tiny little Bangalow is a big hit among inner-city foodies for its eclectic collection of farm-to-table restaurants and cafes. Most of the top culinary haunts line its charming main thoroughfare (Byron St)—just wander along and follow your nose.
Once you're done stuffing your gob, there are stacks of boutiques and bric-a-brac stores to peruse. Pop by on Saturday morning to snag some fresh artisanal produce from the Farmer's Market.
Nightcap National Park
Drive time from the Gold Coast: 2 hours
Mist-shrouded rainforests are a mainstay of Northern NSW, and Nightcap National Park delivers a solid serving of sopping wet natural splendour. The main spot is Protestors Falls, a picturesque cascade accessed by a gorgeous 10-minute walking trail. Don't bring your bathers because swimming is prohibited to protect endangered native frogs.
Nearby, Wollumbin National Park is home to the ominous Mount Warning. This ancient volcanic caldera is currently closed due to safety and cultural concerns but is tipped to reopen soon. Alternatively, the Border Ranges National Park offers a brilliant off-the-beaten-track scenic drive.
Nimbin
Drive time from the Gold Coast: 1 hour 40 mins
Any self-respecting Rastafarian will make the pilgrimage to Nimbin at least once in their life. This infamous hippy hamlet took to the counter culture movement during the Aquarius Festival of 1973 and never looked back.
Smoke shops, tie-dye stalls, and the emblematic Hemp Embassy have helped keep the tradition alive. Nonetheless, there's no denying the town has taken a seedier turn in recent years.
Lennox Head
Drive time from the Gold Coast: 1 hour 25 mins
Laidback Lennox Head brings you the best NSW breaks within day-trip distance to SE-QLD. If the ram-packed surf scene at Byron is getting you down, you'll find thicker waves and thinner crowds just 15 minutes south.
Boulder Beach is a playground for the pros—watch the action unfold from the Pat Morton Lookout. If that looks too gnarly, hit the gentle Seven Mile Beach for a swim or Lake Ainsworth to paddle the day away.
Book a Tour with Kiff & Culture
The Northern Rivers is home to some of the finest gastronomic establishments in the state, and you can visit the cream de la crème on a Kiff & Culture tour.
Our Tweed Hinterlands and Byron Bay itineraries take you to the best culinary digs, with door-to-door transfers, a chatty guide, and new-found friends included in the deal.