A well-planned corporate event can advance business objectives and foster stronger relationships with key stakeholders. But as both your business' reputation and bottom line are at stake, it's crucial to tread carefully during the planning stage.
In this post, we're covering six key things to consider when planning a corporate event.
Objectives
Think about what you're trying to achieve and factor your overarching objective into every subsequent stage. Are you looking to bolster team morale or secure a favourable deal from a lucrative business partnership?
Keep your objective at the forefront when working through your guest list, budget, venue, and catering.
Budget
While a successful corporate event can pay enormous dividends, it's only worth investing what you think a positive outcome would be worth.  
If you're trying to get a lucrative new client onside, it's time to spend up big. On the other hand, if you're schmoozing a small operator, you should probably opt for something more low key.
And remember: even the most well-planned event may fail to achieve its overarching objective. Therefore, only spend what you're prepared to lose.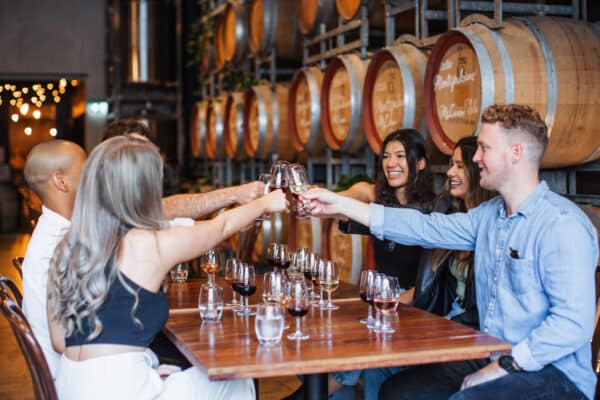 Attendees
Make a shortlist of attendees—the emphasis here is on "short."  The fewer attendees, the more extravagant you can make the event while still coming in under budget. It pays to trim the fat.
However, egos run rife in the corporate world, so be careful not to offend anyone important by leaving them off the list. If you want to get an influential executive on side who isn't strictly relevant to the event, it's often worth inviting them anyway.
Once the list is finalised, send an email with a digital invite that syncs to your attendee's preferred calendar app—think Microsoft Outlook, iCloud Calendar, or Google Calendar.
And don't dally. The sooner you send out your invites, the more likely the key players will be able to attend.
Venue
Now you've got a confirmed budget and guest list, you can start looking into venues.
First and foremost, choose a location that's convenient to all (or at least most) attendees. Time is money, and no busy professional wants to waste it stuck in transit. If you really want to impress, book a professional events management company that offers a door-to-door transfer service.
The venue itself is the cornerstone of a successful event. Again, consider your objectives. Opt for an upscale restaurant for high-value client negotiations, a conference hall for extended workshops, or a winery/brewery for celebrative affairs.
Tax incentives can make lavish gala dinners and awards ceremonies financially viable—have a chat with your office finance guru.
Catering & Alcohol
If you're wining and dining a lucrative client, think about their preferred type of cuisine. A modest understanding of company culture goes a long way. And save the business spiel until everyone's had a chance to eat. No good deals get made on an empty stomach.
Avoid going overboard with alcohol—think tipsy rather than roaring drunk. Pre-defined drinks packages help keep your guests well-lubricated without wreaking havoc on your bottom line.
Book Your Corporate Event with Kiff & Culture
Let Kiff & Culture take the hassle out of organising your next corporate event.
We offer a door-to-door transfer service between the top restaurants, wineries, distilleries, and breweries in Southeast Queensland and Northern NSW.  Competitive food and beverage packages from our hand-picked providers ensure great value for money and eliminate overspend.
To spice up the occasion, we can throw in a quick side trip to some of the region's most spectacular natural sites.
We offer pre-defined tours in Brisbane, the Gold Coast, Byron, Tamborine Mountain, and Tweed Heads, or we can create a fully customised itinerary from scratch.