Australians increasingly have sustainability front of mind. We've experienced some of the destructive effects of global warming over the last few years. And many are voting with their dollars by supporting ethical and environmental companies. 
So, we've rounded up 5 companies leading the way with sustainability at the core of their business practices. 
We've covered everything from exceptional food and beverages, to luxury resorts. So enjoy what these businesses have to offer knowing that sustainability is taken care of. 
1. Cape Byron Distillery 
Cape Byron Distillery delivers breath-taking views of the Byron Hinterland. Paired with award-winning gin infused with native botanicals. 
Cape Byron Distillery won the Icons of Gin, London Sustainable Distillery of the Year Award in 2020.  And they take part in the sustainable bottle labelling initiative by adopting the use of biodegradable product labels.
They've designed their production to include recycling practices, the use sustainable materials and local produce. So you know they're serious about sustainability.
Also, Cape Byron Distillery protects the surrounding subtropical rainforest and its local inhabitants. They support Big Scrub Landcare in their conservation efforts and education of landowners about the benefits of native trees. 
So, do you want to grab a cocktail at Cape Byron Distillery? Our 3-day Brisbane to Byron Food Trail will take you there. 
And if you're looking for a shorter trip… Check out our The Farm, Lighthouse, Food and Drink experience. 
2. CrystalBook Collection
Crystalbrook is an eco business that runs a  collection of beautiful, responsible, luxury resorts. They have many scenic locations to choose from in Brisbane, Cairns, Sydney, and Byron.
Their sustainable pursuits in no way impede on your luxury escape. In fact, CrystalBrook strives to make their eco practices enhance your stay. 
Crystalbrook boasts many sustainability initiatives. They use locally sourced produce, restrict plastic use, recycle, and support local environmental groups. 
You can enjoy Crystalbrook Byron's eco luxury first-hand as part of our Brisbane to Byron Food Trail experience. Take in the breath-taking rainforest scenery and swim at world class beaches Then treat yourself to sumptuous local food and beverages.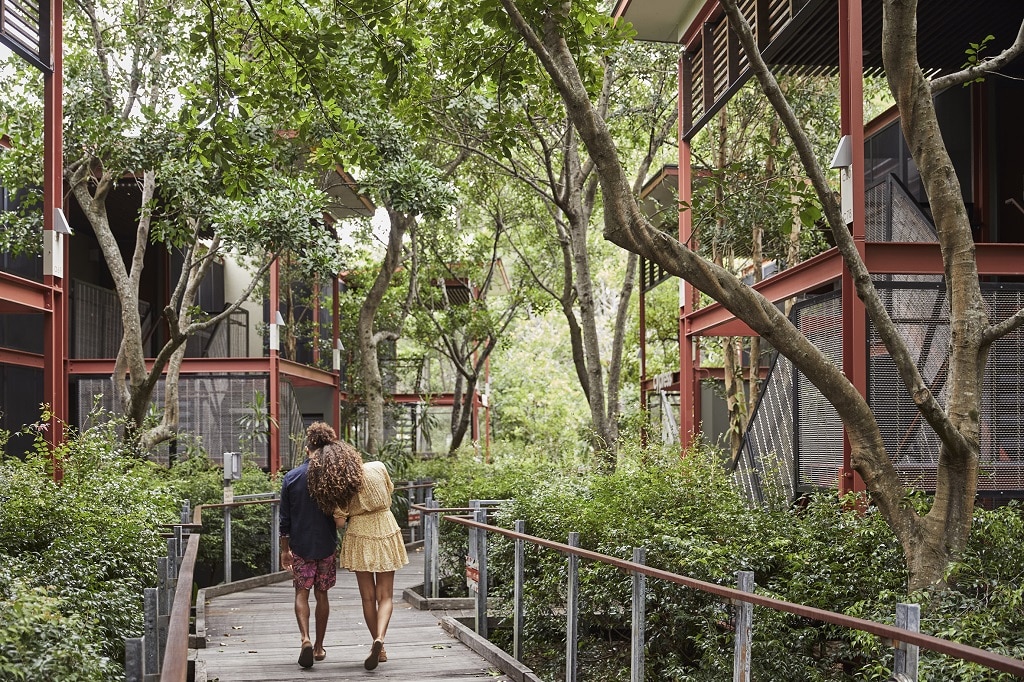 3. Stone and Wood Brewing Co
Stone and Wood Brewing Co started in Byron Bay, and now have 2 other breweries located in Brisbane and Murwillumbah. They've been creating craft beer since 2008 with a focus on community, local quality produce and a down to earth spirit.  
Stone and Wood Brewing Co have embedded water and energy waste reduction into their beer production. They run a company-wide sustainability program called Green Feet. It's centered around reducing waste, recycling and reusing where possible to reduce their carbon footprint. 
On top of being eco conscious, they also make damn fine beer. So why not come and enjoy a drop at their Byron distillery on one of our Byron Bay and Northern New South Wales region tours?
4. The Farm, Byron Bay
The Farm, Byron Bay is a working farm and nursery that offers local fare, activities and workshops for you to enjoy. Grab a bite to eat from their onsite restaurant, Three Blue Ducks and take a tour of their beautiful grounds. 
The Farm are dedicated to sustainability, a farm to table philosophy, and support of the community. This has led to The Farm obtaining certified B Corporation status. That means they've met stringent standards of:
transparency, 
governance, and 
dedication to environmental and social practices.
So, how does a long lunch at The Farm sound? We'd be happy to whisk you away on our The Farm Long Lunch and Husk Distillery tour.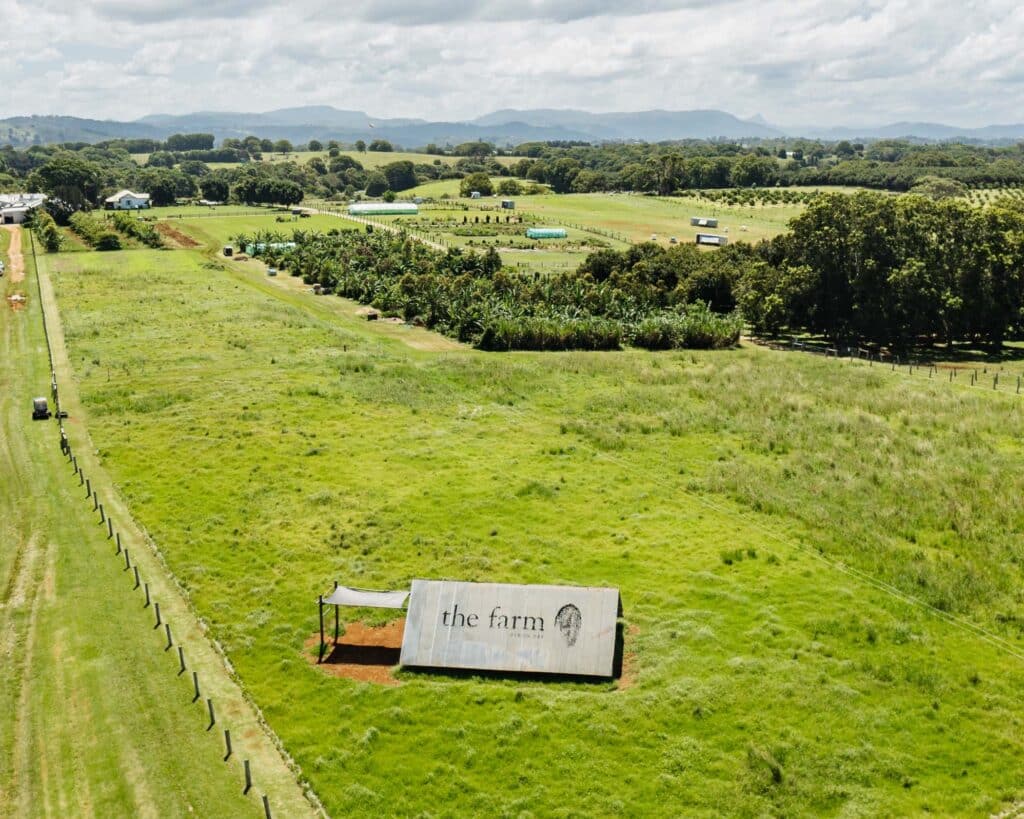 5. Earth Beer Company
Earth Beer Company is located in the Tweed Valley on what used to be a working Avocado Farm. They pride themselves on community centred practices and sustainability. With a farm to schooner ethos, they're committed to using local suppliers and engaging in environmentally sound production. 
Earth Beer Company is dedicated to giving back. They've collaborated with various local charities important to the Tweed River region. Therefore, you can feel  good about every sip you take.
Why not head on down to Earth Beer Company on our Tweed Hinterland Food and Drink tour? You can partake in some libations while overlooking glorious Wollumbin (Mount Warning).