Food trucks for weddings have exploded. And it's because they're serving up some of the most sought-after eats and drinks in town.  
Gone are the days when they conjured images of greasy carnival fare. 
Having a food truck cater your wedding can add a dose of cool, novelty, and fun to your day. And supply your guests with some seriously delicious nosh. 
So without further ado, here's a list of classy Brisbane food trucks to keep bellies full and smiles on faces for your big day. 
1. Sorella & Co
Sorella & Co serves up contemporary Italian food crafted from locally sourced ethical products. And a few authentic imported  Italian ingredients too.  
They specialise in a high-end catering experience to dial up the class while providing the convenience of a food truck. 
They'll work closely with you to make sure your menu and styling are on point. 
Check out their wedding and event planning service to help you make your day go off without a hitch.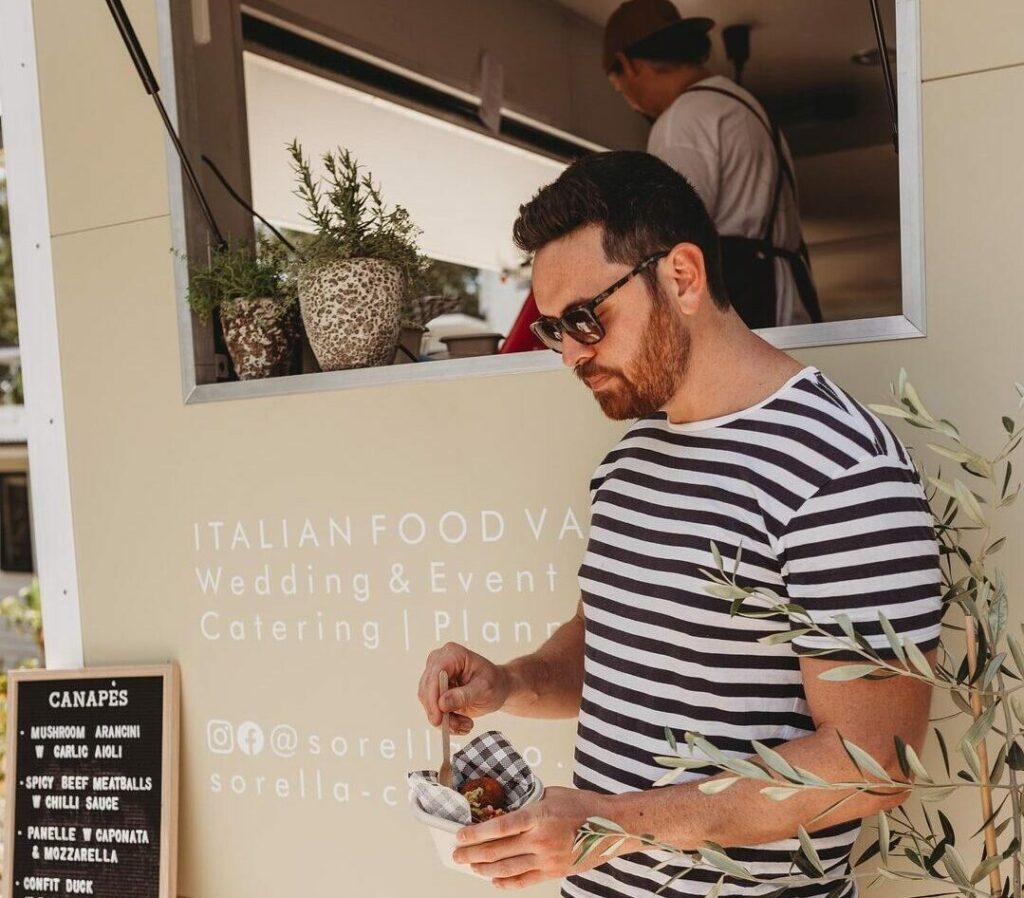 2. Vintage Bondwood Bar
Treat your guests to the most stylish bar around with Vintage Bondwood Bar. 
Technically we're dealing with food trucks in this article.. but there's a meal in every beer, right? And you can't have a wedding without lashings of libations. 
Their vintage '60s bondwood caravan will travel to you and supply the glassware, ice, and RSA-certified staff to keep the drinks flowing. All you need to do is supply the drinks. 
They have add-on extras to their packages to make sure your day is perfectly catered for. And they'll dress up the caravan to look beautiful for your wedding. 
3. Samba Catering Co
Samba Catering Co is famous around Brissie for delectable paella and Brazilian BBQ. But they also dish up other tantalising Spanish and South American cuisine too.
They're the perfect option if you're looking for something fun, spicy and high-end for your wedding catering. 
Samba Catering Co can provide paella stations, gazebos, or food trucks for weddings, depending on your venue size and guest list.  
They serve up their fresh, fun, and delicious food all around Brisbane, the Gold and Sunshine Coast regions, and Byron. 
4. Gathering Events 
If you've been searching food trucks for weddings and just can't narrow down to one option, check out Gathering Events. 
They have every type of option you can think of all available from the one place. 
They provide mobile bars, gelato, and coffee carts. And offer catering trucks for every type of cuisine you could imagine, from  Italian, Greek, Mexican, and more.
Gathering Events specialise in providing bespoke gourmet catering supplied by professional hospitality staff. 
You can choose the option of one cart to service your whole wedding. Or switch it up with a few food and beverage stands around your venue.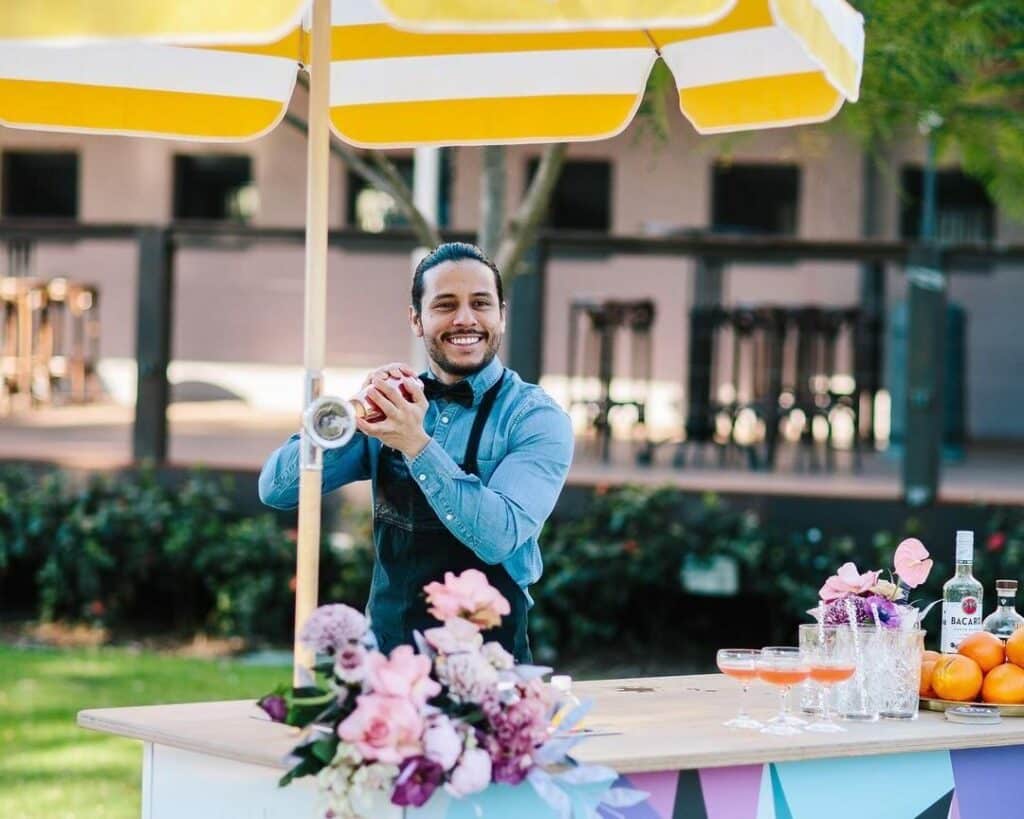 5. Pizzantica 
Pizzantica have been serving up delicious Italian food in their cute Kombi van since 2013. 
They're experts in wedding catering and can provide market-style service, buffet, or wait staff.
Their professional chefs will whip up mouth-watering pizza, antipasti, desserts, and more. They have vegan options and cater to other dietary requirements. 
Still not convinced? Check out the rave reviews on their Facebook page.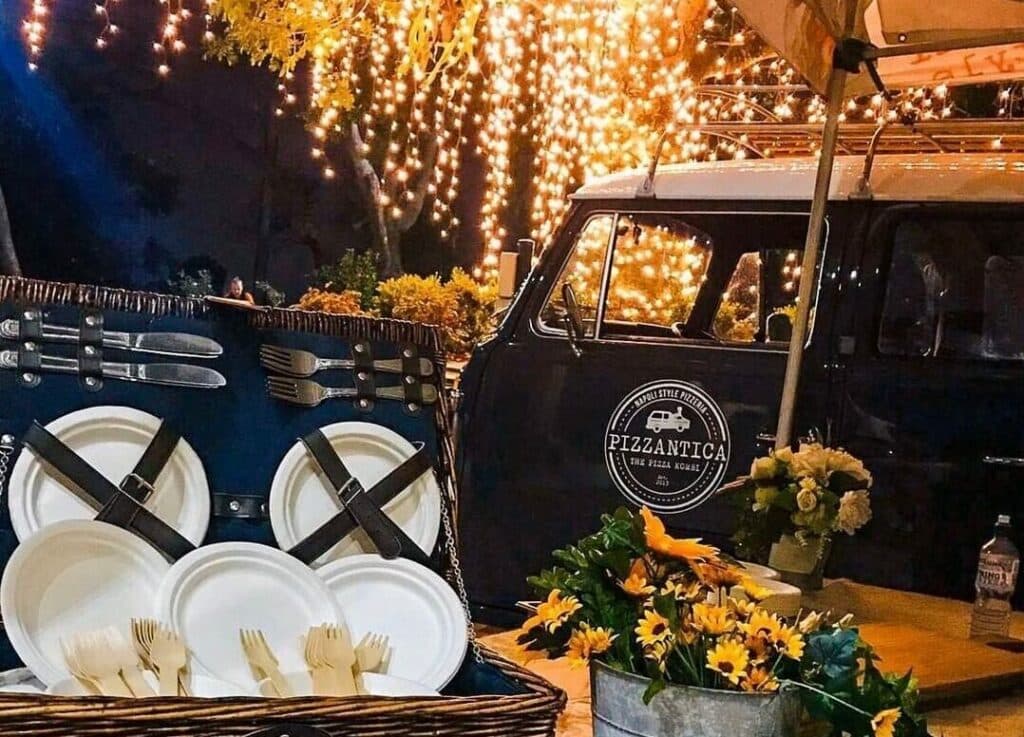 6. Something for Catering 
Think classy, restaurant-quality dishes aren't possible from a food truck? 
Something for Catering specialise in serving swanky eats from their purpose-built mobile van.
They use the best quality food and beverages around. And they'll provide a team of professional staff to serve you and your guests on your big day. 
They'll work closely with you to curate a personalised menu and drinks list for your budget. And they cater to different dietary requirements.
7. Wheel & Spoon 
Wheel and Spoon will deliver your very own gelateria to your wedding. 
Their super cute gelato bike can drop in for a post-ceremony pick-me-up. Or arrive after dinner for a fun dessert option. 
They have over 50 flavours to choose from. And you can opt for a black or white gelato cart, depending on your colour scheme or preference. 
All this talk of food trucks for weddings got you hankering for deliciousness? Why not book a food trail with us? It's the perfect idea for a pre-wedding celebration.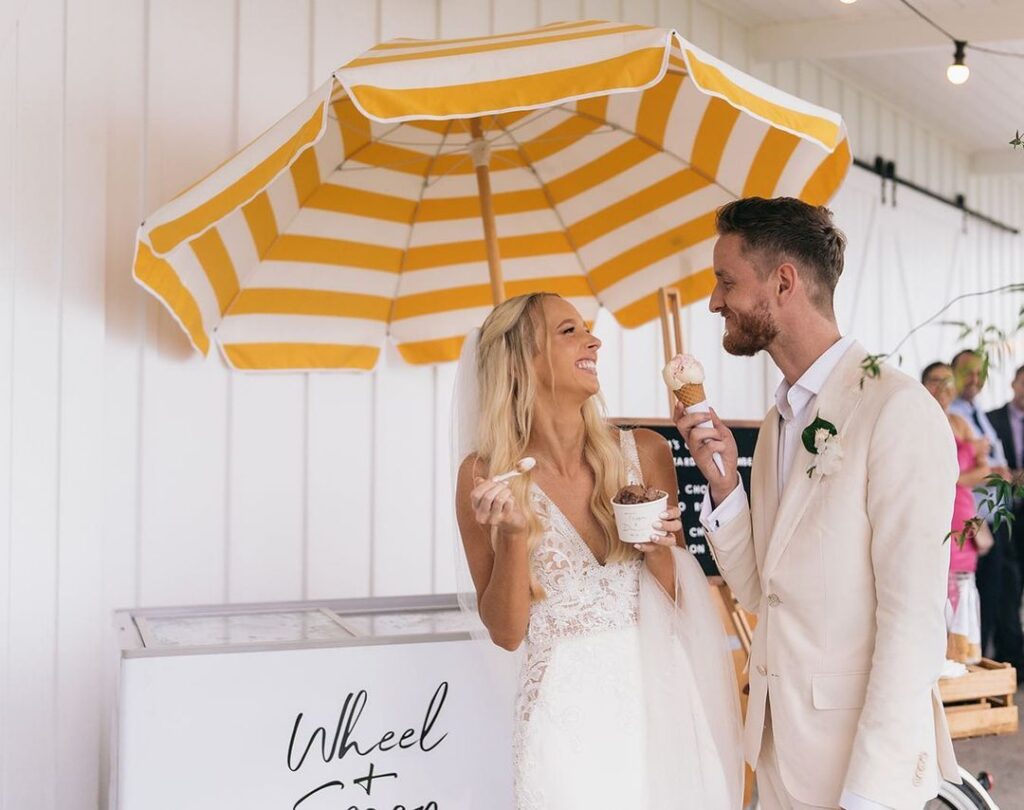 Image Credit: Sorella & Co via Instagram, Vintage Bondwood Bar via Instagram, Samba Catering Co via Instagram, Gathering Events via Instagram, Pizzantica via Instagram, Something for Catering via Instagram & Wheel & Spoon via Instagram