The shining star of Newrybar, Harvest lures a steady stream of loyal locals and curious tourists to this tiny Byron Hinterland town. More than a restaurant, the business has blossomed into a thriving precinct full of farm-to-table fare, artisanal wares, and community-driven events.    
From casual deli bites to gourmet set menus and chic boutique buys, here's what to expect on a visit to Harvest Newrybar.  
Harvest Restaurant
With an eclectic blend of urban style and country charm, this iconic farmhouse restaurant has been serving fab farm-to-table fare since 2007. Harvest's gardener, Richie, supplies fresh fruits and herbs from the on-site garden, while other ingredients come straight from small-scale Northern Rivers suppliers.
This paddock-to-plate philosophy lets the restaurant prepare delectable dishes that personify the region. Most meals come served piping hot from the 120-year-old wood-fired oven—think inventive, spontaneous, and honest food.
Rock up during lunch (Wed-Sun) to feast on delicacies like roasted line-caught fish with peas, leek, and smoked herb oil. Come dinnertime (Thurs-Sat), and you can peruse an extensive a la carte offering or indulge in a seasonal four-course tasting menu.
Harvest Deli
Don't stress if you can't snag a seat at the restaurant. Harvest Newrybar has a delectable European-style delicatessen right next door.
Open seven days a week, the Harvest Deli whips up a tantalising array of breakfast and lunchtime bites. From house-smoked pastrami sandwiches to French-style pastries and seasonal specials, it's a more casual and affordable alternative to the gourmet restaurant.
The Deli Shop stocks an abundance of top-quality produce if you fancy loading up on locally-made foodstuffs. Plus, its takeaway deli hampers bundle up the essentials for a scenic Byron Hinterland picnic.
Just need a quick caffeine fix? The Harvest coffee cart brews its own aromatic blend.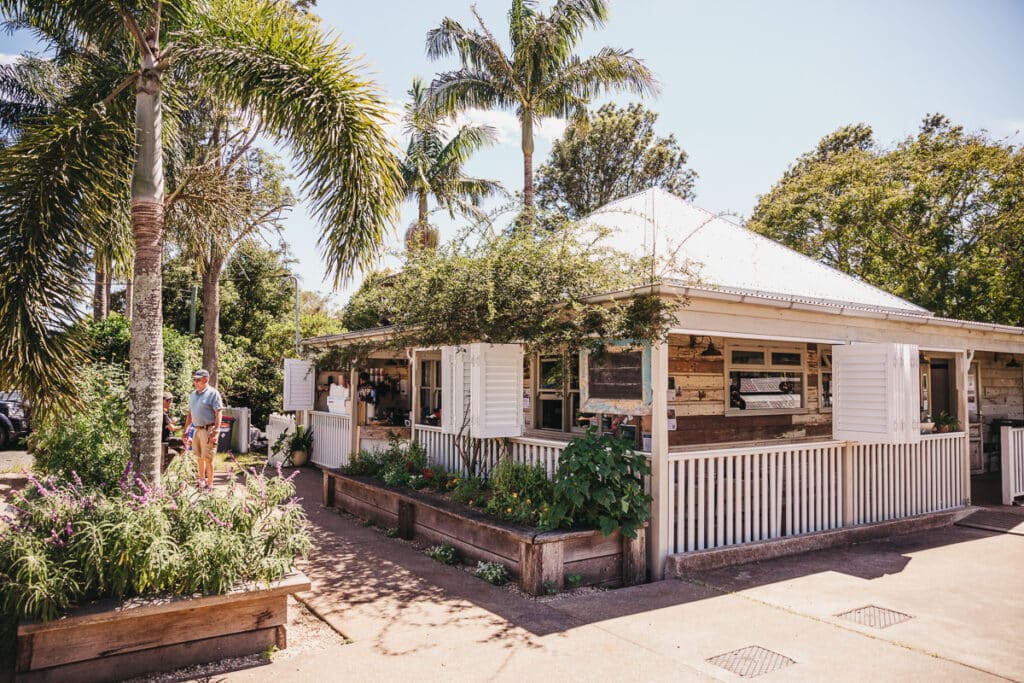 Harvest Garden
Chock full of edible plants and leafy native species, Harvest's garden creates an inviting space to munch on those yummy deli delicacies. Head horticulturist Richie prunes the plants daily, retrieving fresh herbs and fruit to garnish the restaurant's zero-kilometre dishes.
But there's more to the garden than freshly-plucked produce.
The team at Harvest Newrybar have been busy promoting a plethora of community-driven events. From veggie patch workshops to acoustic music gigs and sociable Sunday BBQs, there's always a fun-filled shindig to look forward to. Keep an eye on the website to see what's on.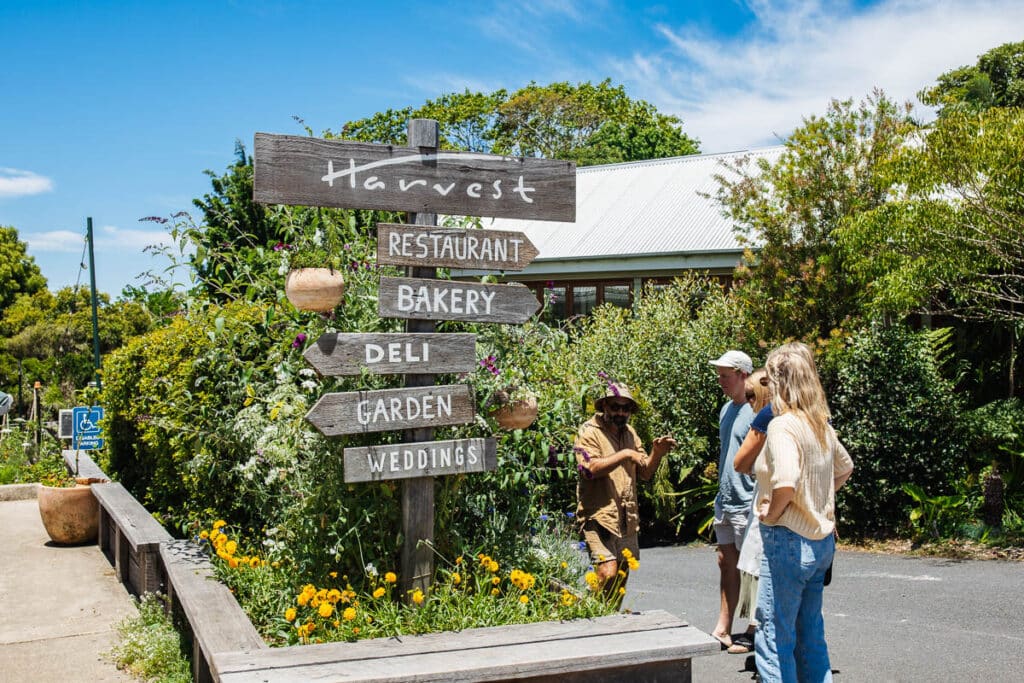 Newrybar Merchants
Once you've stuffed the belly with top-notch nosh, take a moment to browse the Newrybar Merchants collective. Creative local artisans and fine goods curators offer a wide range of wares. From urban apparel to unique antiques, there's a treasure trove of enticing goodies to peruse.
Hit Driftlab for an eclectic blend of city-meets-beach accessories. Or, if bric-a-brac and rare knickknacks make you giddy, give the Lost and Found Department a proper good look.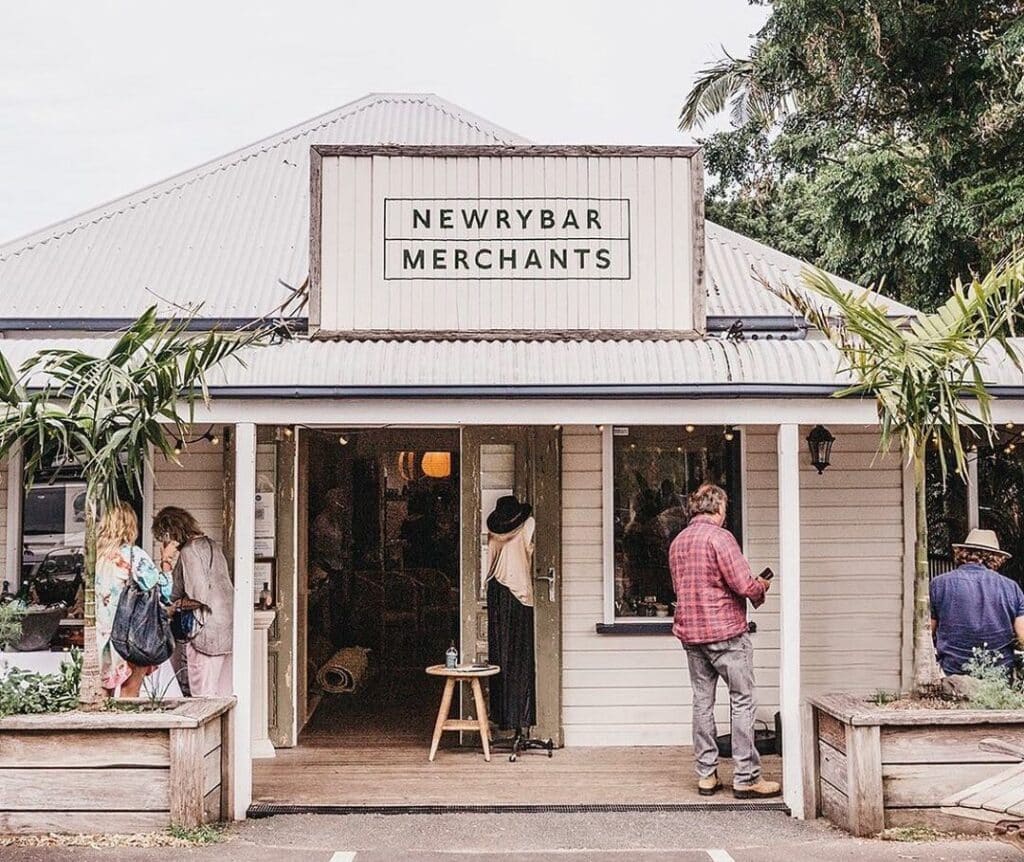 Explore Harvest Newrybar with Kiff & Culture
Keen to see what this chic Newrybar establishment is all about?
Then join us on one of our Byron & Tweed Hinterland tours. We pop into Harvest Deli for a delicious lunch and meander through its beautiful garden and boutiques. We'll also swing by a smorgasbord of renowned Northern Rivers venues in a decadent day of fine food and drink.