You've sipped soy lattes with the cool kids in Byron and frolicked through turquoise waves on the Tweed Coast.
So what's next?
To fully appreciate Northern NSW, you need to visit its quaint hinterland towns. A warm local welcome, gourmet farm-to-table gastronomy, and scenic Green Cauldron views give cause to stray away from the coast (if only for a day).
As a result, we're covering six adorable hinterland towns in Northern NSW.
Newrybar
Blink, and you might miss Newrybar, a tiny little village off the Pacific Highway. But it's well worth the detour to explore this traditional hinterland town for its cute galleries, boutiques, and workshops.
The undisputed highlight is Harvest, a superb restaurant, deli, and bakery showcasing the best regional produce around. Anything the chefs can't source locally, they grow on-site at the in-house veggie patch—it's true paddock-to-plate gastronomy. Harvest supplies many of Byron's top cafes and restaurants. Need we say more?
If you're a caffeine addict, you'd be mad to miss the crop-to-cup tasting experience at Zentveld's Coffee Farm & Roastery. The eco-friendly local grower produces all their flavoursome Arabica beans on-site, which you can slurp while gazing over the misty hinterland property. The farm is only a few minutes' drive from Newrybar.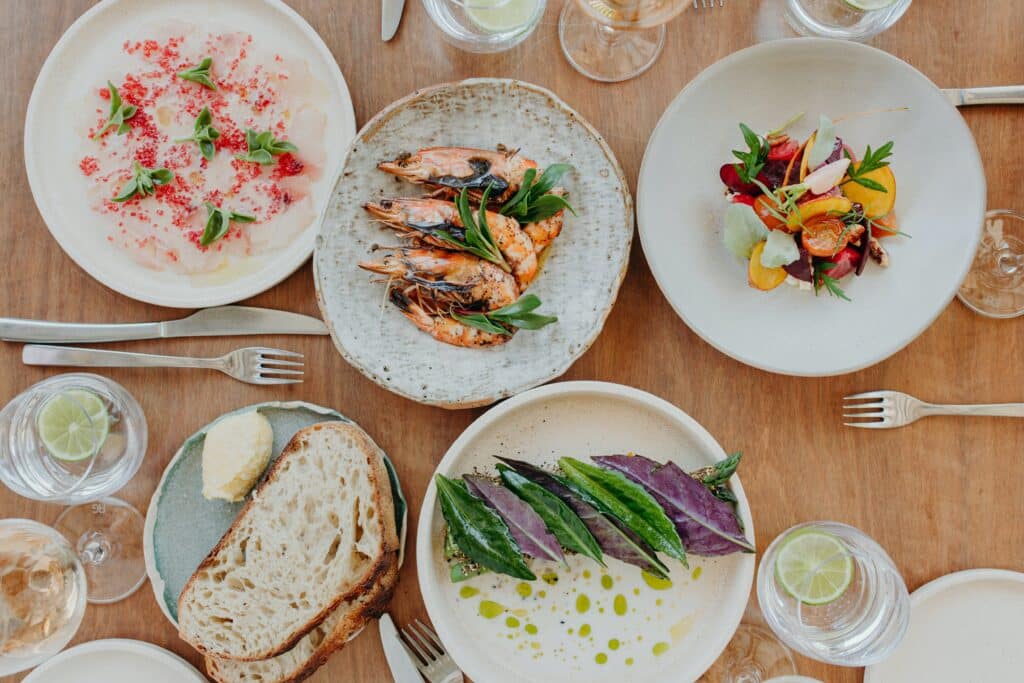 Tumbulgum
Straddling the Tweed River, scenic Tumbulgum strangely only attracts a smattering of tourists (we're sure that'll change one day). The distinct lack of visitors means the town remains delightfully untouched. Come here to savour an authentic slice of hinterland life.
There is one big touristic drawcard, however. Just outside town, the legendary Husk Distillers produces innovative farm-to-bottle booze like sugar cane rum. Have you ever seen that psychedelic colour-transforming spirit? Husk is the birthplace of the OG Ink Gin.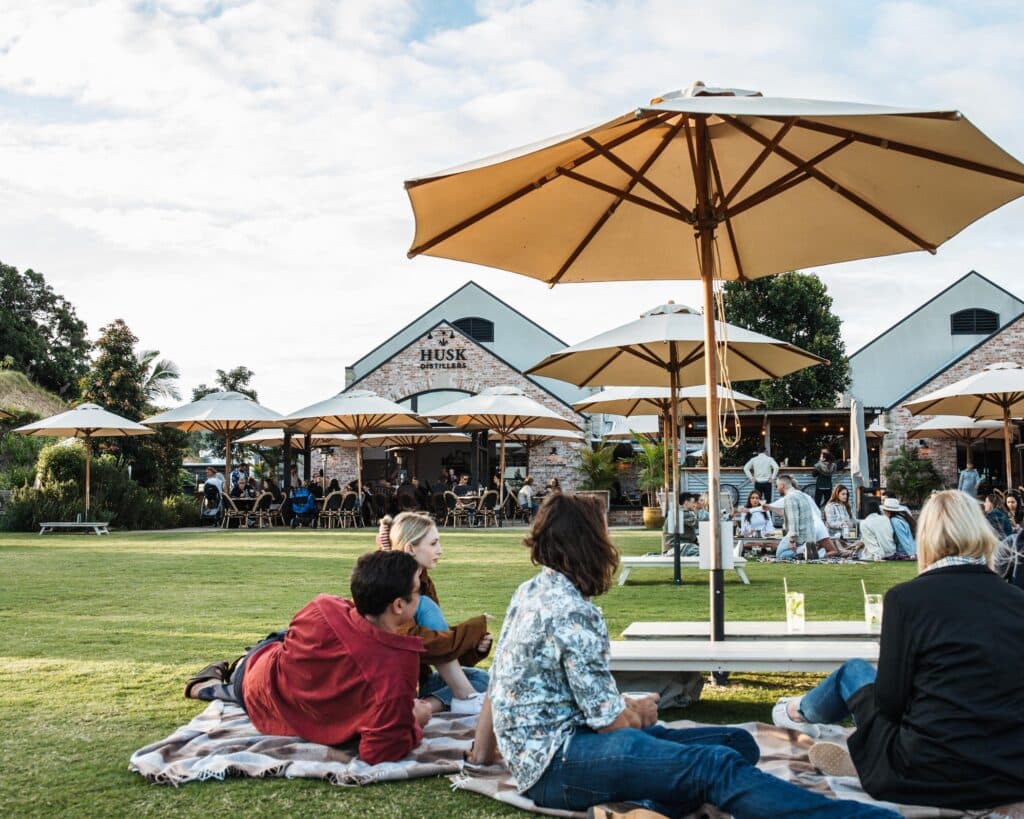 Eltham
Eltham is another seldom-explored gem, and that's just the way we like it. Nestled in a lush valley near Lismore, this tiny country town oozes rural charm. Most folks come to sip refreshing ales at the Eltham Hotel, an iconic old-timey spot with cosy rooms and hearty counter meals.
While you're at it, pop into the adjacent gallery to browse locally made woodwork and art.
Bangalow
Bangalow is one of the better-known hinterland towns. And upon strolling its historic boutique-strewn Main Street, it's not hard to see why. Locals from Brunswick to Ballina flock here to escape the frantic summer holiday crowds. As a result, a smorgasbord of bric-a-brac stores and cute cafes have popped up to meet demand.
Don't leave town without sipping a steamy Bangalow-grown and brewed coffee.
Federal
A worthy pitstop en route to Minyon Falls, this quaint rural village offers an authentic taste of the hinterland lifestyle. The drive from Byron is stunning at every turn, chock full of rolling green hills and dead-pan views of the majestic Mount Warning (Wollumbin).
Pull over to re-caffeinate at Moonshine Coffee, a vibrant contemporary venue famed for its exquisite cold brew. If you prefer a vintage vibe, the rustic Federal Doma Café operates out of an antiquated former butcher's shop.
Need somewhere to lay your weary head?
Federal is home to our favourite Byron hinterland Airbnb: the dreamy Heartwood Farm. Chic antique decor, scenic green ridgelines, and serene tranquillity ensure a transformative stay.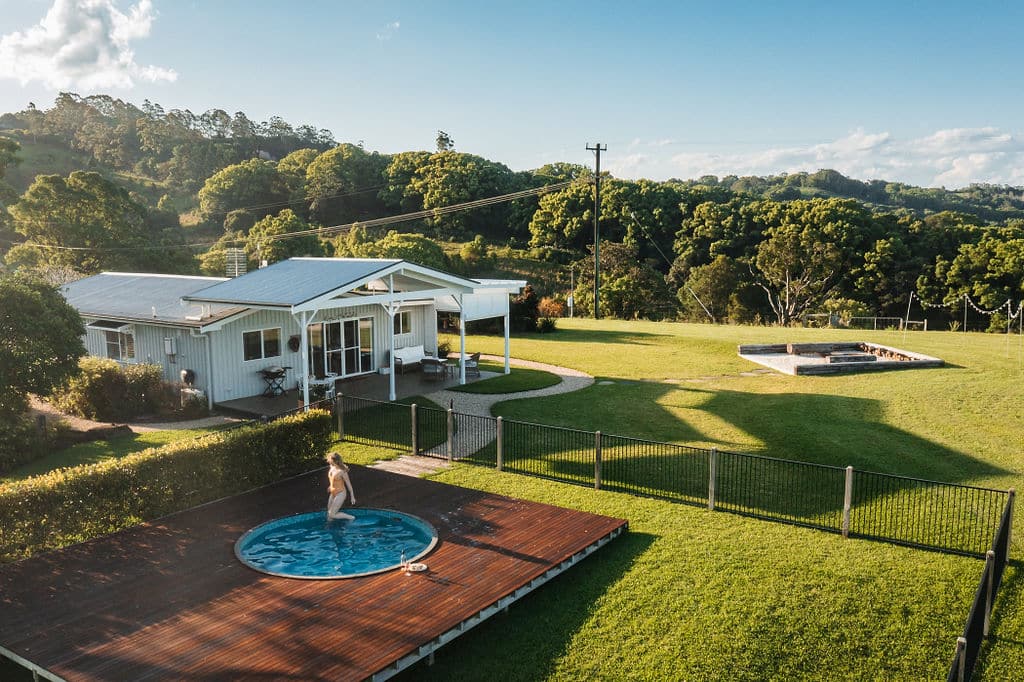 Murwillumbah
Murwillumbah is a must for arty types. Home to the prestigious Tweed Regional Gallery and Margaret Olley Art Centre, this charming bohemian enclave showcases Australia's top artistic talent.
Once you've worked up an appetite from all that gallery hopping, pop into the legendary Tweed River House Restaurant. A Michelin-starred chef leads the all-star culinary team, concocting an ever-evolving Mod-Oz menu based on local organic produce.
See the Best Hinterland Towns in Northern NSW with Kiff & Culture
Keen to experience authentic farm-to-table gastronomy and artisanal booze in Northern NSW?
Check out our range of food-focused Byron Bay and Tweed Valley tours. We bounce between the best regional venues on one fun-filled afternoon.
Prefer a public tour?
Try our newly-launched Byron Hinterland Paddock-to-Plate or Tweed Valley Food & Culture tours.