Ready to go chasing waterfalls?
Now's the perfect time.
La Niña has brought a deluge of water to South East Queensland, and our favourite Hinterland falls are pumping like never before.  
We've rounded down the top five waterfalls in the Gold Coast Hinterland, from splash-worthy swimming holes to towering Instagrammable cascades.
Cedar Creek Falls
As the Gold Coast Hinterland's most popular swimming hole, this multi-pronged Mount Tamborine cascade is known to pack out—aim for a mid-week trip to beat the crowds. The somewhat strenuous 3.2 km return hike will be worth the effort once you reach its icy-cold freshwater plunge pools, which feel heavenly on a hot summer afternoon.
Pro tip: grab a takeaway charcuterie board and a cheeky bottle of Grenache from the nearby Witches Falls Winery and make a day of it.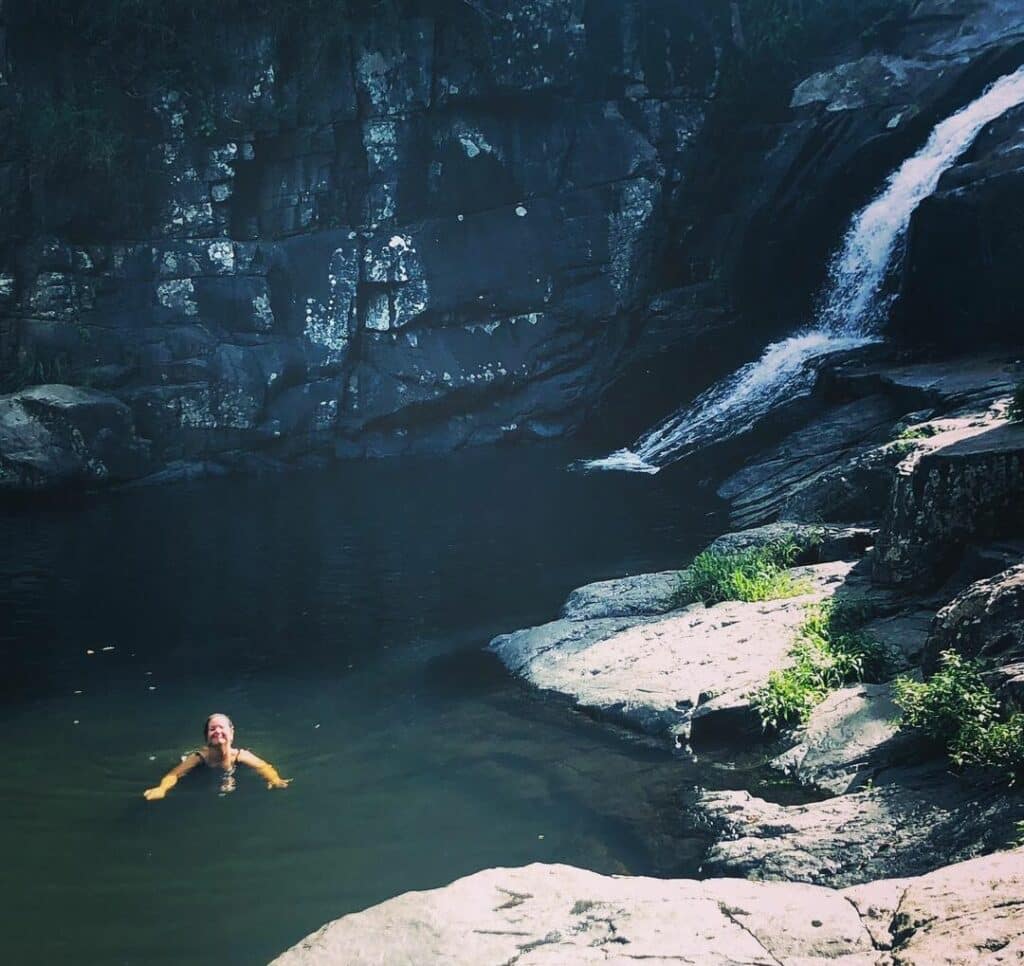 Curtis Falls
Another Tamborine Mountain classic, Curtis Falls is a sight to behold. An easy 1.5km (return) stroll through lush subtropical rainforest leads you to this secluded little beauty, which roars like thunder after heavy rain.
Swimming is prohibited to protect the resident glow worms. If you're hankering for a dip, return via the Joalah Lower Creek Circuit and slink into its crystal clear waters. Keep an eye out for platypuses, turtles, and eels.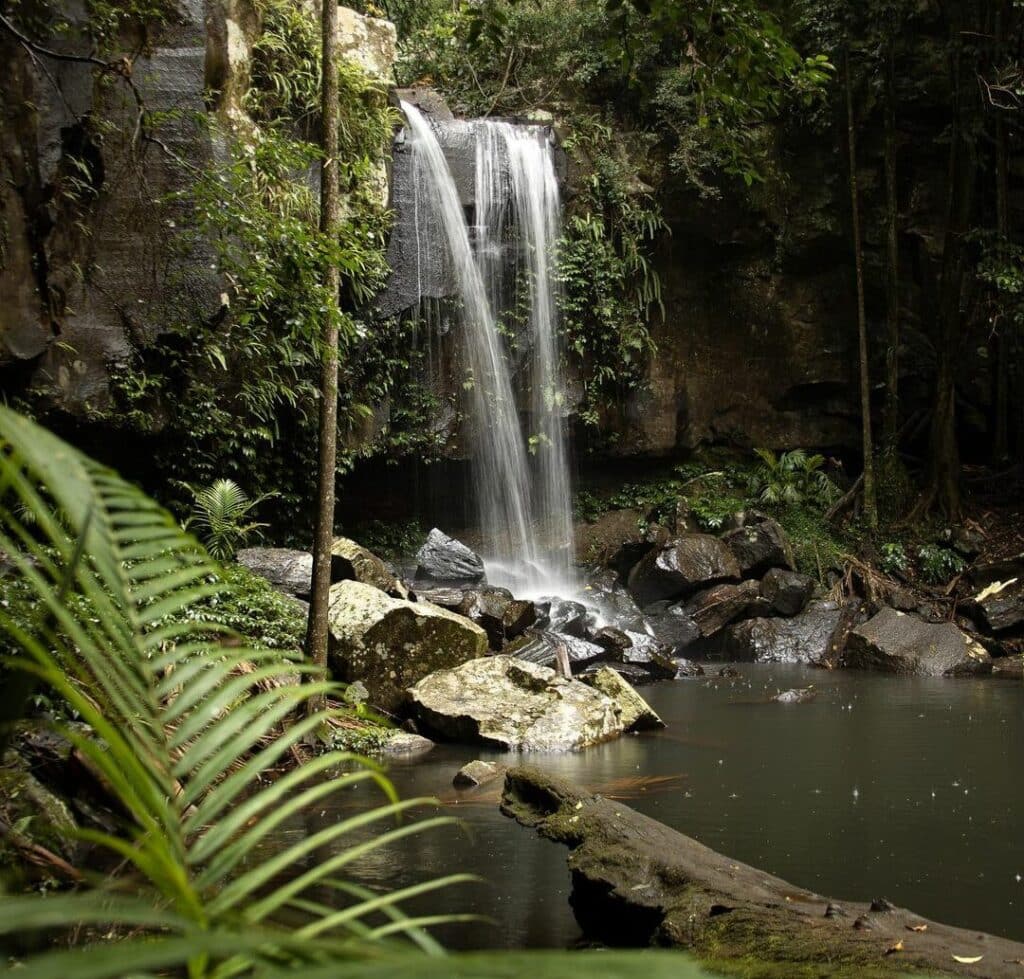 Natural Bridge
The pièce de résistance of Springbrook National Park, this cavernous semi-enclosed waterfall makes for an epic photo op. A naturally occurring basalt bridge gives way to a thundering cascade, which sparkles like magic on a clear sunny day.
A super-accessible 1km circuit leads you to the site, winding through verdant forest home to koalas and frogs. Pop in at night to see the cave lit up by bioluminescent glow worms.
Purling Brook Falls
If you get wobbly at the knees for tall waterfalls, this towering 100-metre giant won't disappoint. Located in Springbrook National Park, the gushing beast is one of the tallest waterfalls in the Gold Coast Hinterland.
While swimming isn't permitted for safety reasons, you're guaranteed to cop a face full of wayward spray—the perfect way to cool off after the strenuous 4km hike. If you must indulge in a dip, continue onto Warringa Pools for some carefree splash time.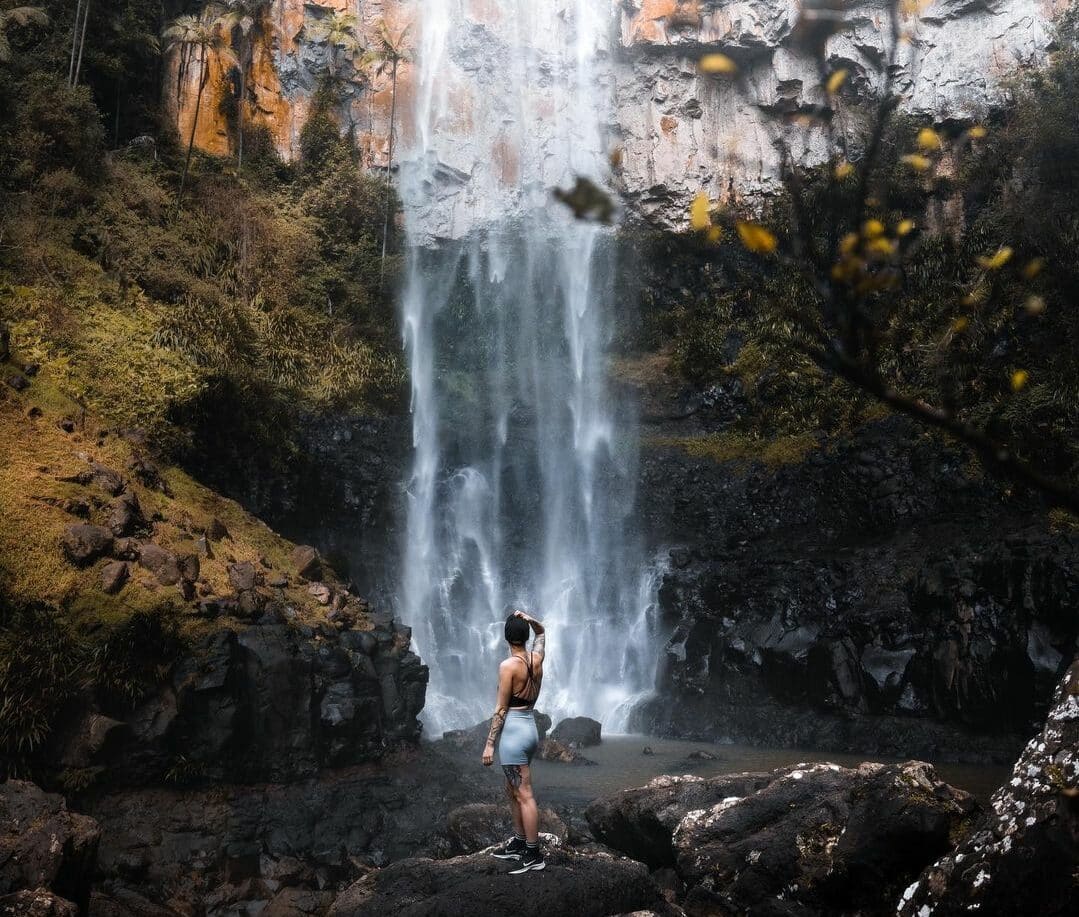 Moran Falls
Nestled deep within Lamington National Park, this cascading beauty is well worth the windy mountainous drive. The 4.4km Moran Falls Track meanders through World Heritage-listed Gondwana rainforest towards two scenic lookouts affording spellbinding views.
If you rock up during sunset, Morans Clearing Lookout is the viewpoint of choice—expect epic vistas of the Main Range. Morans Falls Lookout gets you closer to the action, which is precisely what you want after a heavy deluge.
Book a Tamborine Mountain Tour with Kiff & Culture
Keen to explore this lush subtropical region on a decadent excursion of gourmet gastronomy and top-shelf wine?
Book your spot on our perennially popular Tamborine Mountain Wine & Dine tour. We'll whisk you between the region's top vineyards (and distilleries) in one satiating afternoon. Door-to-door transfers, oodles of vino and food, and newfound chums come included in the deal.