Calling all animal enthusiasts. Kiff & Culture now offers the ultimate Gold Coast tour. We've teamed up with Currumbin Wildlife Sanctuary to create an exclusive VIP zoo encounter for animal lovers like you.
From patting cuddly koalas to gawking at ferocious crocs, this wild one-and-a-half-hour experience gives you an up-close glimpse of Australia's most iconic native species.
The Currumbin Wildlife Sanctuary
Located one block from Currumbin Beach, this landmark destination is among the city's most sought-after sites. Currumbin Wildlife Sanctuary isn't just the best wildlife destination on the Gold Coast. The sanctuary ranks among the top animal attractions in Australia.
So what makes it so great?
First, this is a working wildlife sanctuary rather than a cramped, ethically-questionable zoo. Spread over 27 hectares of lush rainforest, the sprawling site has plenty of space to house its eclectic critter collection. There's an on-site Wildlife Hospital where qualified veterinarians nurse injured animals back to health. Furthermore, the not-for-profit organisation invests all proceeds towards animal conservation programs. 
From humble beginnings as a small-scale lorikeet feeding display, the sanctuary has evolved into a world-class wildlife destination. It's been aiding the animal kingdom for over 75 years, contributing towards an array of impactful initiatives in that time. Kiff & Culture takes sustainability seriously. The sanctuary's environmentally-conscious values drove our decision to partner up.
But it's the local residents that reel in the crowds.
The sanctuary houses an impressive collection of iconic Aussie animals, from cuddly marsupials to scaly reptiles. You can also admire exotic foreign species from the elevated Lost Valley boardwalks, including cotton-top tamarins, red pandas, and capybaras.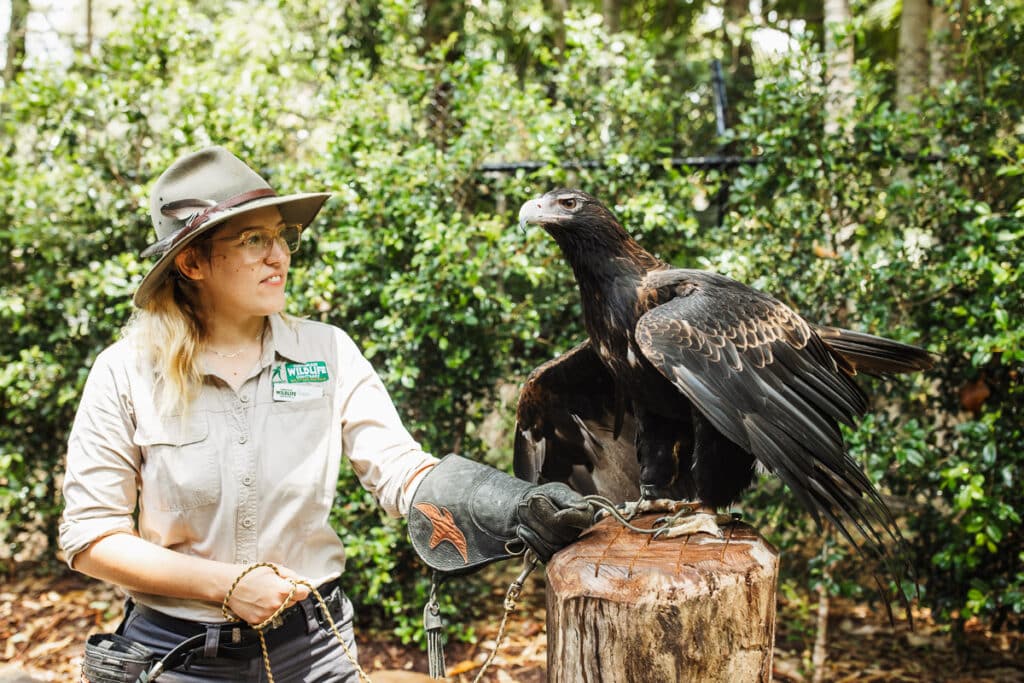 Our Currumbin Wildlife Sanctuary Itinerary
Step beyond the stock-standard wildlife-viewing experience with our exclusive up-close-and-personal animal encounter. The one-and-a-half-hour trip includes VIP meet-and-greets with a slew of awe-inspiring Australian animals.
You'll pat and pose with adorable koalas, hand feed cute kangaroos, and get a private glimpse of the Tasmanian devil and crocodile enclosures. A pro zoo keeper accompanies you throughout the trip, providing fascinating insights into these remarkable creatures.
Here's a sample itinerary of what to expect:
10.15 am Arrival
10.20 am Koala Habitat for VIP photo shoot, including zoo keeper chats and koala pats
10.35 am Guided walk to the west side
10.50 am Crocodile viewing and keeper talk
11.00 am Kangaroo paddock feeding opportunity
11.15 am Tasmanian devil keeper talk
11.25 am Escorted return to the east side
11.35 am Photo collection
11.45 am Departure
Every guest receives printed and digital copies of their professional koala photo shoot—the perfect memento. If you'd like to continue exploring, you're free to roam the sanctuary at the end of the tour.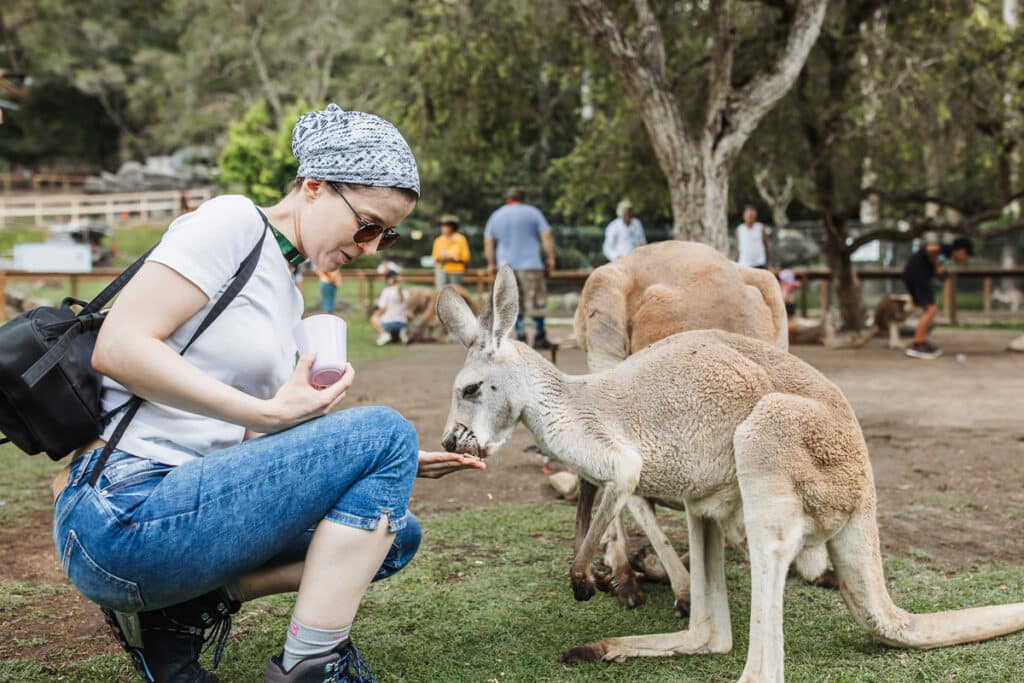 Book Your Currumbin Wildlife Sanctuary Zoo Encounter with Kiff & Culture
Ready to take a walk on the wild side?
Book our exclusive animal encounter at Currumbin Wildlife Sanctuary today.
And if you fancy adding an epicurean adventure to your Gold Coast holiday goals, take a peek at our Eat & Drink the Gold Coast tour.