On the hunt for unique Gold Coast experiences?
Then read on. Whether you're craving relaxation or adrenaline-pumping fun, the Gold Coast has something for everyone.
We've compiled a nifty shortlist of the top tranquil and thrilling experiences on the Gold Coast. Give these novel ideas a red-hot go.
Thrilling Gold Coast Experiences
From lofty free falls to booming surf breaks, these three thrilling experiences will get the adrenaline flowing.
Skydiving
Conquer your fear of heights by plummeting towards the city in a 200 km/h skydive. If a 12,000-foot free fall doesn't get the heart racing, you're probably already dead inside. Gold Coast Sky Dive offers tandem jumps with highly qualified instructors.
Helicopter tours
For a less terrifying airborne experience, hop on a scenic helicopter ride instead. Gold Coast Helitours have been running regional joy flights for 30 years and boast a 100% unblemished safety record. Tours range from 5 to 45 minutes, whizzing past beaches, skyscrapers, and hinterland hills.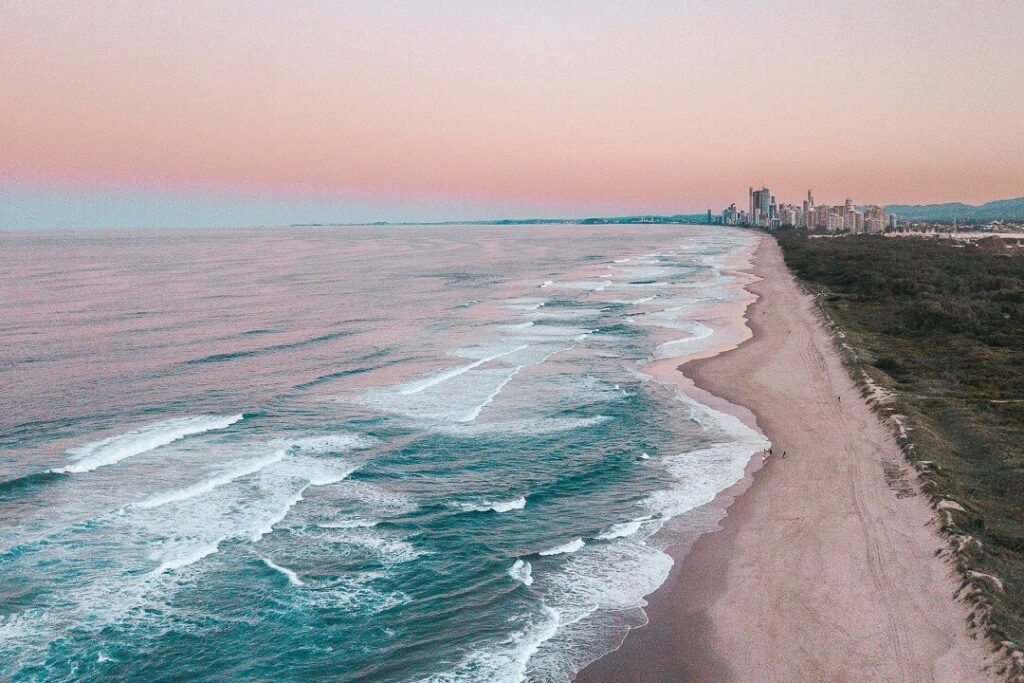 Surfing lessons
The Goldie is a veritable surfing mecca with breaks for riders of every skill level. If you're keen to master this adrenaline-inducing pastime, contact the crew at Surf in Paradise. Private or small-group classes occur at The Spit, where a break wall shelters beginners from strong swells.
Serene Gold Coast Experiences
Rather reduce your heart rate than send it off the charts? Try one of these serene, tranquillity-inducing activities instead.
Sailing Trips
What could be more relaxing than watching a Gold Coast sunset on a sailboat with a glass of bubbly?
Not a whole lot. And that's exactly what you get with a tour from Champagne Sailing Cruises. Kick back and relax while your crew cruises the sheltered Gold Coast Broadwater in a smooth-sailing yacht.
Day Spas
Gold Coasters are an image-conscious, wellness-orientated lot. So it should come as no surprise to hear the glitzy city is awash with soul-soothing wellness spas. Our top pick is Greenhouse the Bathhouse, a pristine pampering palace near Tallebudgera Creek.
Hinterland Rainforest Walks
There's nothing like a sopping wet rainforest to relax the mind and recharge the soul. A 50-minute drive from the skyscraper-strewn CBD, Tamborine Mountain is a natural paradise chock full of scenic trails and gushing falls. Give the Witches Falls or Curtis Falls tracks a trample to soothe what ails you.
Float Tanks
From muscle relaxation to mitigated pain and anxiety, floating in a sensory deprivation tank entails a plethora of tangible benefits. Over in Burleigh Heads, Freedom Float Centre offers this sought-after therapeutic approach and a range of other wellness treatments.
Sunsets at Burleigh Hill
You don't need to spend big for a serenity-inducing experience on the Gold Coast. Grab your beverage of choice and head for Burleigh Hill to watch the sunset over the horizon in a spectacular technicoloured display.
Book Gastronomic Gold Coast Experiences with Kiff & Culture
Looking for Gold Coast experiences of the edible kind?
Then check out our Eat & Drink the Gold Coast tour. We cruise between the city's finest beachfront restaurants and breweries in one tastebud-tantalising adventure.