Seeking a rejuvenating team-building event that's tailored to your needs? Want to curate a unique brand activation that leaves an enduring impact on your clients? Or perhaps you're planning to celebrate a special occasion with friends in a truly memorable way? Our 'Long Lunch in the Orchards' dining experience is the perfect solution, offering a flexible and unforgettable gastronomic journey that's certain to inspire.
Starting at just $325 per person, your group—ranging from a minimum of 10 to a maximum of 20 people—will be conveniently picked up from Gold Coast, Tweed, or Byron Bay and transported to a picturesque plantation orchard. There, you'll indulge in an extraordinary alfresco corporate feast that can be customised to align with your schedule and preferences. Whether you prefer a mid-morning start or an afternoon event, our versatile itinerary aims to enrich your team spirit, cultivate a deeper understanding of local sustainability, and delight your palate with every bite.
Exquisite Alfresco Dining
Set against the charming backdrop of the verdant orchard, your team will dine at a lavishly adorned banquet table, complete with delightful flower arrangements. Prepare to be captivated by a masterfully crafted shared banquet, as our talented local chef presents a showcase of the freshest farm-to-table dishes. Every bite serves as a tribute to the local community and an homage to sustainability, further enriched by the proximity of your table to the thriving orchard itself.
This immersive experience goes beyond merely dining; it's about appreciating the journey of produce from the soil to your fork, fostering a sense of camaraderie and shared appreciation amongst your team.
Handpicked Local Beverages
What's a feast without a toast? Enhance the dining experience with a 3-hour drinks package, specially curated to feature an assortment of locally crafted beverages. From crisp, refreshing beers embodying the region's unique character to artisanal gins and rums that evoke the spirit of the locale, there's something to suit every palate. The experience begins with a welcome fruit cocktail or mocktail, setting a festive tone for your unforgettable day.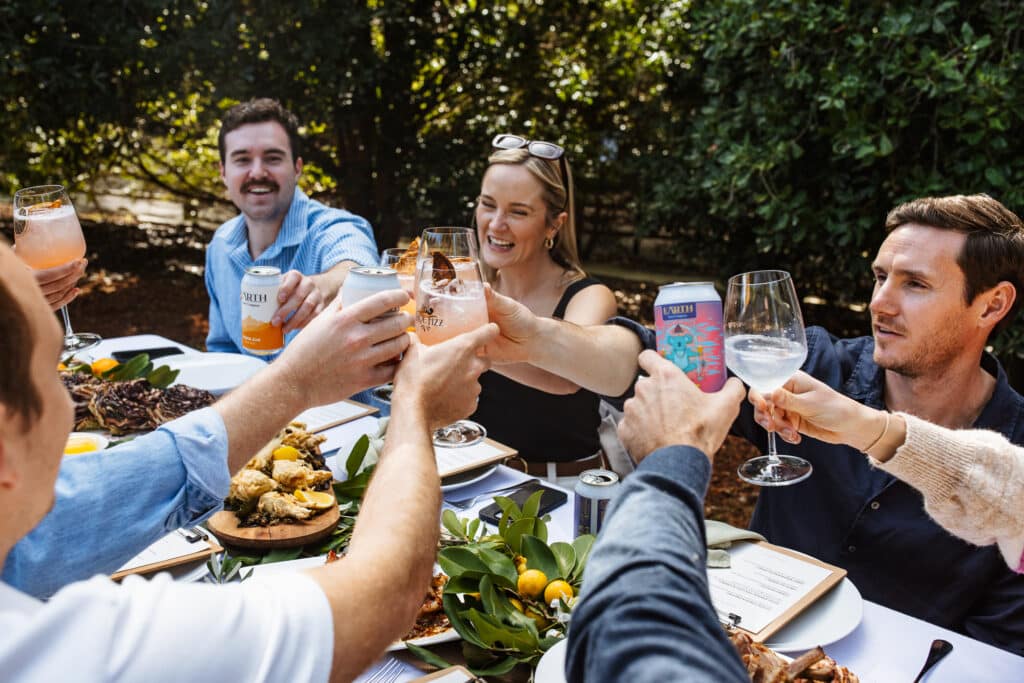 Fun-filled Activities and Professional Keepsakes
But the experience isn't confined to the banquet table. Throughout the day, your team will have the chance to engage in a variety of fun lawn games, further fostering the spirit of unity and camaraderie. These light-hearted activities serve as ice breakers, facilitating comfortable interactions and encouraging stronger bonds amongst the team members.
What's more, our professional photographer will be there to capture these special moments, allowing you to take home precious memories of this enchanting day. Every candid laugh, triumphant high-five, and shared glance will be immortalised, serving as reminders of your team's unity and shared experiences.
In essence, the Long Lunch in the Orchards dining experience goes beyond a simple meal. It is a sensory journey that harnesses the power of shared dining experiences to bring teams closer together, inspire creativity, and offer a well-deserved break from the norm. It's a perfect choice for a memorable staff Christmas party, an impactful brand activation event, or an exceptional day out with friends.
Book today and step into a day of unparalleled gastronomic indulgence amidst the charm and tranquillity of a plantation orchard.